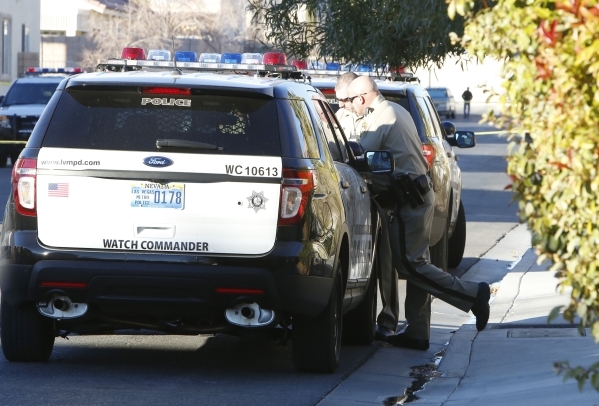 Las Vegas police said they thought a man they shot and killed in the west valley Thursday afternoon was holding a gun.
Instead, the man was holding a cell phone in his right hand, hidden from view as he approached officers. He did not follow multiple orders to stop, show his hand and drop what he was holding, Metro Capt. Matt McCarthy said. So officers shot him "several" times.
The man was wanted out of Arizona on violent felonies, and U.S. Marshals were conducting surveillance on him just before the shooting. But around 2 p.m. he fled into the Monaco Cove planned community, just north of Desert Breeze park, and Metro said the marshals asked police for help.
As officers started twisted through the neighborhood's winding roads, they were told the man was wanted for attempted murder. And as they looked for him, Lori Denehy, 36, was on her driveway, packing up her camper for a weekend trip.
Three of Denehy's children, ages 7, 5 and 3, were playing next to her on the lawn. That's when an unmarked patrol car sped north in front of her Maple Valley Street home, then swerved into a U-turn and pulled up next to her.
The officer asked if she'd seen a black man running. When she said no, he told her, "Go inside and lock all your doors."
Minutes later, two officers happened upon the wanted man a few houses down from Denehy's, in the 8300 block of Gilded Crown Court.
"As the officers believed that the suspect was wanted for attempted murder, as this was a residential area, as they believed he was armed with a firearm, they discharged their firearms on the subject, striking him several times," McCarthy said.
The two officers who found him were not injured. McCarthy did not take questions from reporters Thursday night.
After the shooting, Denehy came outside of her house but made her children stay inside. She saw a helicopter "flying really low" and "cops everywhere — everywhere you looked."
"I mean this is just crazy," she said. "We have a quiet neighborhood."
The shooting was the 16th this year that involved Metro officers — the same number as last year. Of the 16 this year, 11 ended fatally.
A man and woman who said they had just moved into their house, which faced the street where the shooting occurred, decided to leave as crime scene investigators took photos, a K-9 unit sniffed the scene and the coroner's van showed up.
The woman carried an armful of things. The man walked their dog out on a leash.
"We're moving out," she said to him. He laughed, but she didn't.
Review-Journal writers Ricardo Torres and Wesley Juhl contributed to this report. Contact Rachel Crosby at rcrosby@reviewjournal.com or at 702-387-5290. Find her on Twitter: @rachelacrosby.