Metro recoups fraction of losses on 'lemon' radio system
January 25, 2016 - 3:26 pm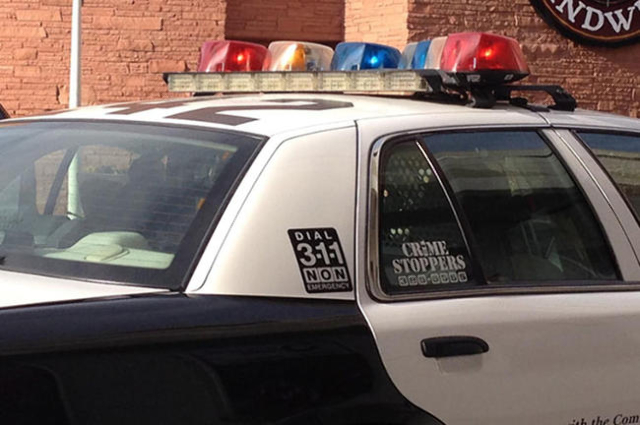 Las Vegas police plan to use more than $7 million from a settlement with the department's old radio company to pay for a new search and rescue helicopter, more body-worn cameras and updates to existing patrol helicopters.
The Metropolitan Police Department discussed the settlement money publicly for the first time at the Fiscal Affairs Committee meeting Monday morning. Metro settled a years-long, multimillion-dollar legal battle over its failed communications system in November, but officials refused to talk about the details of the resolution. The only detail included in the court records was that each party was responsible for their own legal costs.
The department originally sought to recoup $42 million from Harris Corp. for what was described in court filings as a lemon. At Monday's meeting, the department revealed it received $7.15 million after paying Harris Corp. $815,000 that was owed.
That money will contribute to multiple Metro projects, the department said, including the purchase of a new search and rescue helicopter, a purchase the department has been working toward for some time.
The settlement will also finance updates on the agency's existing fleet of patrol birds. Sheriff Joseph Lombardo said the department's current patrol helicopters are antiquated. They haven't been updated in about 10 years, the department said, and need mapping software.
"We have to basically modernize the fleet to accommodate our needs in the police world," Lombardo said. "That equipment that we currently have is antiquated, archaic and mostly, it's not functional now.
"Besides just having a police officer in a helicopter with their eyes, their own eyes, we have to be able to give them equipment in order to record events, survey events and be successful."
Metro is also going to use money from the settlement to match a $250,000 grant the department received to pay for an additional 509 body cams.
The department first began looking for a new radio system in 2006 when officials realized their analog Motorola system did not fit all of the agency's needs. Metro awarded the contract to M/A-COM Technology Solutions Inc., which was acquired in 2009 by Harris Corp., a Florida-based corporation billed as the leading supplier of radios to the U.S. military.
Dead zones and dropped transmissions posed serious risks for officers. There are more than 3,400 Metro personnel scattered across 7,900 square miles of Clark County, and they do up to 55,000 "push-to-talks" a day. Then-sheriff Doug Gillespie began the process of pulling out of the deal in 2012.
Metro filed a lawsuit against Harris in September 2013 to recoup the $42 million the agency lost. Department lawyers cited fraud and breach of contract.
The department finished implementing a $57.4-million, 11-year deal for a digital Motorola system in March.
Contact Wesley Juhl at wjuhl@reviewjournal.com and 702-383-0391. Find him on Twitter: @WesJuhl