Metro seeking motive after man kills mom and 8-year-old son, then himself
October 2, 2015 - 8:11 pm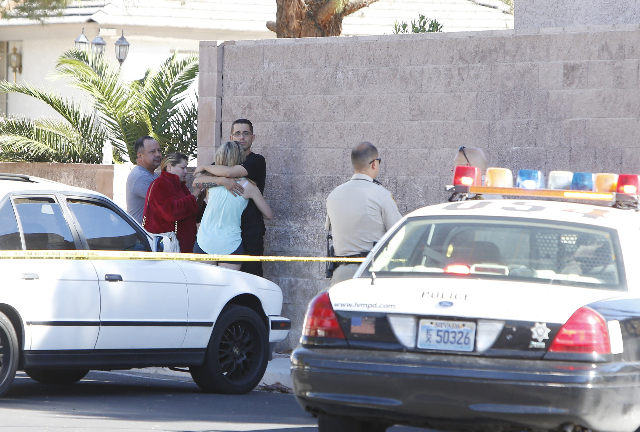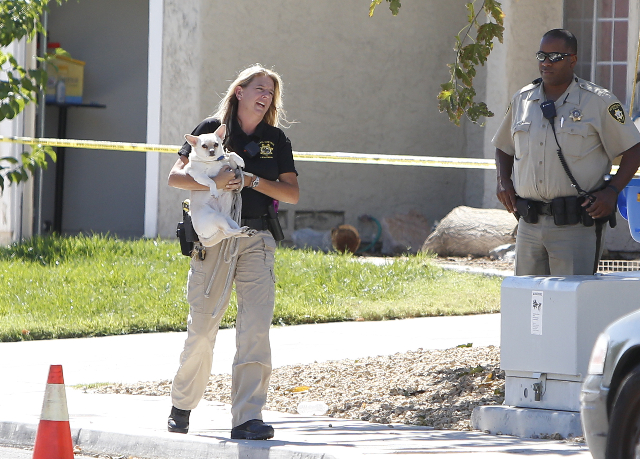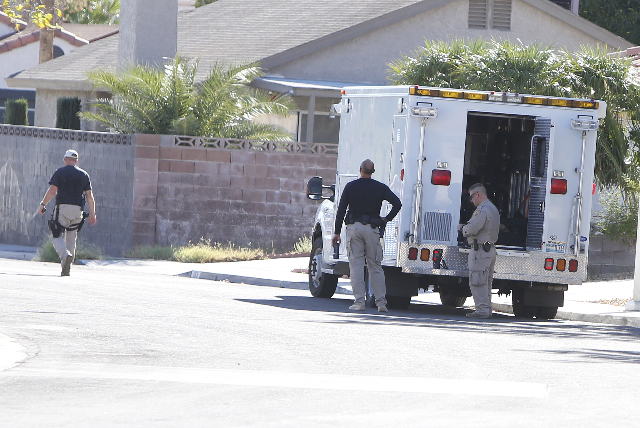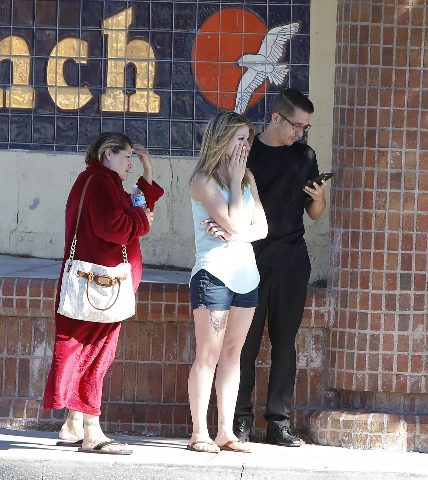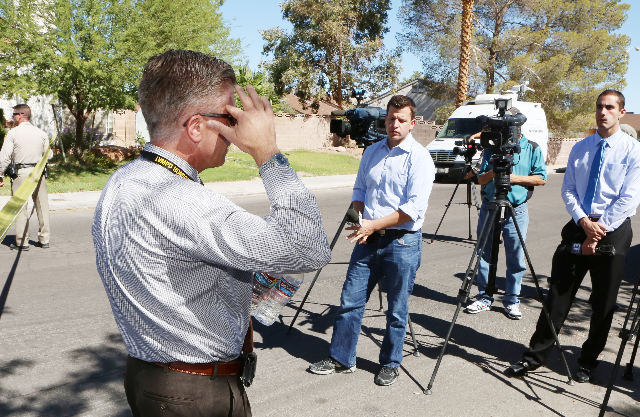 A man slayed a woman and her son and then killed himself Friday morning in the southeast valley, and Las Vegas police are trying to figure out a motive.
Metro homicide Lt. Dan McGrath said there appeared to have been previous disputes between the man and woman.
It's not so much "what happened, but why," McGrath said. Police did not provide names or ages of those involved.
Officers were called around 7 a.m. to the 7200 block of Hardtack Circle, near Warm Springs Road and Spencer Street, McGrath said.
A girl had run to a neighbor's house screaming that a man had shot her mother, McGrath said, and the neighbor called 911.
When police got there about four minutes later, they found a woman who had been shot to death.
She was lying in the front doorway, her feet outside the house, McGrath said.
A boy, who is toddler, was still in the house, McGrath said. He was unharmed.
But officers quickly learned that the woman's third child, described only as an 8-year-old boy, was missing. By this time, neighbors were directing police to a man's house two doors down.
As officers headed toward the house, they heard gunshots coming from inside, prompting them to call for SWAT and crisis negotiators, McGrath said. Police treated it as a hostage situation.
Negotiators were never able to talk to the man, and SWAT entered through the garage.
Once in the house, McGrath said, they found the boy and the man's bodies.
The man had shot himself, McGrath said. Police did not offer more on how the boy died.
"It's tragic," McGrath said. "It's gruesome to have a young child murdered."
Surrounding homes were evacuated and police shut down part of Warm Springs for several hours during the investigation.
Police said that Metro had recently been called to Hardtack Circle, a cul-de-sac, several times. It wasn't immediately clear why they had been called.
Neighbor Cece Navarrette, 39, said that officers showed up to the man's house about a week ago and and called him through a bullhorn. The same thing happened a couple of days later at the woman's house.
He was a "strange character," Navarrette said.
The man used to dig in his front yard in the middle of the night, Navarrette said. He was someone "you stay away from."
His house "is a mess," McGrath said. There are "street signs" and boards on the windows.
Neighbors often saw the woman's children playing outside, Navarrette said.
On Friday, a swing with a plastic blue chair could be seen hanging from a tree branch in the yard, which was cordoned off by yellow tape.
Earlier in the day, police said the toddler found inside the house was a girl. They later said the child was a boy.
Names of the dead will be released by the Clark County coroner's office after family has been notified.
Contact Ricardo Torres at rtorres@reviewjournal.com or 702-383-0381. Find him on Twitter: @rickytwrites. Contact reporter Colton Lochhead at clochhead@reviewjournal.com or 702-383-4638. Find him on Twitter: @ColtonLochhead