Metro shoots dog after attack on person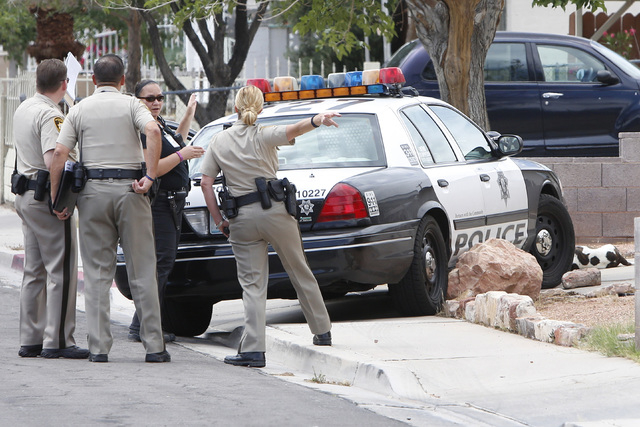 Las Vegas police shot a dog Thursday and captured another after both attacked a man standing at his front door at an east valley home.
Metro responded at 12:41 p.m. to a call from the 4700 block of Sheppard Drive, south of the intersection of Boulder Highway and Harmon Avenue, near the Eastside Cannery, where a person was attacked by two dogs, Metro said in a news release.
That man, 57-year-old Isidro Ramirez, said he was standing at his front door when two pit bulls attacked him.
"I was minding my own business, and they came up to my house," he said.
Ramirez said he ran into his home and slammed the front door, praying the dogs wouldn't follow him inside.
"I'm just glad they didn't go for my throat."
Ramirez was bitten on the leg, an injury treated with hydrogen peroxide by EMTs. He wasn't taken to the hospital, but went to a family doctor, where he was given a prescription for a tetanus shot, he said.
One of the dogs was shot, police said, and the other ran away.
Ramirez said the second dog was captured late Thursday afternoon and taken to an animal control center.
Metro spokesman Patrick Charoen said Thursday evening he did not know whether the second dog had been captured.
Contact Chris Kudialis at ckudialis@reviewjournal.com or 702-383-0283. Find him on Twitter: @kudialisrj.