Metro will no longer cite or arrest for failing to register handguns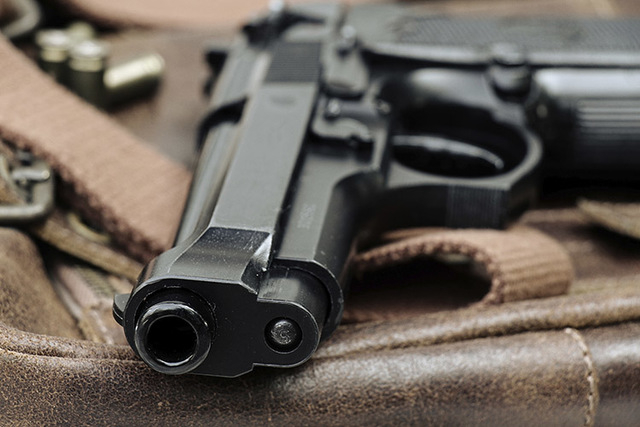 Las Vegas police will no longer cite or arrest anyone for failing to have their handgun registered by Clark County, the department announced Wednesday.
The Assembly voted 25 to 17 to establish "state control over the regulation of policies concerning firearms."
For decades Clark County's so-called "blue card" ordinance has required firearms capable of being concealed to be registered and also prohibited the unlawful transfer of handguns.
On Feb. 25, the bill's first hearing in the Senate Judiciary Committee, Las Vegas police lobbyist Chuck Callaway testified that the department supported doing away with the handgun registration program. He asked the committee to amend the provision that would require the department to destroy its registration records due to their "investigatory value."
How the loss of the county's blue card program would affect Metro's ability to track firearms that are stolen or used to commit a violent crime is unclear. Public information officer Laura Meltzer said she wasn't sure what the department's stance on the issue was. The department sent out a release about the end of the blue card program after office hours and were not available for interviews.
Callaway did not return phone calls seeking additional information, but he testified before the Assembly Judiciary Committee's April 23 consideration of the bill that Clark County Sheriff Joe Lombardo has publicly stated his support for ending the registration program.
Metro made the call because there was confusion after Gov. Brian Sandoval signed the bill June 2, Officer Laura Meltzer said. The state changes are "in direct conflict with local ordinances," she said.
Contact Wesley Juhl at wjuhl@reviewjournal.com and 702-383-0391. Find him on Twitter: @WesJuhl.
Contact Kimberly De La Cruz at kdelacruz@reviewjournal.com or 702-383-0381. Find her on Twitter: @KimberlyinLV.