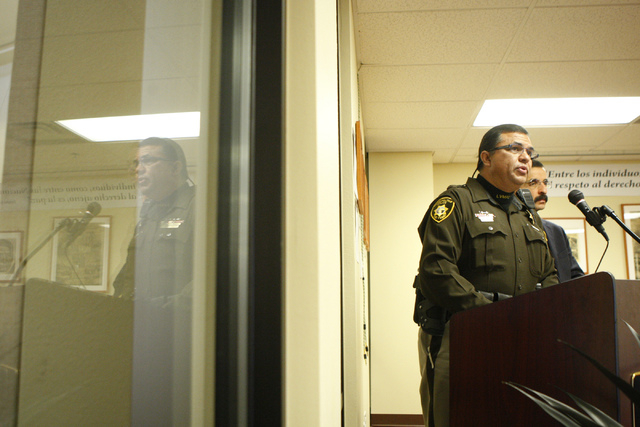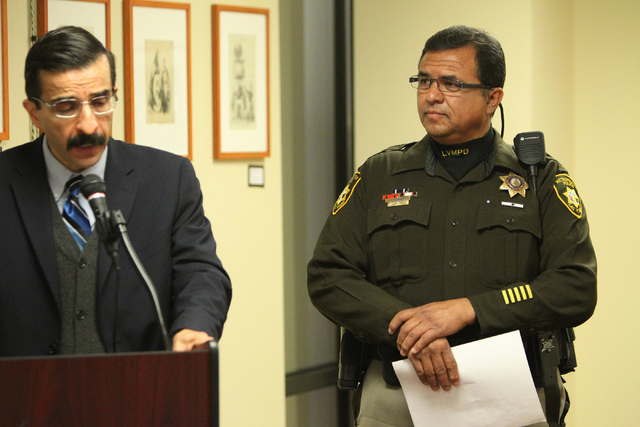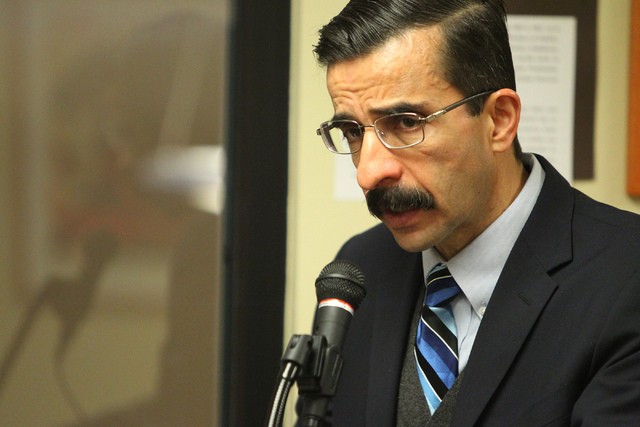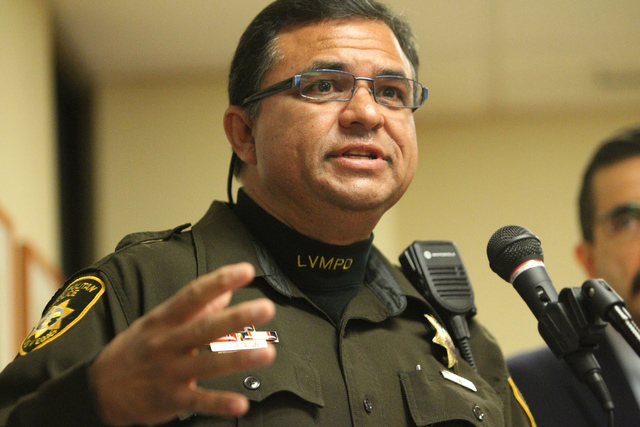 Metro's Hispanic Citizen's Academy has a new home.
For the first time in its eight years of existence, the academy — aimed at teaching people about laws and their rights and getting more of them to report crimes — will be based at the Mexican Consulate in downtown Las Vegas.
"We're very proud to serve as the headquarters this time around," Mexican Consul General Julian Adem Diaz said in Spanish. "We're honored to assist both our police and Hispanic community."
Previously, the academy was taught at Cannon and Hollingsworth middle schools and Clark High School.
The Mexican Consulate, 823 S. 6th St., is a two-floor, burnt yellow building adorned with paintings and pictures of Mexican history. Neighboring buildings house lawyer offices and other businesses.
Metro Officer David Cienega, director of the Hispanic Citizen's Academy, said the partnership will benefit both Metro and the consulate by "breaking down the barrier of mistrust" many Hispanics have towards police.
"You have to understand the culture where the Latin citizens come from. A lot of them have experienced police brutality," Cienega said. "We want them to know that we are here to help them when they become victims of a crime."
The Hispanic version of the program will mirror the content of the standard citizen's academy. The main difference, Cienega said, is that this one will be taught entirely in Spanish.
Metro's hope is to be able to better reach out to Hispanics, who make up about 27 percent of Clark County's population.
With over 700 graduates of the Hispanic Citizens' Academy, Cienega says he's already started to see change since the twice-annual program started in 2007.
"People are even inviting us to their homes, which used to be unheard of," Cienega explained. "That doesn't happen in their home countries."
Classes are intended to teach students how to identify and report crimes including domestic violence, human trafficking, gang activity and drug pushing.
Orientation for the academy is scheduled for Feb. 4 at the Mexican Consulate and will run from 5 p.m. to 7 p.m. The first of 13 weekly classes is Feb. 11 from 6 p.m. to 9 p.m. The academy has a maximum of 45 students.
For more information call 702-828-3111.
Contact reporter Colton Lochhead at clochhead@reviewjournal.com or 702-383-4638. Find him on Twitter: @ColtonLochhead. Contact reporter Chris Kudialis at ckudialis@reviewjournal.com.