Mexican mom credits community for release from ICE detention center
Updated April 9, 2018 - 11:48 pm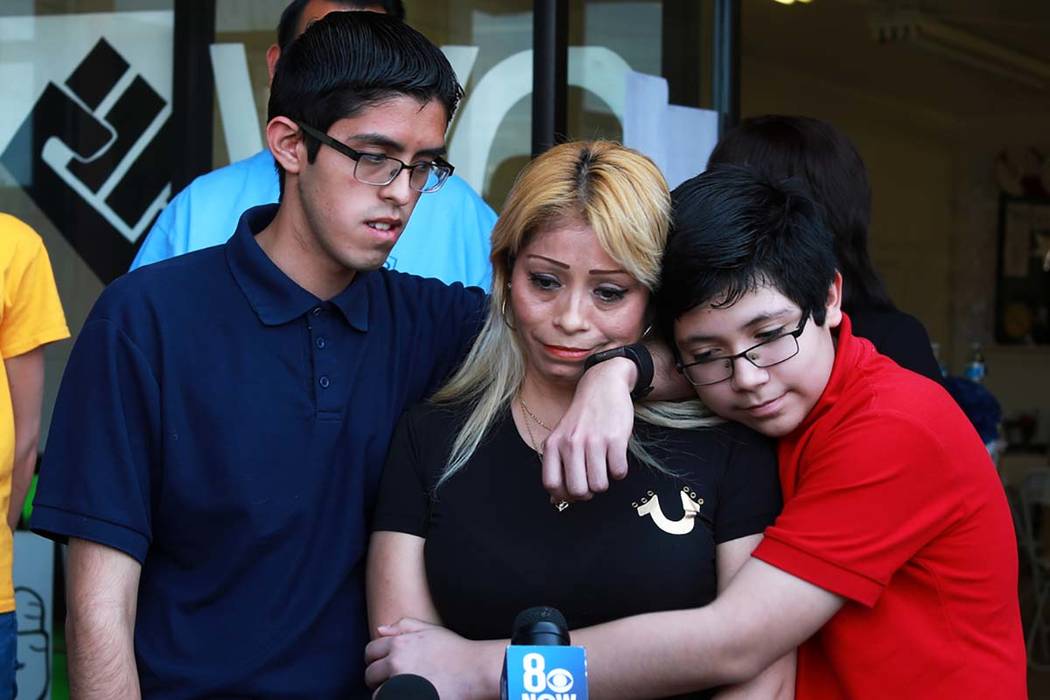 A Las Vegas mother of three and an undocumented Mexican immigrant said during a Monday news conference it was community support that granted her release from a U.S. Immigration and Customs Enforcement detention center.
Alongside her two youngest sons, Ricardo Avelar-Gomez, 18, and Eric Avelar-Gomez, 13, Cecilia Gomez, 46, called her experience "nothing short of traumatic."
"If not for the community organizations and individuals that called for my release, I would not be here now," Gomez said in a statement in Spanish, which was translated by the older son. "I would have been one of the millions who've been ripped apart from their families."
Gomez was detained in late March at the U.S. Citizenship and Immigration Services office in Las Vegas, where she appeared for what she believed to be an interview that would bring her one step closer to obtaining legal permanent residency. When she arrived, she was questioned by ICE officers, who she claims assaulted her and left her with bruises.
ICE called those accusations "patently false" in a statement, according to The Associated Press. But Gomez will request an ICE investigation through her attorney, Laura Barrera of the UNLV Immigration Clinic, Barrera said at the news conference.
"We are collecting evidence now. It was difficult because, as she (Gomez) said in her statement, she was asking to have her injury photographed," to no avail, Barrera said. The team plans to request video footage from the room where Gomez said she was apprehended.
Gomez was granted supervised release Friday and will have to attend regular check-ins at the Las Vegas ICE office. Mark Krikorian, executive director of the Center for Immigration Studies, which advocates for low levels of immigration, called it a classic example of media attention pushing ICE officials under the strain of limited resources to decide fighting for a high-profile case isn't worth it.
"All the effort that would be required to push back on this one person's detention could be better spent going after half a dozen other illegal immigrants that aren't on the front page of the newspaper," Krikorian said.
A motion to reopen Gomez's case is pending, Barrera said, after which the path to citizenship will take years. In the meantime, Gomez and her family are enjoying their reunion after 10 strenuous days apart.
"I know that you guys don't know us, or some of you don't know us," Ricardo Avelar-Gomez told community members via news station video and livestreams, "but the fact that you stood with us and supported us, it really means a lot to me and my family."
Contact Jessie Bekker at jbekker@reviewjournal.com or 702-380-4563. Follow @jessiebekks on Twitter.