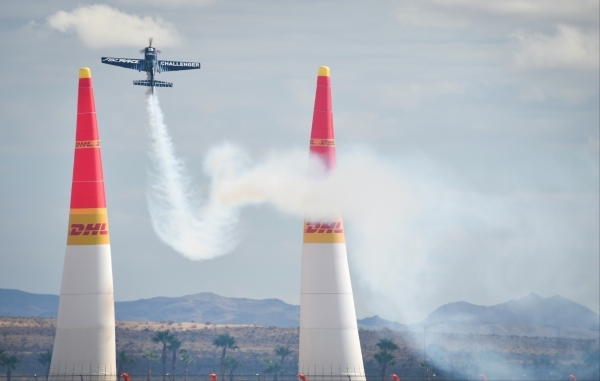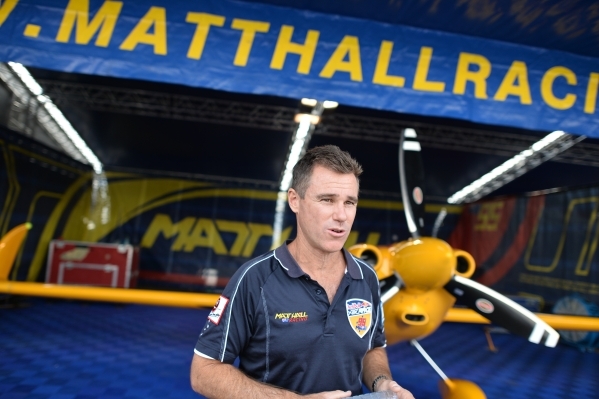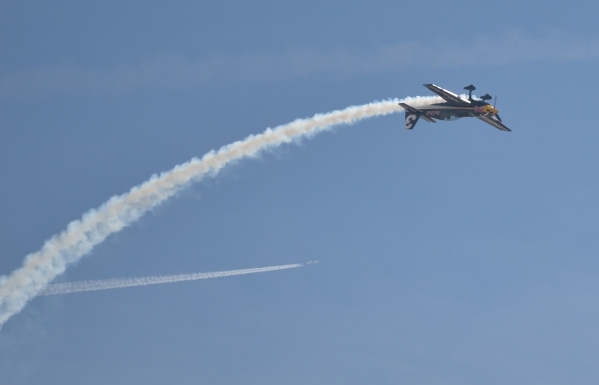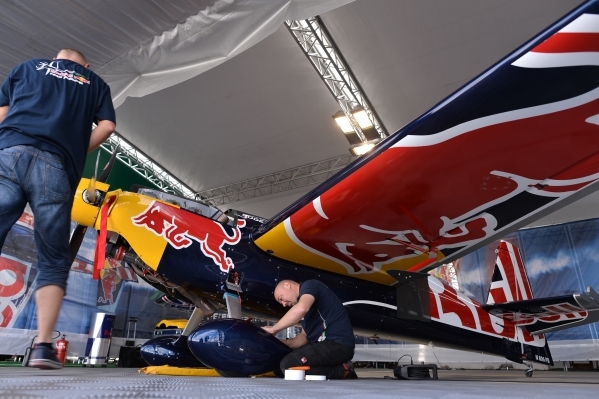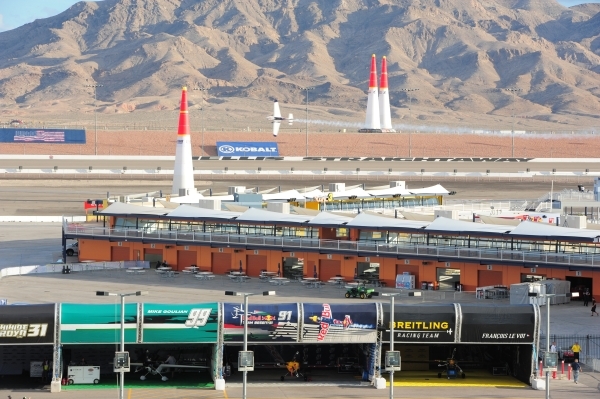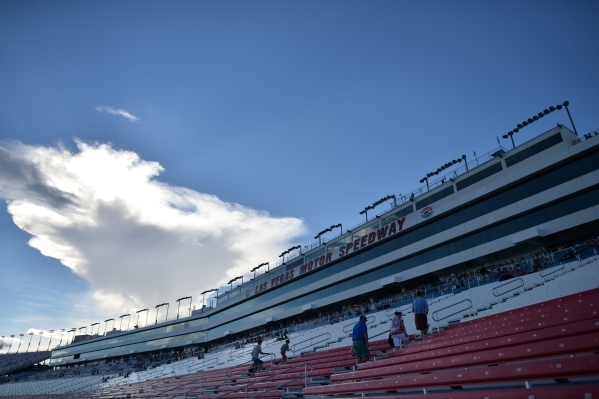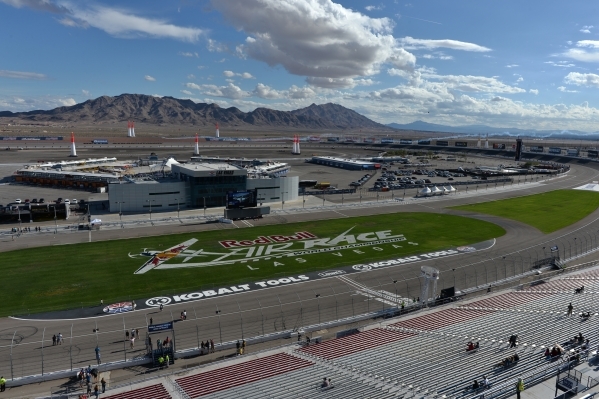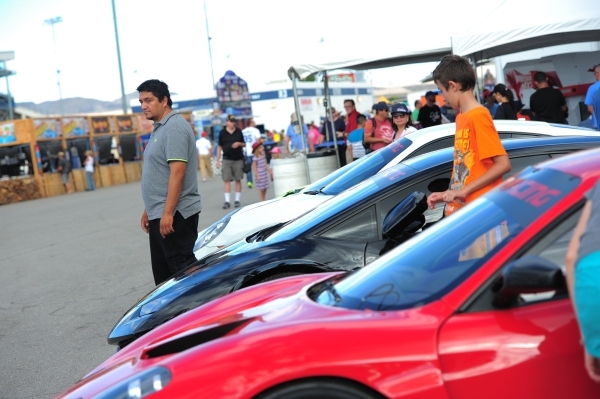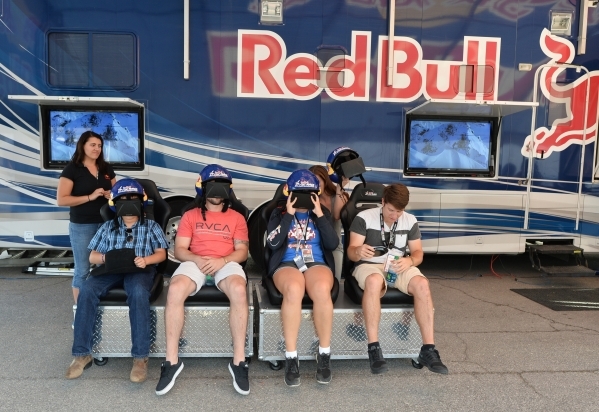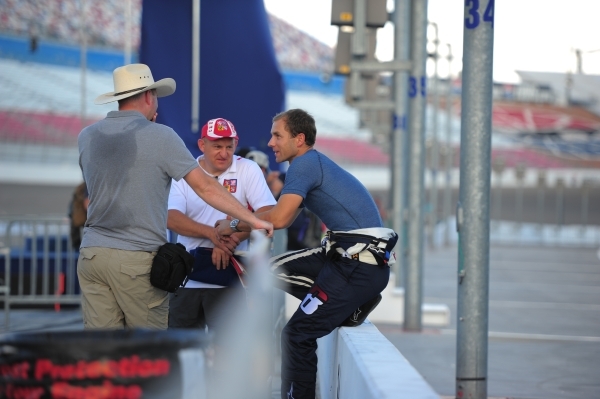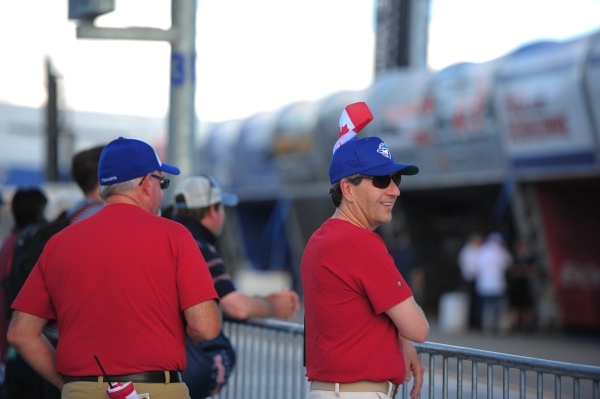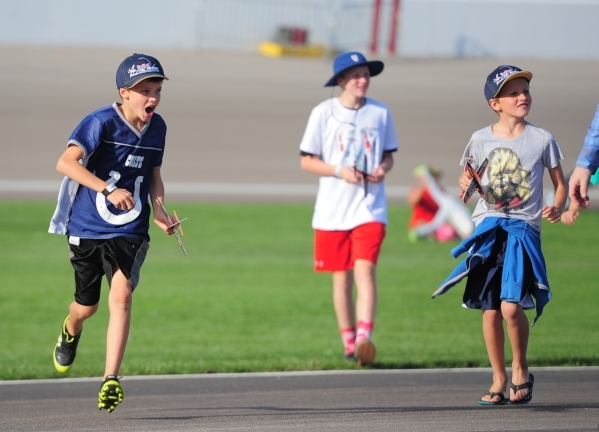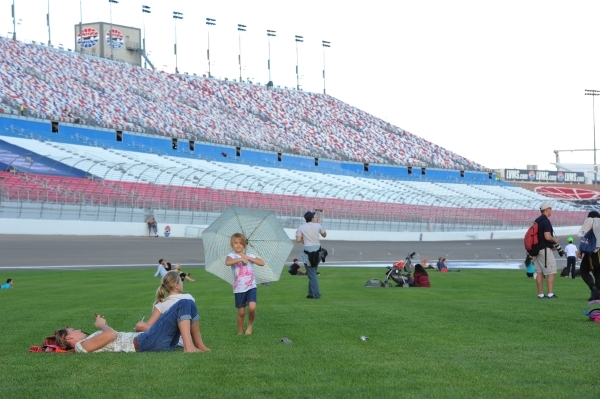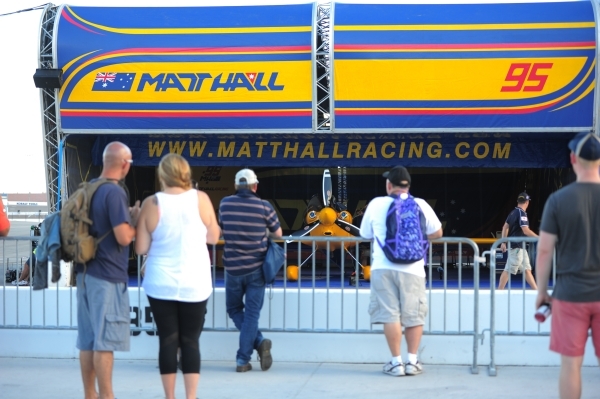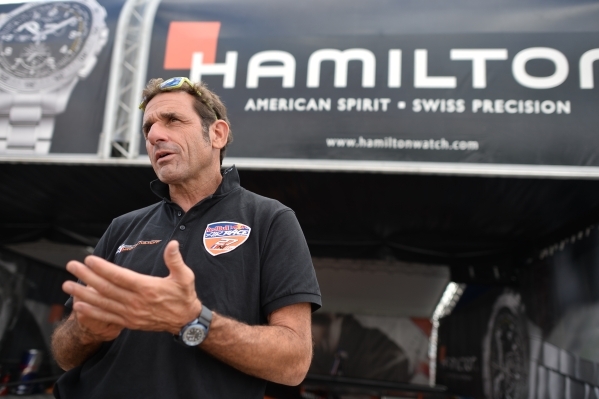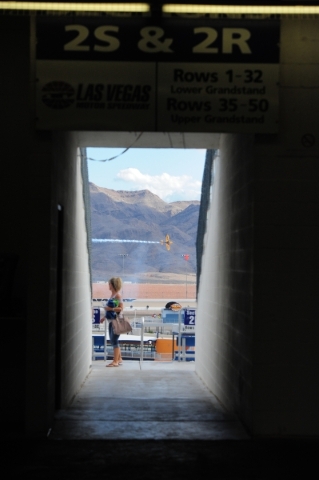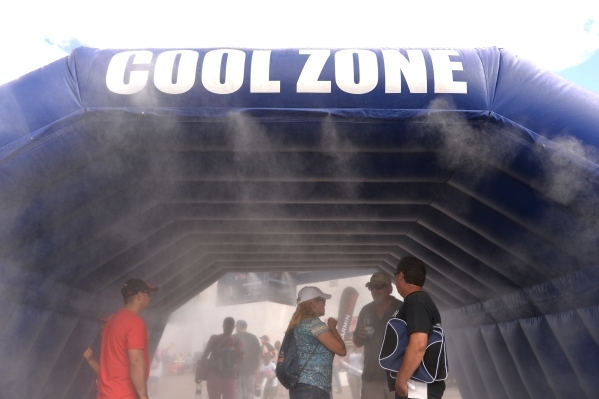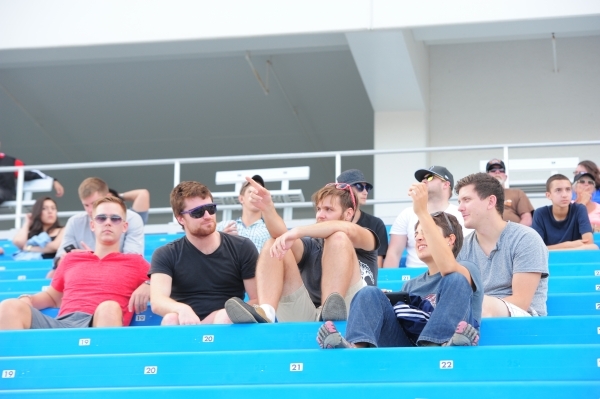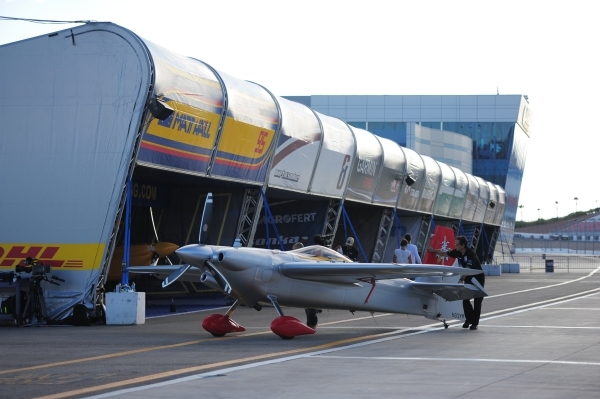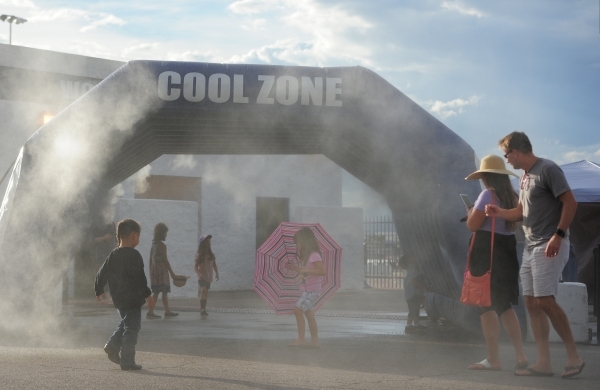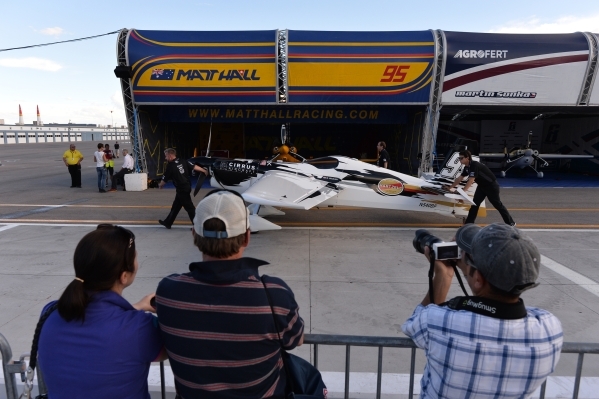 Red Bull Air Race pilots gathered along the hangar walk at Las Vegas Motor Speedway on Saturday morning trying to ease their minds before races begin at noon on Sunday.
British pilot Paul Bonhomme said to prepare for the race weekend, he locked himself in a dark room.
"There are so many distractions so you have to pick your moment and concentrate," he said. "I just focus on flying the airplane well and around the track the way I'm supposed to and go from there."
Bonhomme's father was a pilot and he began flying at the age of 4.
The 51-year-old joined an aerobatic display team in his mid-20s before he started racing in 2000. He also balances a part-time job as a pilot for British Airways.
"Flying a jumbo is a busy management job because you're constantly thinking about what's going on and what you need to do so even though it looks like you're doing nothing you're really busy," he said. "However, both have the same goals as I have to operate the airplane safely and make sure to avoid certain situations."
Bonhomme, who holds two world championship titles in 2009 and 2010, is hoping to reclaim the title this year, and said he considers himself lucky.
"When you fly you get a sense of freedom that a lot of people don't get," he said. "Being up in an airplane away from the ground is quite nice."
The Red Bull Air Races puts pilots such as Bonhomme in the seat of some of the fastest and most lightweight racing planes as they navigate a low-level aerial track comprised of 80-foot-high air-filled pylons at speeds of up to 230 mph.
In 2010, Brazilian pilot Adilson Kindlemann crashed his plane into the Swan River in Perth, Australia, during training runs prior to the race. He was rushed to the hospital and suffered no serious injuries.
The motorsport series is held at eight locations across the globe and kicked off in February in the United Arab Emirates before being in Japan, Croatia, Hungary, England, Austria and Fort Worth, Texas.
This is the second year that the Red Bull Air Race has been held at Las Vegas Motor Speedway.
More than 50,000 fans were in attendance last year, which is about how many people are expected to attend this weekend, according to speedway spokesman Neal Reid.
The Reno National Championship Air Races, which has been held for more than 50 years, most recently from Sept. 17-20, attracts nearly 200,000 people.
The objective of the Red Bull Air Race is to navigate the aerial racetrack in the fastest possible time with as few penalties as possible. Pilots can win world championship points at each race and the pilot with the most points after the last race of the season is deemed the Red Bull Air Race world champion.
Going into this final race at the 1.5-mile track in Las Vegas, Bonhomme leads the championship with 67 points over Australian pilot Matt Hall, who isn't too far behind at 59 points.
Australian pilot Matt Hall, 44, has a similar back story to Bonhomme. His father was a pilot and got him into flying at 4 years old as well.
"I knew I always wanted to be a pilot," he said.
Hall served as a fighter pilot in the military before starring in aerobatic competitions on weekends.
"There's actually more stress when flying in air races than being a fighter pilot because you're flying faster but at slower speeds and you're closer to the ground," he said. "You also have to be on top of stress management and know how to handle the pressure."
Hall, who flew in the inaugural Las Vegas Red Bull Air Race last year, said he spends seven days a week preparing physically and mentally as well as working on his aircraft to make it go faster.
"It's a full-time job, it's not a part-time gig or a hobby," he said.
Saturday served as a qualifier for pilots, which determines the racing order for Sunday's race. However, if the weather doesn't cooperate on Sunday, the qualifying rounds might serve as the final results.
Sunday's temperatures are expected to hover around 75 degrees with a 50 percent chance of rain.
Hall said he isn't worried.
"I hope the rain holds off but I can't control the weather," he said. "From here on out every race that I do I have to do the best that I can."
Qualifying rounds continue on Saturday until 6 p.m. and doors open at the Las Vegas Motor Speedway at 9 a.m. on Sunday.
A pilot parade is scheduled for 10:30 a.m. before the race starts at noon.
Parking is available at the speedway. Tickets can be purchased Sunday at the box office, online at www.lvms.com or by calling 1-800-644-4444.
Contact Ann Friedman at afriedman@reviewjournal.com or 702-380-4588. Find her on Twitter: @AnnFriedmanRJ