Missing dancer had confrontation with boyfriend, police report says
December 20, 2010 - 9:15 pm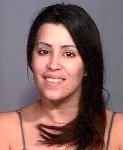 A 31-year-old dancer who went missing earlier this month had a violent confrontation with her boyfriend Oct. 22, according to a Las Vegas police report obtained Monday.
Police spokesman officer Jacinto Rivera said Monday night that the man arrested on a recommended charge of domestic violence in the incident — Jason Omar Griffith — has spoken with police about the dancer's disappearance and is not a suspect.
"At this stage of the investigation, there hasn't been any information that is pointing in his direction," Rivera said.
Deborah Flores-Narvaez was last seen leaving her home near Las Vegas Boulevard and Tropicana Avenue about 7 p.m. Dec. 12. She said goodbye to her roommate and left to visit Griffith, police said. She is described as a 5-feet-5-inch Hispanic weighing about 120 pounds.
Flores-Narvaez is a dancer in the Luxor show "Fantasy." Her disappearance is being investigated as a missing person case.
Flores-Narvaez, named in the October arrest report as Debbie Flores, described Griffith as her boyfriend of one year. She said she was pregnant with his child, the report states.
Flores-Narvaez had been at a residence near Torrey Pines and Vegas drives visiting Griffith's ex-girlfriend, Agnes Roux. Griffith then arrived. The report states he approached Flores-Narvaez who was in her car, opened the door, took her iPhone and elbowed her in the chin.
The report states that the three of them then drove about a mile southwest and exited their cars. Flores-Narvaez told police that she began arguing with Griffith about her iPhone, which caused him to throw it about 100 feet. Before he threw it, she said he told her he was not going to jail.
Flores-Narvaez picked up her phone and the incident escalated, the report states. "Flores stated that Griffith kicked her, pulled her hair, and had attempted to take the iPhone again."
Griffith, however, told police he was leaving work and Flores-Narvaez followed him to the residence.
Griffith said he argued with Flores-Narvaez but never hit her or took her phone. The report states Griffith told police that Flores-Narvaez held her iPhone in his face in a taunting manner. He told police he then grabbed her phone and threw it.
The report states Griffith was arrested because Flores-Narvaez had bruises and her hair had been pulled out. Because Flores-Narvaez said Griffith had taken her phone to keep her from calling police, he also was charged with coercion.
Police recovered the woman's maroon Chevrolet Prizm on Thursday. Police have scheduled a press conference on her disappearance for this morning .
Friends and family members have papered the Strip with "missing" signs. They said she would never leave without telling her parents or employer that she was going.
She grew up in Puerto Rico before moving to Maryland, where she studied international business. She served as an ambassador for the Washington Redskins in 2007, a nonperforming position that sent her into the community.
"We hope they find her," said Tony Wyllie, the team's senior vice president.
She moved to Las Vegas and was hired at some of the Strip's poshest nightclubs — Haze at Aria and Jet at The Mirage, among others.
Anyone with information on her whereabouts is urged to call the Metropolitan Police Department's missing persons detail at 828-2907.
The Associated Press contributed to this report. Contact reporter Antonio Planas at aplanas@reviewjournal.com or 702-383-4638.