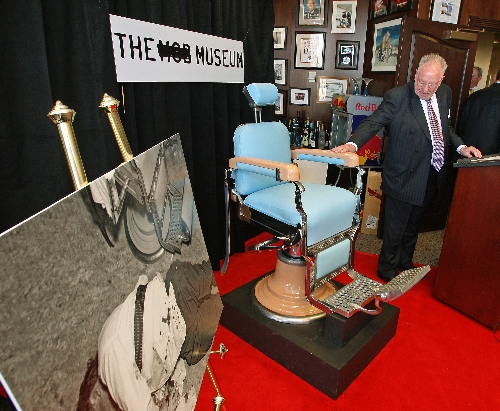 Mob Museum officials on Wednesday unveiled another artifact from organized crime's bloody history, the barber's chair occupied by crime boss and hit man Albert Anastasia when he was shot to death in New York.
"This particular exhibit shows the gory side, the violent side … the terrorizing side of organized crime," Las Vegas Mayor Oscar Goodman said.
Anastasia was boss of the Gambino crime family and ran a gang of contract killers known as "Murder Inc.," who killed an estimated 400 to 700 people.
His slaying on Oct. 25, 1957, was never solved, but it is thought to have been a result of a dispute with the crime family over casino profits. It generated a lot of publicity because it occurred during the day in what then was the Park Sheraton Hotel, now Park Central Hotel.
It also led to the Apalachin, N.Y., summit of about 100 organized crime figures to stave off a Mafia war. The meeting was under surveillance, and 58 of the attendees were arrested. The events prodded officials into acknowledging the nationwide organized crime network.
The chair remained in the barber shop after the shooting. When the shop closed, its contents went to the estate of comedian Henny Youngman. After he died, archivist Artie Nash of New York City, who has a large collection of mob-related documents, photos and artifacts, acquired the chair.
Nash also presented the Mob Museum with a .38-caliber long-barreled Colt pistol that once belonged to Frank Cammarata and was seized by police during Prohibition.
Cammarata, who was a crime boss in Youngstown, Ohio, ran with Charles "Lucky" Luciano and Jimmy Hoffa.
The Mob Museum, formally known as the Las Vegas Museum of Organized Crime and Law Enforcement, is under construction in the historic former federal courthouse building downtown. It is expected to open by the end of the year.
Contact reporter Alan Choate at
achoate@reviewjournal.com or 702-229-6435.