Mojave shooting leaves students, others sad, unnerved
November 23, 2015 - 7:28 pm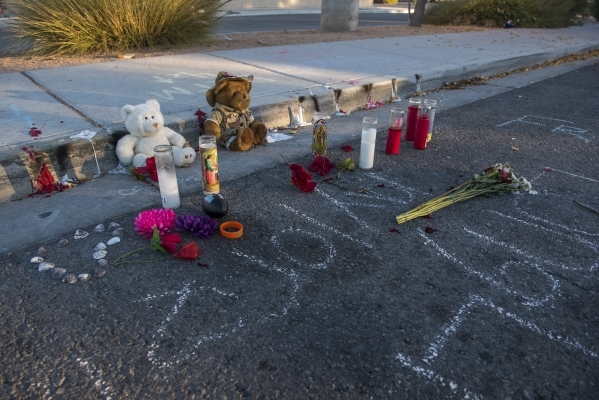 With the help of extra counselors and police, Mojave High School's school day ran as usual Monday. But Friday's late afternoon shooting near campus, which killed 16-year-old Taylor Brantley, left students and others somber and unnerved.
North Las Vegas police said that at 4 p.m. Friday, almost an hour after classes had been dismissed, a brawl erupted among a group of 40 to 50 people near the corner of Goldfield Street and Honey Locust Drive, a few feet from the school grounds. At least one gunshot was fired and Brantley was fatally wounded. He was taken to University Medical Center, where he died.
A Clark County School District official said a student named Taylor Brantley attended Mojave but wouldn't confirm that the boy shot Friday was the same person.
Students exiting the school Monday said they had seen peers weeping over Friday's shooting. They described Brantley as quiet, friendly and funny.
"I rode the bus with him and he was really nice. He would wait for me to get off the bus before him. He seemed really kind," said Erikka Rivera, a 17-year-old Mojave senior, who gathered near a makeshift shrine to Brantley across from the school.
"There's kids in fear that it'll happen again, that they will come back," she added, alluding to Friday's crowd. "There are rumors on Twitter that something will happen. I don't know what the rumors are, but people in school are really nervous. It was really sad today … It was really depressing. You felt the sadness. It just felt like the school was vulnerable today. Everyone was hurt."
Maurice Stitt, 18, a Mojave graduate and Brantley's close friend, said he'd broken down in tears Friday and Saturday.
"There ain't going to be no normal," Stitt said, adding that he'd known Brantley for four or five years. "He's always going to be in my life."
North Las Vegas police officer Aaron Patty said Monday that the investigation into the shooting continues and no suspects were in custody. On Saturday, North Las Vegas police, who are working with Clark County School District police, questioned several witnesses, including students. The police didn't indicate a possible motive in the slaying.
In the street Monday, at the shooting site, a candle burned, surrounded by small stuffed toys. Across the street by the intersection, colored-chalk messages to Brantley covered a wall. "We love you," said one. "You'll be missed," said another. More candles, toys and flowers lay at the wall's base.
Clark County School District spokeswoman Melinda Malone said about 22 other police officers joined Mojave High's two-officer contingent Monday to boost security. Officers from the North Las Vegas and Metropolitan Police departments joined extra officers from the district. Squad cars were visible around the campus's perimeter Monday afternoon.
Also, Malone said, 10 counselors were on campus, including some from the district's crisis response team. They'd remain on campus as long as needed, she said.
In a letter to students posted on Twitter, Mojave principal Antonio Rael recapped Friday's incident, noting that it didn't occur on campus and that the school doesn't allow large groups of students to loiter on school grounds.
He expressed hope.
"While the events of this day are indeed devastating, they do not leave us without hope," Rael wrote. "We are a school comprised of thousands of wonderful students, caring parents, and a committed staff. Although the events of last Friday leave us saddened and grieving, they do not change the reality of who we are, where we have come from, and the hope of a bright future."
As Rael emphasized, Friday's shooting occurred off campus. But shootings on campuses are relatively rare. In an email, Everytown for Gun Safety, a nonprofit gun-control advocacy group, counted 65 on campus shootings this year and 160 since 2013.
Follow Matthew Crowley on Twitter @copyjockey