Mom charged in son's shooting not 'monster'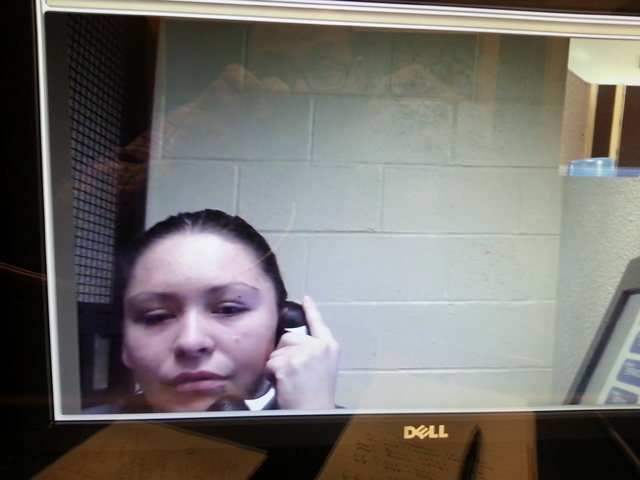 Buying a .22-caliber rifle to protect her children was the "stupidest thing" Shavon Carrillo said she ever did.
Early Memorial Day morning, Las Vegas police said Carrillo, 31, grabbed the rifle and pointed it at her 11-year-old son, Israel, who was in a sleeping bag. She told him, "I love you," and shot him once in the head, according to a Las Vegas police report.
The boy, who was initially not expected to survive, is recovering in a rehab facility. On Friday, a teary Carrillo jailed at the Clark County Detention Center spoke about what led to the shooting.
"It's just so stupid… Every day I live with regret, and there's nothing I could do to change it," Carrillo said. "I just pray for my son. I just want him better, and I need help. I need to get fixed, and I need to do everything I could do."
Carrillo, who attempted suicide three months before police say she shot her son, doesn't want to be perceived as a "monster."
"I'm not," she said. "My kids mean everything to me."
The mother told police she shot Israel, according to the arrest report. Her state of mind before the shooting made things "very hard for everybody," said Carrillo, who also uses the name Shavon Aguilar.
"I was very scared," she said. "I had people bullying me, and I felt like my kids were in danger. We were all in danger, and I got this gun which was the stupidest thing I could do. I was trying to protect my kids with this gun, and it wasn't protecting them. I hurt them instead."
Carrillo, dressed in dark blue prison garb, spoke about the threats that made her uneasy. "Bobby," a man mentioned in the police report, visited her at her sister's apartment where she and her kids were staying.
She said that he, without her consent, accessed her bank account and deposited stolen money.
When Carrillo's ex-husband and Israel's stepfather, Heriberto Aguilar, asked her to cancel their joint bank account the week leading up to the shooting, "Bobby" wanted his $5,000, Carrillo said.
Early on Memorial Day, "Bobby" went to Carrillo's sister's apartment, near Vegas Drive and Decatur Boulevard, to collect.
Carrillo said she gave him some of the money and that her paranoia increased when she thought he was hesitant to leave. She saw headlights through the window and heard a car door close.
She headed to the closet where she kept the rifle and was trying to build "enough courage to kill her children and then herself," according to the police report. On Friday, she didn't explain what prompted her actions.
When he heard the rifle shot from a bedroom, Carrillo's brother-in-law rushed in and wrestled the gun away from Carrillo before she could shoot herself, the report said. Her two daughters were also in the room.
Police arrested Carrillo hours after the shooting. On May 29, a judge set Carrillo's bail at $1 million. She faces one count of attempted murder and three charges of child abuse.
Carrillo acknowledged Friday that she had a drug problem but said that she did not take drugs in the hours before the shooting.
"The day before, yes," Carrillo said. She has "always had a drug problem" but said she does not believe drugs were a factor in the shooting.
During her 25-minute interview with the Review-Journal, Carrillo rambled and spoke about a combination of things she saw as threats to her life and to her children. She mentioned a woman associated with her ex-husband that she believes has a criminal history involving drugs and weapons. She said she tried to report that woman to police, which prompted the woman to come to Carrillo's home. Soon after, Carrillo said she started seeing suspicious vehicles outside the apartment.
Carrillo thought the woman was "trying to mess with me." She felt abandoned and unprotected. "I had nobody; I was leaning on nothing."
The day of the shooting was not the last time Carrillo spoke to her son. She said that while he was being treated at University Medical Center, her sister put a phone to Israel's ear. Carrillo, who thought he was "brain dead," said her final goodbye.
"I thought he was dying and I told him, 'Mi hijo I love you… God is going to take care of you. Be good. Don't be scared.' "
Family members told her that Israel reacted to her voice.
Israel can't move or talk but now responds to questions by blinking his eyes — once for yes, two for no, according to Carrillo and a family friend. Aguilar is now caring for her two daughters and also for Israel, Carrillo said.
Carrillo is scheduled for another court hearing on Aug. 29.
When asked what she would say to her son now, Carrillo hesitated, then began to cry.
"I promise I'll do anything for you," Carrillo said. "I just want to get better, and I need help. I need to be fixed."
Contact Ricardo Torres at rtorres@reviewjournal.com or 702-383-0381. Find him on Twitter: @rickytwrites.