Monarch oasis in Las Vegas yields a surprise butterfly brood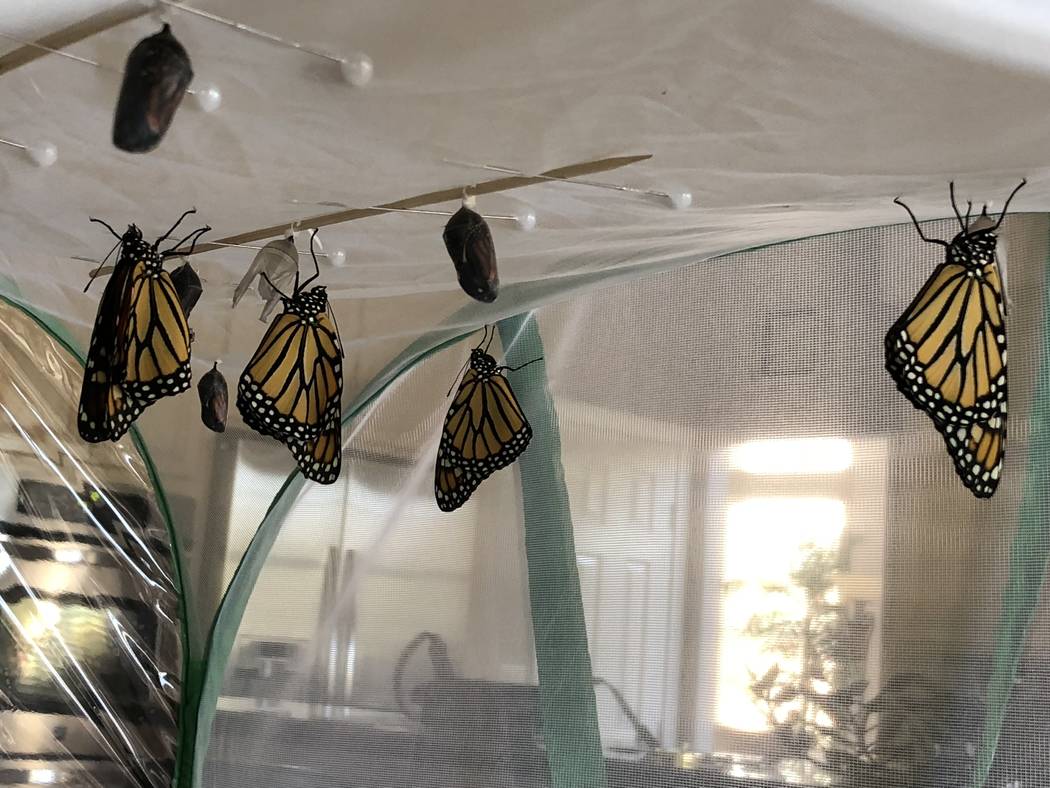 A local milkweed planting effort by the University of Nevada Cooperative Extension has paid off with the first recorded springtime sighting of a western monarch butterfly laying eggs in Las Vegas.
Master gardener and volunteer Anne Marie Lardeau spotted a female butterfly on May 19 depositing its tiny white eggs on a milkweed plant at the Botanical and Test Gardens at the Clark County Cooperative Extension Lifelong Learning Center on Paradise Road near Windmill Lane and the 215 Beltway.
Lardeau said she mistook the fluttering insect for a bird at first but still managed to capture the unprecedented event with her camera phone.
"I was excited," she said. "There has never been a documented instance of reproduction in Las Vegas as part of the spring migration. We get them in the fall but have never observed nor received reports of caterpillars in the spring before. Usually (the monarchs) ignore us, either just stopping to eat or simply flying over."
Raising a butterfly brood
After witnessing history, Lardeau decided she couldn't sit back and let nature take its course. She collected the milkweed leaves with the eggs on them and kept them in a safe place for three weeks while they produced caterpillars, then chrysalises, then 12 new western monarchs.
Lardeau released the distinctive orange-and-black butterflies into the Botanical and Test Gardens on June 11, after tagging each of them on the wing with a numbered tracking sticker about the size of an M&M.
"Yes, I interfered with Mother Nature a little bit. I think it was in a good way," she said. "Monarchs are kind of precious. The eggs are kind of precious."
And right now, they could use some help.
By some recent estimates, the population of monarch butterflies has dropped by more than 50 percent west of the Rocky Mountains and by more than 90 percent east of the Rockies over the past 20 years or so. The U.S. Fish and Wildlife Service blames the decline on a combination of habitat destruction, climate change and the widespread use of pesticides and herbicides.
In hopes of reversing that trend, the Botanical and Test Gardens in Las Vegas has turned itself into a butterfly oasis and signed on to the Southwest Monarch Study, an Arizona-based effort aimed at better understanding of the migration and breeding patterns of the monarchs in the West.
Expanding conservation effort
So far, master gardeners and volunteers at the gardens have cultivated a wide array of nectar plants and 480 individual milkweeds representing 30 varieties, including six native to Clark County.
Now the team is trying to expand the effort by encouraging valley residents and schools to grow host and nectar plants to attract more monarchs and other pollinators. Lardeau has even taken to giving away hard-to-find native milkweed seeds. "You can't even buy them in stores," she said.
Other groups have also taken up the cause, including a growing, grant-funded campaign to establish a network of "way stations" for butterflies across Southern Nevada and Utah to help them along their suspected migration routes to Southern California and northern Mexico. The first such migration garden went in last year on 4 acres of land owned by the Nature Conservancy along U.S. Highway 95 near Beatty, about 125 miles northwest of Las Vegas.
Lardeau said her fresh brood of new butterflies has since flown the coop.
About a day and half after they were released, she watched them disappear one by one, fluttering east toward the 215 Beltway and away from their garden paradise of flowering plants and water.
"They must have had a destination in mind," Lardeau said. "Otherwise there was no reason for them to have left."
Contact Henry Brean at hbrean@reviewjournal.com or 702-383-0350. Follow @RefriedBrean on Twitter.
Grow your own oasis
The University of Nevada Cooperative Extension's Botanical and Test Gardens is inviting valley residents to participate in a monarch butterfly research and rehabilitation project.
Volunteer master gardener Anne Marie Lardeau is providing free seeds from the gardens' native milkweeds while supplies last. She is also offering instructions for planting and care, surveys to track plant success and classes on how to build the gardens.
Others who want to lure monarchs and other pollinators without all the science can get advice on planting their own butterfly gardens.
Lardeau warns against buying milkweed plants from anywhere other than the Nevada Division of Forestry, as many are treated with pesticides. She said she has even found plants advertised in stores as "bee and butterfly safe" but treated with substances that kill caterpillars.
The Botanical and Test Gardens at 8050 Paradise Road are open to the public free of charge, with self-guided tours available from 8 a.m. to 4:30 p.m. Monday through Friday.
More information is available online or by calling 702-257-5587.