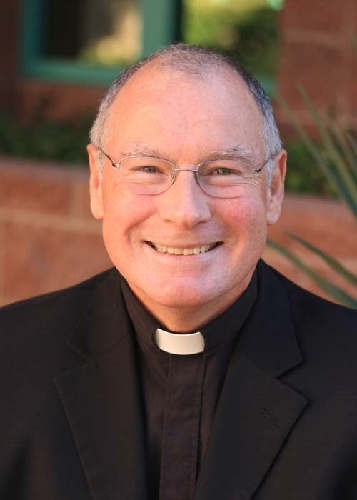 Monsignor Patrick R. Leary, CEO of Catholic Charities of Southern Nevada who died late last week, was equally remembered Sunday for his personality as much as his philanthropic endeavors.
"He just had that twinkle in his eye," said Cass Palmer, president and CEO of United Way. "He was someone special. His love of people was untouched."
Like Palmer, those who worked with Leary, 63, said his commitment to improving lives of the less fortunate was unparalleled and made him a perfect fit for his role at Catholic Charities.
He led the nonprofit since 2003. A released statement announcing Leary's death called the organization the largest social service agency providing direct assistance to people in Clark County.
Catholic Charities of Southern Nevada opened in 1941.
It offers about two dozen programs that provide services to people of all ages and religions, including a food service program that serves more than 3,000 meals a day.
Las Vegas Mayor Carolyn Goodman said Leary's death is not only a huge blow to the community, but also affects her deeply.
"I choose who I love carefully," Goodman said. "I loved this man. He was one of a kind."
Goodman said Leary was deeply involved not only in Catholic Charities but also in other causes. He would often sit on social service boards or volunteer to help with issues such as rape crisis, homelessness and the plight of veterans.
"He was the first to say, 'I'll be there. I'll be there,' " Goodman said.
Palmer recalled that only a few weeks ago he and Leary were working at a food and clothing drive in a supermarket parking lot in the southwest valley.
Palmer said as a way to bring support to the drive, the two participated in a shopping cart race, and Leary had no qualms offering the manpower.
"He had that joy in him," Palmer said. "He was the one who said, 'Cass, hop in. I'll push.' "
Palmer, who stands 6 feet and weighs about 225 pounds, laughed Sunday while recalling the story. He said he should have been pushing Leary in the cart, not the other way around.
Donald Campbell, a former lawyer for Leary, said in an email that when Leary took over Catholic Charities in 2003 the organization was in the red.
Campbell said Leary changed the operational model, streamlined services and got Catholic Charities in good standing financially.
Campbell described Leary as a "brilliant" man who spoke Chinese fluently. He served as a priest for the Paulist Fathers in Hong Kong after being ordained in the late 1970s.
Campbell said he was "heartbroken" over Leary's passing.
Patricia Trent Morrissey, who is president of the Catholic Charities board of trustees , said Leary was charismatic.
He could get the most out of the workers and volunteers at the organization. His drive was infectious, she said.
"He was such a dynamic, articulate, warm individual," Morrissey said. "I can't tell you how smart he was, and how good he was at getting the very best out of anyone who came in his orbit."
Review-Journal publisher Bob Brown serves as secretary on the Catholic Charities board.
Leary was born March 21, 1949, in Buffalo, N.Y. He was ordained on May 15, 1976. He joined the Diocese of Reno-Las Vegas in 1989. His first assignment in Las Vegas was as chaplain of the University of Nevada, Las Vegas campus ministry and chaplain to the Carmelite Sisters.
Morrissey said these are tough times because of Leary's passing, but Catholic Charities will move forward.
"We're going to do our very best to continue his legacy."
Contact reporter Antonio Planas at aplanas@reviewjournal.com or 702-383-4638.
Leary services pending
The Diocese of Las Vegas will announce services for Monsignor Patrick R. Leary and the direction of Catholic Charities in the coming days. In lieu of flowers, officials would greatly appreciate donations to Catholic Charities of Southern Nevada. For information on how to donate, call 702-385-2662 or visit catholiccharities.com/ donate.html