Montelago Village HOA strikes deal with Windermere on condo rentals
September 7, 2016 - 3:48 pm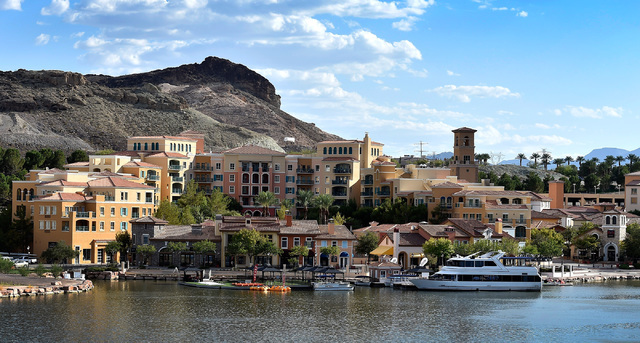 Vacationers on the search for accommodations in Lake Las Vegas still have the option of booking a weekend getaway at the Montelago Village Resort.
Contrary to a posting on Aston Hotels and Resorts website, the resort has not closed. Rather, the Montelago Village Homeowners' Association, has entered into an agreement with Windermere to manage the rental of condominiums.
"Everyone was not making enough money from running their units through that service (Aston)," said Karl Hanson, president of Montelago Village.
The agreement with Windermere, a property management company that has had an office in Montelago Village for eight years, went into effect Sept. 1.
Robyn Yates, owner/broker with Windermere, said owners have the option of putting their rental units into the vacation rental program, which requires a three-night minimum stay up to five months, or the long-term rental program.
Condo owners, however, are not obligated to choose Windermere for their rental needs, Hanson said.
"This is a growing a phenomena," Hanson said. "People are renting homes on a short term basis all over the nation."
Stan Moore, a part-time resident of Montelago Village, rents one of his units through Vacation Rentals by Owner (VRBO), and requests a minimum stay of three nights.
"When people come into a condominium, and are renting through a company like Aston, they're renting a hotel room essentially," Moore said. "The difference in the VRBO model, is that the renter rents directly from the owners. People who rent from me directly treat my property so much better and with so much more respect than they do a hotel room."
The resort is adjacent to Montelago Village, where Seasons Market recently opened. However, the village is laced with several empty storefronts, and also includes the shuttered Casino MonteLago, which closed in 2010, reopened in 2011 and then closed once again in 2013.
To ensure the success of the resort, Hanson said the next step is to purchase the "montelagovillage.com" domain name from Aston Hotels and Resorts, which currently owns it.
Contact Natalie Bruzda at nbruzda@reviewjournal.com or 702-477-3897. Follow @NatalieBruzda on Twitter.