More Las Vegas homeless living without shelter, census shows
November 18, 2017 - 10:59 pm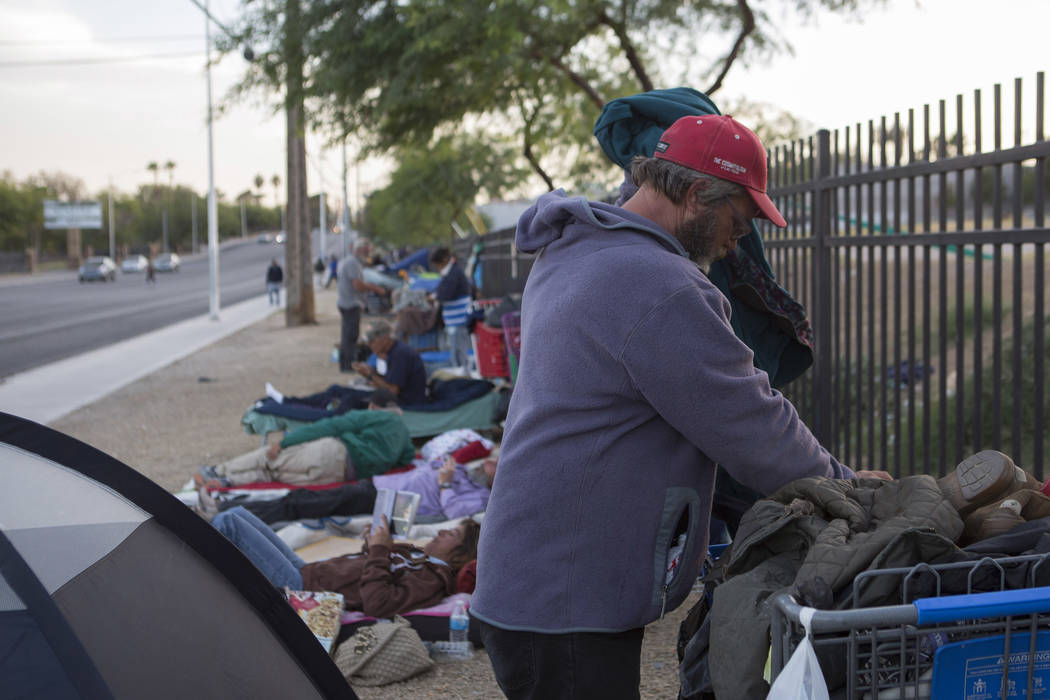 The first night living on local streets might have been the hardest for William Young.
He had been in Las Vegas for less than 24 hours — fresh from Los Angeles to find work — when he fended off an attempted mugging. Yet Young chose to sleep on the sidewalk, homeless and exposed.
The 36-year-old Tennessee native said Wednesday — two weeks since that night — that he plans to continue living on the streets while working construction. He's seen a handful of fights and an argument that escalated into a stabbing.
Despite the violence, Young says he won't stay in a shelter. He tried that once in San Diego and walked out after three nights.
"You can't sleep in there," he said. "People will steal your stuff."
Young's choice to stay on the streets until he can afford a place of his own makes him part of a growing trend in Clark County.
This year's Southern Nevada Homeless Census found that homeless people living without shelter outnumber those who do by a ratio of 2-to-1. It was the largest disparity in the past four years.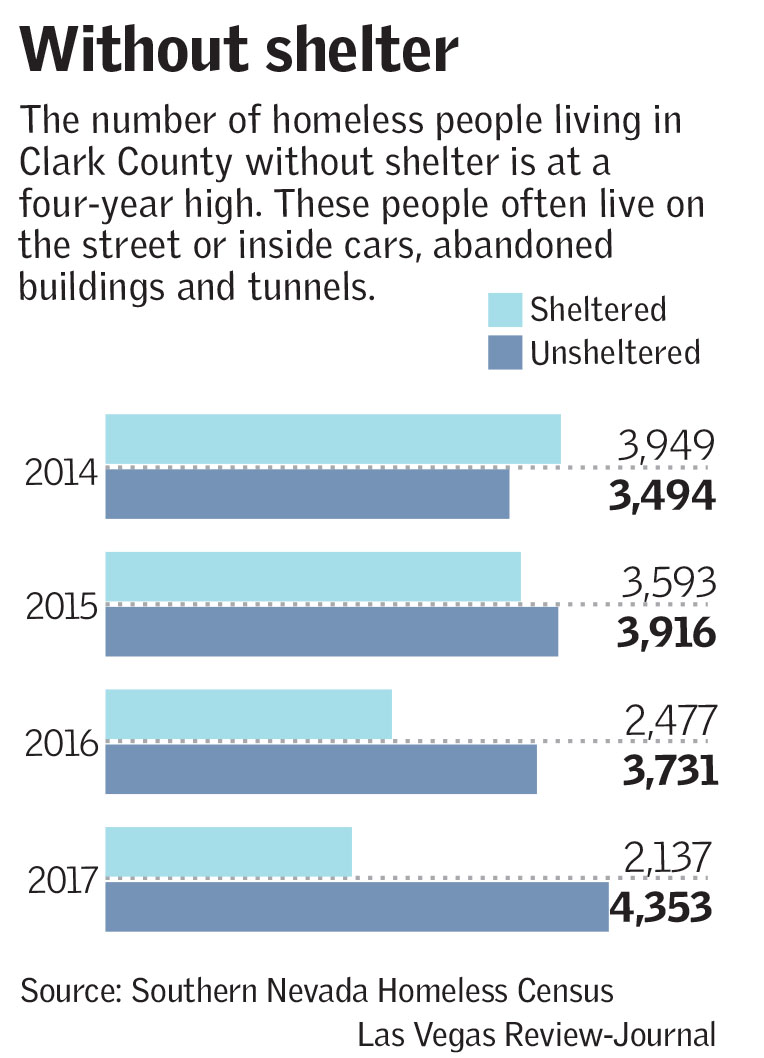 In 2016, Las Vegas ranked among the top 10 cities nationally for the largest population of unsheltered homeless. In January the local homeless census counted an increase of 600 people who were living in places not meant for human habitation, including parks, cars and abandoned buildings.
Michele Fuller-Hallauer, the county's continuum of care coordinator, said the jump over 2016 could be attributed to a growing number of newly homeless people who don't know where to find assistance. The county's lack of affordable housing is also to blame, she said.
Whatever the cause, Fuller-Hallauer finds the uptick unsettling.
"It's dangerous to sleep outside," she said.
Shelter needs
By 3 p.m. Friday close to 200 homeless men wait in the dining hall of Clark County's largest emergency shelter.
Staff members usher small groups into the Catholic Charities of Southern Nevada courtyard and the men form a single-file line. Each man must complete a multi-step security check before he can claim one of the shelter's 524 beds.
Bags are checked. A breath test enforces a zero-tolerance intoxication policy. Security guards and a full-body metal detector ensure no weapons or drug paraphernalia are brought inside.
The safety measures deter some, but vice president of operations Robert Dawson said nine out of 10 beds are filled on an average night.
"There are days when we're completely full, and we have to call our community partners to see if they have room," Dawson said.
There's no doubt that the area's need for shelter beds far exceeds the supply, Dawson said. Last year's local housing inventory counted 2,450 beds at emergency shelters, safe havens and transitional housing programs. That's enough for less than half the number of homeless people counted in this year's census.
"Really what it boils down to is we don't have enough resources in our community," Nevada Homeless Alliance executive director Emily Paulsen said. "Even since the (homeless) census happened in January we've lost beds in our community targeted toward highly vulnerable populations."
Among them is the Shade Tree, which indefinitely suspended its 160-bed transitional shelter for women and children in August because of funding cuts. Last week, all 164 beds at the nonprofit's emergency shelter were full.
"Capacity is definitely an issue," said Becky Borero, director of shelter operations. "We get very full in the winter time."
At the root of the problem, Dawson and Paulsen agree, is that Las Vegas is the U.S.' worst metropolitan area when it comes to availability of affordable rentals. A study by the National Low Income Housing Coalition found that for every 100 local renters with "extremely low income," only 12 affordable rental units are available. The national average is 35.
"There are more people living in poverty in Southern Nevada than there is adequate affordable housing available," Paulsen said. "So we have more people falling into homelessness because they can't afford rent."
No safety
The homeless census estimates that throughout this year nearly 25,000 people will be homeless in Clark County for some period of time.
Statistics indicate that most will find a home in less than a year, but on the streets they are easy targets for criminals.
At least twice this year, homeless men in Las Vegas were bludgeoned to death while they slept. Much more common, Las Vegas police officer John Purcell said, are robberies and muggings.
"Being out on the streets there's no security or safety blanket," he said. "People can get stuck up for a pair of shoes."
That doesn't deter Young from sleeping on the sidewalk near the Salvation Army's homeless shelter on Main Street, with only a blanket for protection. Besides, Young said, with his job helping build houses, he'll soon have enough money to rent a trailer, or at least a hotel room.
"I'm waiting for the paycheck to come in, and I'll be good after that," he said.
Contact Michael Scott Davidson at sdavidson@reviewjournal.com or 702-477-3861. Follow @davidsonlvrj on Twitter.