Motorcyclists join Green Berets in early Memorial Day ceremony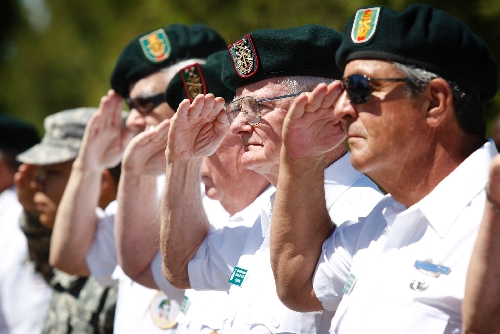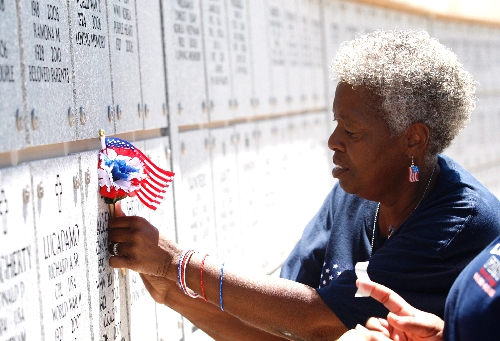 The roar of more than 1,000 motorcycles drowned out the sorrowful sounds of taps on Sunday during a special and somber ceremony by Nevada's Green Berets at the Southern Nevada Veterans Memorial Cemetery.
But in the end, it was all good; they were just a little late.
After all, they were brothers in arms – coming together to celebrate Memorial Day a day early at the cemetery in Boulder City.
And so with the sun shining and not a cloud in the sky, members of the Vietnam Veteran Legacy Vets Motorcycle Club got off their bikes and shook hands and rubbed shoulders with at least a half-dozen Green Berets, all members of Nevada's 51st Chapter of the Special Forces Association who just moments earlier placed a wreath at one of its monuments.
More speeches were given, the national anthem was played and those in the audience were reminded to thank a veteran today, because without him or her, there's a good chance there would be no freedom.
"No greater love can be shown than to (lay) down your life for the life of a stranger," said Desert Storm veteran Ray Packard, 42.
Or, as Plato has been quoted as saying, Packard added, "Only the dead have seen the end of war."
That would include the roughly 28,000 veterans buried at the cemetery. The first veteran was buried there in 1990.
Since then, the cemetery has become, without fail, the epicenter of activity every Memorial Day, where tiny U.S. flags adorn the graves and where various monuments have cropped up over the years to honor the nation's armed forces.
The Green Berets' monument was created by Jerry Hocking, 72, a member of the 51st Chapter. He has been an artist on the side for most of his life when he wasn't selling cars or working in the casinos.
The bronze-colored sculpture depicts a Green Beret helping a child in some distant land where war has occurred and where the Green Berets have come to its aid.
Etched below the sculpture are the words: liberator, defender, healer, teacher, builder and soldier, all of which the Green Berets are supposed to symbolize, Hocking said.
"That has always been our mission," he said. "We liberate, we defend, we heal, we teach, we help build and we're all soldiers, first and foremost."
Since the early 1960s, 1,107 Green Berets have lost their lives in combat, said Al Hendley, 67, a Vietnam veteran and member of the 51st Chapter.
But none of them died in vain, Hendley added. Their deaths were for the sake of our freedom.
That's what Memorial Day is all about: to remember them, he added.
"Unfortunately, Memorial Day is treated like a three-day holiday," he said. "I think the general public tends to forget what it's all about – unless, of course, they've had someone who's served or lost their life in war."