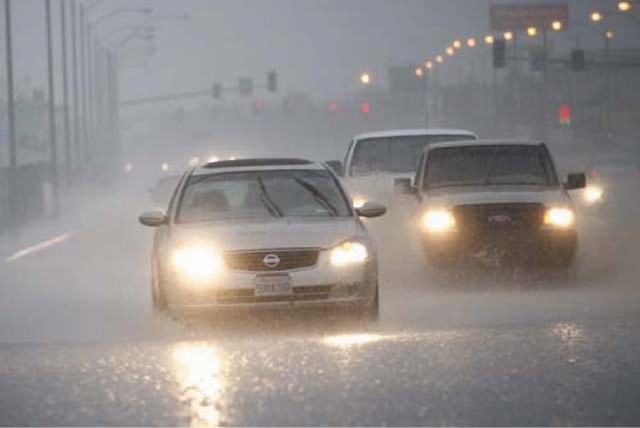 Mount Charleston visitors hoping to see charred and scarred terrain this weekend could face potentially deadly flash floods and debris flows because of thunderstorms, according to the National Weather Service and Las Vegas officials.
Chris Stachelski, a meteorologist with the weather service, advised hikers to avoid venturing into burned areas most affected by the Carpenter 1 Fire, such as Kyle, Trout and Lovell canyons. These areas are most at risk for flash floods, which could be triggered by as little as half an inch of rain over an hour, he said.
"In a matter of two hours, you could go from sunny to downpour and flooding. You could go out there hiking, and conditions could change that rapidly," said Stachelski.
Flash flooding is a common second wave of natural disaster after a wildfire.
Severely burned dirt stiffens into a glass-like surface, repelling water rather than absorbing it. Without vegetation to hold soil together, muddy water can easily run downhill and carry loose rocks and boulders. And because ash is lighter than water, rain can cause it to collect in eddies and creeks, creating thick blobs.
As the nearly 28,000-acre wildfire approaches 100 percent containment, another danger awaits residents and visitors, this time from below their feet.
Fire officials said hikers should be wary of ash pits, or hidden holes filled with hot ash.
"Often the fire will continue burning underground for a couple days when either a tree has fallen or (fire) catches a dead stump. It sits and smolders, and after several days, a cavern opens up underground and gets covered in a light dusting of ash," said fire information officer Jon Kohn.
Stepping in an ash pit is no happy jaunt in the woods.
"Fire boots are pretty good at holding back the heat, but when you're stepping in a hot glowing hole, they're not a good insulation for that," Kohn said.
But a weekend visit to the mountain doesn't have to be all doom and gloom.
The Resort on Mount Charleston and the Mount Charleston Lodge are both open, as well as the ski resort in Lee Canyon.
Stachelski, the meteorologist, said hikers could stick with safer areas that remained relatively unscathed from the Carpenter 1 Fire, such as in Lee Canyon and its many popular trails.
"If you're going up there, just be aware because things could change very quickly," he said.
If suddenly caught in a downpour, mountain visitors should find higher, sturdier ground and make sure nothing that could be swept away is above them, Stachelski said.
The wildfire began July 1 when lightning struck a remote area of Trout Canyon. Evacuations were started three days later from Kyle, Trout, Lovell and Lee canyons.
Kyle Canyon residents were the last to be allowed home Wednesday morning. The public was allowed into the canyon on Friday morning.
The Burned Area Emergency Response Team is working on the mountain to reduce the post-fire risks and prevent further damage from the rain, according to fire officials.
City officials warned motorists Thursday to be cautious of a muddy mixture that could wash down from burned areas into parts of town over the weekend.
There is a 20 percent chance of thunderstorms on the mountain Friday and a 40 percent to 60 percent chance Saturday through Monday, according to the weather service. The weather service said lightning might occur just as with any other storm.
The Las Vegas Valley is also expected to see a small chance of scattered thunderstorms Saturday and Sunday, according to the weather service.
A flash flood watch — issued by the National Weather Service when upcoming rains have the potential to cause a flash flood — is out for the Sheep Range and Spring Mountains from Saturday afternoon through Monday evening. A flash flood watch for the lower valley goes into effect Sunday afternoon and extends through Monday evening.
Contact reporter Melissah Yang at myang@reviewjournal.com or 702-383-0491. Follow her on Twitter @MelissahYang. Contact reporter Caitlyn Belcher at cbelcher@reviewjournal.com or 702-383-0264.
Related Stories:
– 'Super mud' from wildfire could make roads slick