Mountain snowpack benefits: No valley flooding, aquifer gets boost
Updated May 4, 2023 - 7:23 pm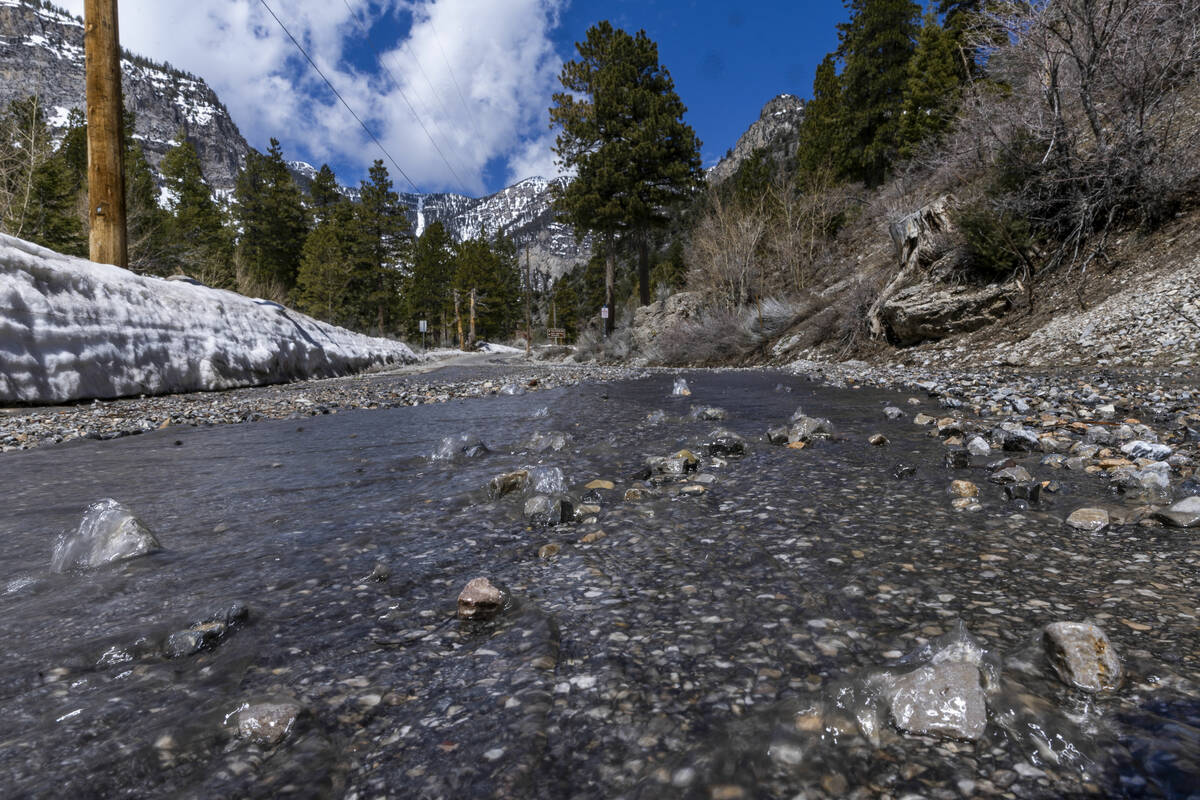 This winter's near-record snowpack on Mount Charleston is melting away as temperatures rise, but experts are not expecting that warming water to pose any major flood problems as it melts off the Spring Mountains.
While the Las Vegas Valley saw temperatures climb into the mid-90s in the last week, relatively cooler temperatures at higher elevations in the Spring Mountains have kept the snow melting at a fairly normal rate, according to Ashley Nickerson, a meteorologist with the National Weather Service in Las Vegas.
"When we warm up slowly, it really prevents that rapid rush of water into the communities and down into the Las Vegas Valley," Nickerson said.
The melting snow has meant water flowing in the washes and some wet roadways in Kyle and Lee canyons in recent weeks. There's still about 5 to 7 inches of snow in the mountain canyons, and even more higher up near the peaks, Nickerson said.
Daytime temperatures climbing into the 70s or 80s on the mountains could send that remaining snow down to the valley rapidly, but Nickerson said that kind of heat wave isn't in the forecast at this point.
"The warmup is going to be fairly slow, and it's going to kind of wax and wane," Nickerson said. "So while we'll see snow melt, it most likely won't be an issue down here in Las Vegas."
Even if the snow were to melt rapidly, the valley's system of detention basins should act as a buffer to mitigate any potential flooding, as those basins hold floodwaters and release more slowly, according to UNLV hydrology professor Dave Kreamer.
Besides a lower risk of flooding, the slower snowmelt also would mean a slight boost to Southern Nevada's water supplies, Kreamer said.
Las Vegas gets about 90 percent of its water supply from Lake Mead. The other 10 percent comes from the valley's underground aquifer, which gets recharged each year by the snow melting off the Spring Mountains and seeping into the soil.
"If you have more spread-out melting, you then get more even recharge," Kreamer said.
Exactly how much this year's snowmelt will help the aquifer is difficult to know because quantifying groundwater recharge is "one of the hardest things in hydrology," Kreamer said.
"It will help," he added. "There will be increased recharge, and that's always beneficial."
Contact Colton Lochhead at clochhead@reviewjournal.com. Follow @ColtonLochhead on Twitter.