Needles, vials of blood found in dumpster at central Las Vegas Valley apartment complex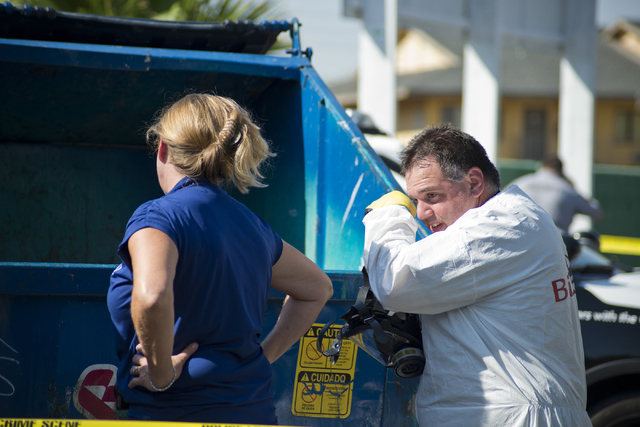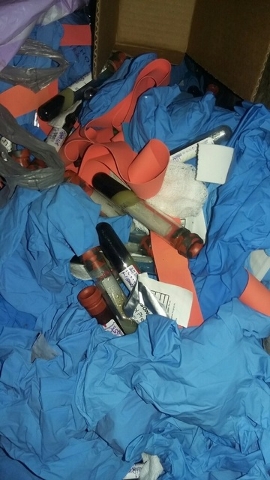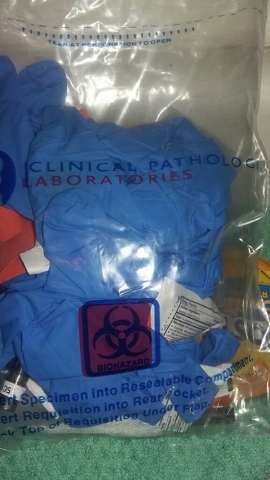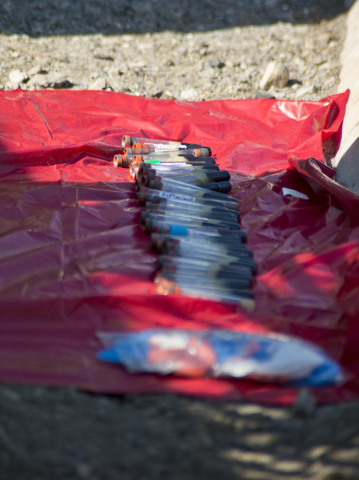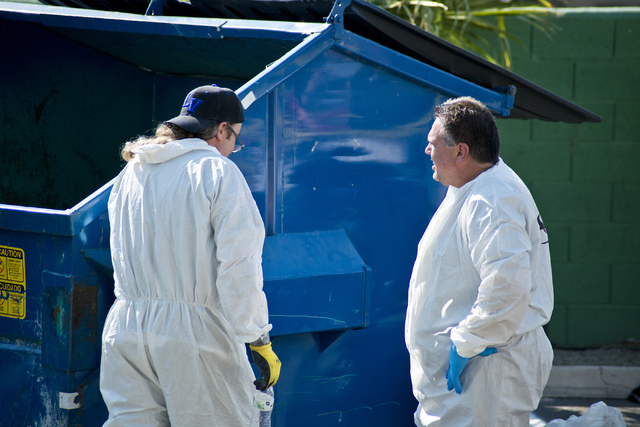 Residents at a central valley apartment complex discovered a dumpster filled with medical waste Monday where a man was shot to death Sunday.
The residents at the Hampton Court Apartments — 3955 Swenson St. near Flamingo Road — had gathered with friends and family to deal with the loss of their family friend, 21-year-old Antoine Williams, when one of them discovered open needles, vials of blood and used surgical gloves while taking out the trash Monday night.
Some of the medical waste was inside biohazard bags labeled Clinical Pathology Laboratories, a medical lab with 15 locations in Las Vegas and Henderson.
"We have people that dumpster dive around here," resident Leonard Dixon said in a telephone interview Tuesday. "This could be deadly."
The Southern Nevada Health District defines medical waste as any nonliquid waste — including vials, syringes, cotton balls and tissues — used in the diagnosis, treatment or immunization of people or animals, said Stephanie Bethel, a health district spokeswoman.
"Staff at commercial medical facilities — doctor's offices, labs, hospitals, surgery centers — should store all medical waste in a red bag specifically made for that purpose and the bag should be placed into a rigid, leak-proof container to be picked up by a medical waste contractor and disposed of in an appropriate landfill," Bethel said, adding that "medical waste should be separated from any other type of solid waste."
Bethel said proper disposal of medical waste is required by Nevada Administrative Code 444.662 and the health district's Solid Waste Management Authority regulations.
"The Southern Nevada Health District is currently investigating the matter," Bethel said.
The Metropolitan Police Department is also investigating.
On Tuesday afternoon, Nancy Stratton, the lab's vice president of quality improvement and risk management, released the following statement:
"Thank you for bringing this to our attention. At this point, we have no information concerning the source of the materials found at the apartment complex. Specimen bags labeled 'Clinical Pathology Laboratories' are available to all of our health care provider clients.
We have policies and procedures in place which we require our employees to follow for the proper disposal of medical waste. These procedures are consistent with all applicable regulations including (Occupational Safety and Health Administration) and (Health Insurance Portability and Accountability Act).
If requested, we stand ready to work with Nevada authorities."
Contact Lawren Linehan at llinehan@reviewjournal.com or at 702-383-0381. Find @lawrenlinehan on Twitter.