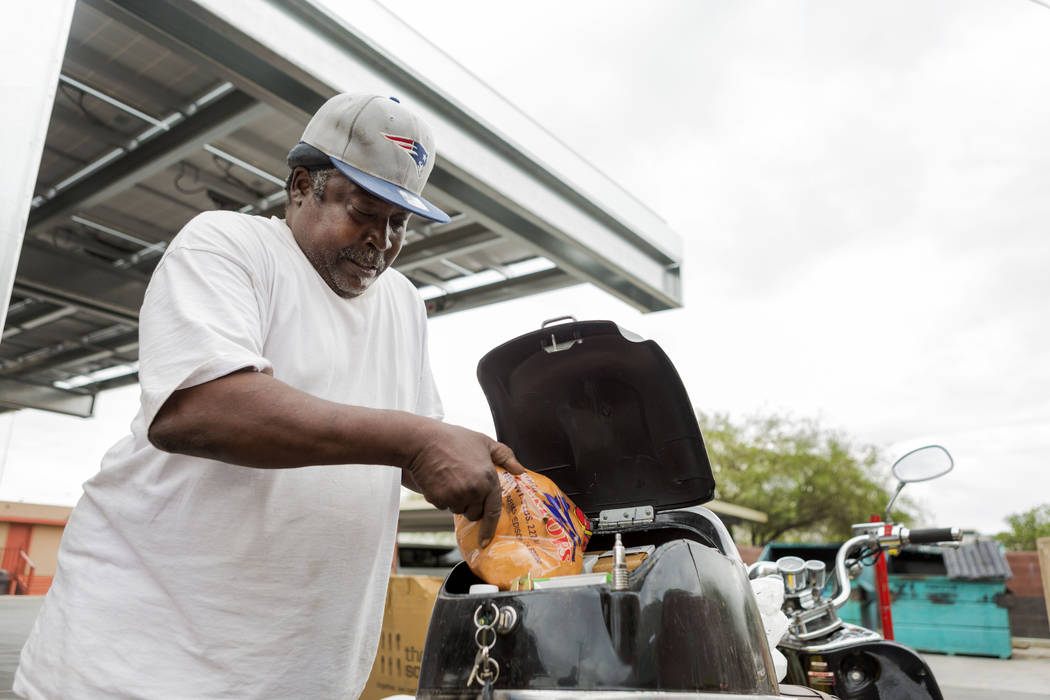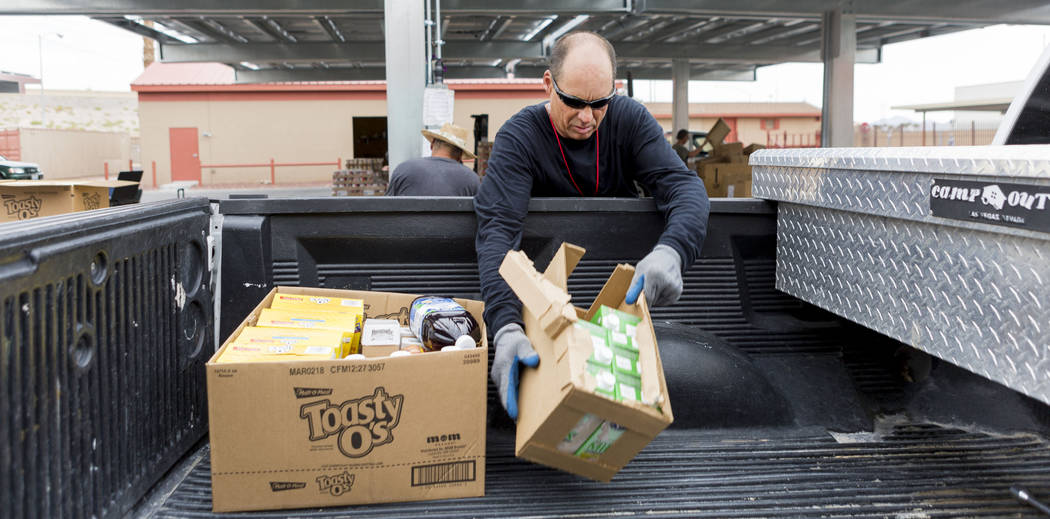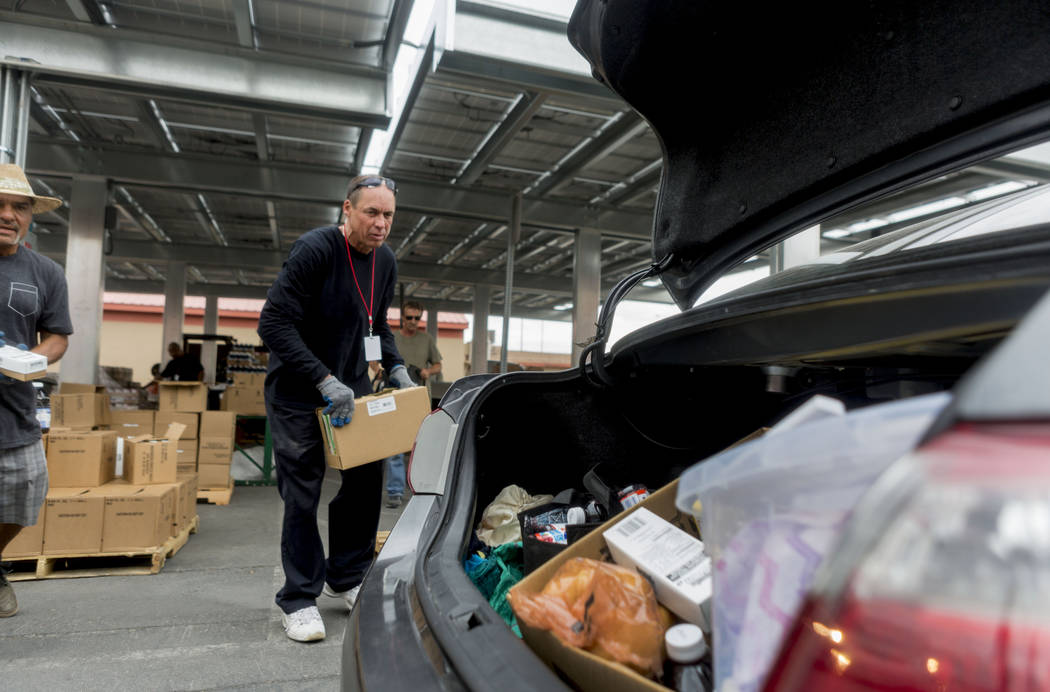 The line of cars snaked down Bonanza Road and wrapped around D Street. Traffic started backing up around 8 a.m., but the snarl can last hours.
The queue was at the Las Vegas Rescue Mission, which, every other month, is one of 50 Nevada locations giving away food to the needy. Although there are eight locations for the U.S. Agriculture Department-funded giveaways in Clark County, the Rescue Mission is the only one in Las Vegas.
John Fogal, a Rescue Mission spokesman, said his agency's busiest days are at the start of the month, when people are first eligible for the food aid and need to restock provisions.
Rescue Mission food giveaway recipients are organized alphabetically by surname. In May, more than 10,000 people claimed commodities. On a Wednesday in July, more than 400 people were helped.
The Rescue Mission also delivers to senior citizens who can't pick up the items themselves, provides 30,000 meals a month in its cafeteria and has a food pantry, which is stocked largely with donations.
On a recent Thursday, Angelo Uribe, a shorter man with a straw hat, helped package food to give away. Fruit. Milk. Beef stew. Cheese. Chicken. Cranberry juice. Potatoes.
A man pulling up to the mission in his Honda said he didn't need cheese.
"It's still the same price," Uribe said, joking.
Fogal said the food can help get recipients through a few days. As he spoke, the cars kept coming. A Hyundai Elantra. A Nissan. A big, white truck with large tires.
Victoria LaGrow works for the mission as part of its yearlong substance abuse program, which she started in April. On this July day, she wore a pink shirt and had her reddish hair pulled back.
From 8 a.m. to 1:30 p.m., she verified drivers' eligibility and ensured that their incomes and household member counts did not exceed federal poverty guidelines. Recipients can come only once a month.
"It's like work therapy," she said of the job, which she does five days a week. "Here, I feel free."
Luwana Rice pulled up for commodities in her Isuzu Rodeo. In the backseat, her 3-year-old granddaughter sipped a Capri Sun juice pouch. She and her husband are the guardians of three grandchildren.
"This has been a benefit; a lot of the items are staple items," Rice said. "It allows me to stretch my food budget a bit."
Because Rice is disabled and can't work, her family relies on her husband's income; he drives forklifts.
Shortly afterward, Garry Coleman's black moped puttered up to the tent. He opened his minitrunk and stuffed in potatoes and other bags of food. Sweat dripped down his salt-and-pepper beard.
Coleman, 57, said driving to the mission was a hike from his home across town.
"It's just me and my old lady," Coleman said, describing his household. "But you got to pay rent, got to pay lights."
Once he received his commodities, Coleman, who is on disability, wrapped a bag of Toasty O's around his handlebars.
"This keeps us with a roof over our heads and a stove," he said.
He strapped on his helmet and headed home.
Contact Briana Erickson at berickson@reviewjournal.com or 702-387-5244. Follow @brianaerick on Twitter.
Distribution centers
Boulder City: Emergency Aid of Boulder City from 8 a.m. to noon.
Henderson: The Salvation Army from 8 a.m. to 2:30 p.m.
Las Vegas: Las Vegas Rescue Mission (alphabetical system by surname Monday (A-E); Tuesday (F-J) Wednesday (K-O) Thursday (P-T) and Friday (U-Z) from 8 a.m. to 1:30 p.m., excluding the third Wednesday and holidays.
Laughlin: Colorado River Food Bank from 8 a.m. to 2:45 p.m.
Mesquite: The Salvation Army from 9 a.m. to noon.
Overton: Cappalappa Family Resource Center from 1 a.m. to 2 p.m.
Sandy Valley: Sandy Valley Food Share from 10 a.m. to noon.
Searchlight: Colorado River Food Bank from 9 a.m. to noon.
480 W Bonanza Rd, Las Vegas, NV 89106