Nevada GOP congressional hopefuls talk taxes, Trump at forum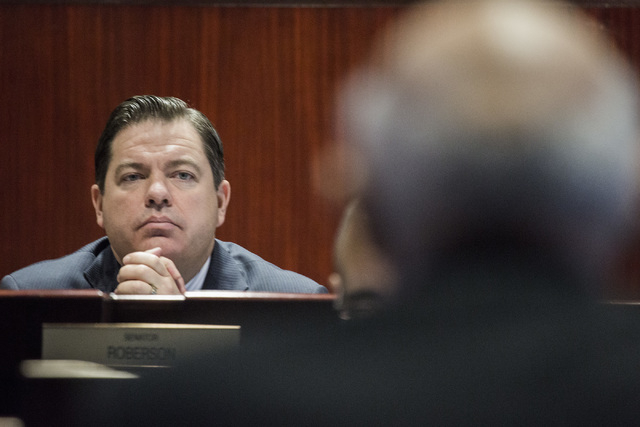 Republican candidates in an increasingly tense Southern Nevada congressional race staked out positions Tuesday on when it's OK to raise taxes and whether they'd support Donald Trump if he's the party's presidential nominee.
All seven GOP candidates for Republican Rep. Joe Heck's seat participated in the event, which was hosted by the Southern Hills Republican Women's Club and moderated by conservative talk radio host Alan Stock. Heck is vacating the seat to run for U.S. Senate.
State Senate Majority Leader Michael Roberson and businessman Danny Tarkanian are far ahead of their opponents in fundraising and both have more than half a million dollars in available campaign cash, according to reports filed earlier this month. The two front-runners staked out opposite positions on a $1.4 billion tax package backed by Gov. Brian Sandoval and passed in 2015 by the Republican-controlled Legislature.
"Every economic development expert in this state came to us last session and said it's great you're a low tax state … but until you improve one of the worst education systems in the country, you're not going to get businesses to move here," said Roberson, who played a major role in ushering the package through the Legislature with more than two-thirds support. "So under those circumstances, we raised taxes on the top 1 percent of businesses."
Tarkanian has criticized Roberson for his tax stance. He said the Republicans squandered the "golden opportunity" they had when they swept the Assembly, Senate and constitutional offices for the first time in nearly a century.
Candidates were also asked whether they would support whoever the Republican Party nominates for president, even if that person is the polarizing Trump.
"I do intend to support the Republican nominee," Roberson said. "I hope as a party we nominate someone who can actually win in November."
Tarkanian said "of course" he'd support the nominee, saying the next president would have power over one or more U.S. Supreme Court nominations.
"Any Republican who says they won't is such a disappointment," Tarkanian said. "There's nobody worse than Hillary Clinton except possibly Bernie Sanders."
The 3rd Congressional District has a slim Democratic registration advantage but has been in GOP hands for six years and has attracted a large, vocal field of Republican candidates.
Perhaps the best-known is Assemblywoman Michele Fiore, who has snagged national headlines for her love of guns and support of Cliven Bundy, who is in jail facing numerous federal charges involving a 2014 armed standoff near his ranch in Bunkerville.
Other candidates include Andy Matthews, the former president of the Las Vegas-based conservative think tank Nevada Policy Research Institute, and Dr. Annette Teijeiro, an anesthesiologist who lost a bid for the heavily Democratic 1st Congressional District in 2014.
Also running are Kerry Bowers, who was campaigning for president before switching gears to pursue a House seat, and Sami Khal.
Tarkanian has wide name recognition in the Las Vegas area.
Roberson has support from high-ranking elected Republicans including Gov. Brian Sandoval and announced an endorsement Tuesday from the U.S. Chamber of Commerce, but gets a chilly reception from members of his party upset by the tax hike.
The winner of the contentious Republican primary will face the winner of the more subdued Democratic primary in November. The two top Democrats are Jacky Rosen, who was recruited by U.S. Sen. Harry Reid and who leads a Henderson synagogue, and attorney Jesse Sbaih.
The 3rd Congressional District includes Henderson and parts of Las Vegas. About 38 percent of voters are registered Democratic, while about 37 percent are registered Republican.