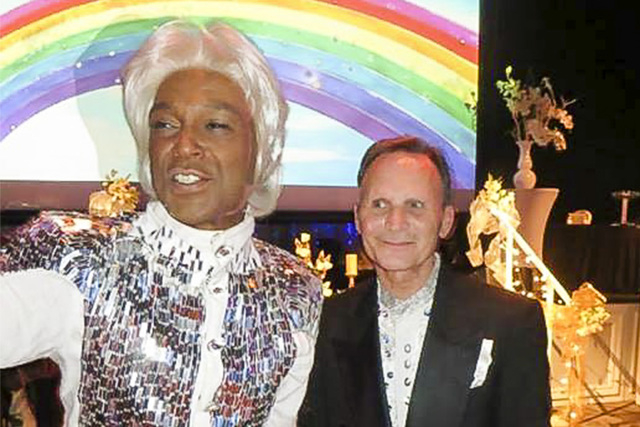 State Sen. Pat Spearman, a gay pastor who sponsored a resolution to amend the Nevada Constitution to allow same-sex marriage, got tired of waiting for the law to change.
Last Saturday, she performed a rainbow-festooned wedding ceremony for a gay couple, Las Vegas entertainer Phil Flowers and his partner, Bob Nole, before a crowd of 400 people at the Silverton's Veil Pavilion.
"It's time," said Spearman, D-North Las Vegas. "You can't say you're for civil rights and equal rights and stop at marriage."
Flowers and Nole, who have been together for 10 years, were legally married in California in February. Their Las Vegas nuptials aren't officially recognized by the state.
"We didn't care whether it was legal because my friends and family were there," Flowers said Thursday. "It's sad to know that Vegas is turning down millions every year because gay people can't have a celebration here. We have to take our money somewhere else. This is the entertainment capital of the world. Why not let us get married?"
Spearman said there are likely other gay couples in Nevada who are marrying in religious ceremonies, although the law hasn't caught up with them yet. She said it's only a matter of time as more states approve same-sex marriage and courts rule that laws banning gay marriage are unconstitutional.
"It's not about gay marriage," Spearman said. "It's about marriage equality. The takeaway for us is these people love each other and they're tired of being treated as second-class citizens. They want to be recognized."
So far, 19 states have legalized same-sex marriage, including California and Hawaii — both popular wedding spots for gay couples from Nevada, Spearman said.
Spearman's resolution, SJR13, passed the Nevada Legislature in 2013 along party lines with mostly Democratic support. It must be approved a second time by the 2015 Legislature before going to voters in 2016.
A poll in October 2013 by the Retail Association of Nevada found 57 percent of Nevadans support changing the constitution to allow same-sex couples to marry legally. Some 36 percent were opposed, and the rest didn't take a side. That compares with 2002 when two-thirds of Nevadans voted to add a same-sex marriage ban to the constitution.
Meanwhile, the courts may decide the issue before voters do. The 9th Circuit Court of Appeals in San Francisco is scheduled to hear oral arguments Sept. 8 in a Nevada same-sex marriage case. Nevada's ban is being challenged by the group Lambda Legal on behalf of eight gay couples. The case is Beverly Sevcik v. Brian Sandoval. The GOP governor is no longer defending the state's ban.
The Flowers and Nole wedding was a major event in the Las Vegas entertainment community.
Flowers' matron of honor was Sarann Knight Preddy, who is in her 90s and was the first black woman to hold a Nevada gaming license for the Moulin Rouge. She gave Flowers away.
While walking down the aisle, Flowers sang, "All of Me." The 26 people in the wedding party also broke out in song as they walked down the aisle to join the couple, Flowers said. The entertainer's 15-year-old son sang, "My Dad," an old standard.
Instead of jumping the broom, an African-American wedding tradition, the couple jumped a polystyrene-foam rainbow.
"We started something new for gay people," Flowers said laughing.
Although his family and friends have long known he was gay, Flowers said he never came out in front of an audience until the week before the wedding, when he was doing a show at The Orleans.
"I came out on stage," he said. "I told them I was always afraid, thinking people wouldn't like me anymore. I was crying on stage. I never hid it, but I never came out like that before."
Contact Laura Myers at lmyers@reviewjournal.com or 702-387-2919. Find her on Twitter: @lmyerslvrj.