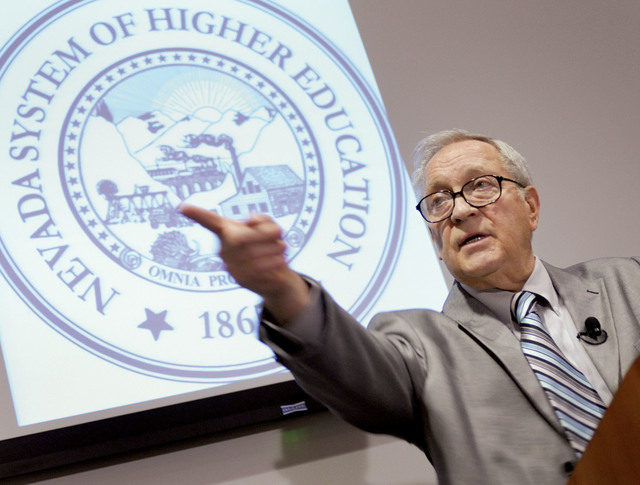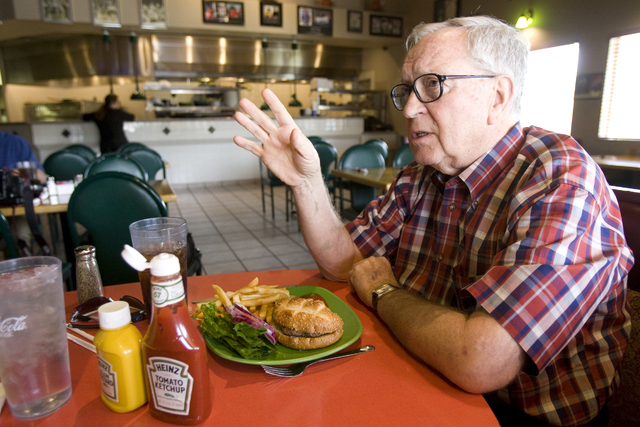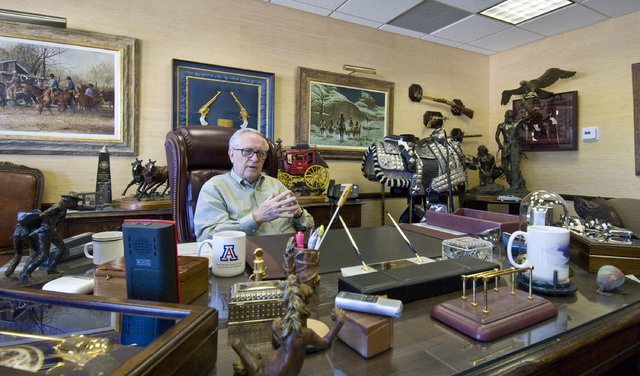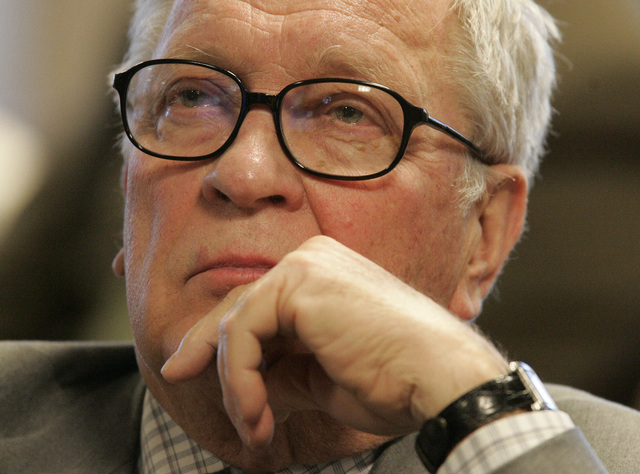 Philanthropist, education advocate and media pioneer Jim Rogers, 75, died Saturday night following a lengthy battle with cancer.
Friends will always remember him as a man with passion.
In addition to owning KSNV-TV, Channel 3, in Las Vegas, Rogers served as the ninth chancellor of the Nevada System of Higher Education from 2005-09, after serving one year as interim chancellor.
"He was very strong-minded on certain things," said former UNLV President Carol Harter, who worked with Rogers when he was chancellor of the Board of Regents. "It was never dull."
Rogers famously harried Harter out of her position at the university in 2006, but later became her friend and ally. In 2013, he donated $10 million to the Black Mountain Institute, UNLV's graduate-level creative writing program. And Rogers backed Harter to serve as interim president of the university when Neal Smatresk suddenly stepped down.
Harter attributed Rogers' generosity to his wife, Beverly Rogers.
"He wanted to honor her through that gift," she said. "I can't tell you how grateful we are. That started many opportunities."
Harter added that as part of the donation, Rogers requested the name of the program and the building be named for his wife. Toward the end of his life, he saw how important it was to his wife that she assume some of his legacy of fighting for higher education, she said.
"He was the most interesting man," Harter said. "Right to the end, he was energetic."
Not only was Rogers vocal about who should step in as interim president at UNLV, but he was not shy about sharing his opinions on elections to the Board of Regents.
"He made it his personal mission to fight for higher education funding when he was chancellor and continued that work after he returned to the private sector," said Kevin Page, chairman of the Board of Regents, whom Rogers' adamantly endorsed on Twitter the night before he died. "Improving Nevada's education system was Jim's way of giving back to the community."
And Rogers' work in education was not confined to Nevada.
Rogers made the largest gift to a law school in history at the time to the University of Arizona. Rogers graduated from the law school in 1962. His son also went there and now the school is named after him.
"This wasn't just a man who put his support and name on the school. He actually cared," said Marc Miller , dean of the James E. Rogers College of Law. "He wanted to change the world."
Miller said students loved Rogers, who frequently came to give speeches and engage the community. He was always taking students to lunch and coming up with ways to improve their law school experience.
"Jim had no shortage of ideas. I wish I could have had many more years of his friendship and council," Miller said. "We're all feeling it. Everyone here is in shock."
In addition to his philanthropic record, Rogers will also be remembered as a media pioneer.
"Jim was a mercurial, fiery and passionate man who changed the face of local television," politics reporter and TV personality Jon Ralston wrote in an email. "He didn't care about ratings. He wanted his legacy to be providing as much real news to viewers, no matter the cost. It was a bold and visionary step."
"I remember when he took me back to New York to meet with NBC executives to inform them of his plan to turn KSNV into a local version of CNN. They looked at him like he was crazy. And you know what? He didn't care."
Ralston, whose show "Ralston Reports" airs on Channel 3, said Rogers changed his life.
"(Rogers) quietly tried to woo me to come to KSNV for many years before it happened. He gave me a statewide audience and had confidence in me from the start," Ralston wrote. "I will never forget that. I will miss him."
A Las Vegas native, Rogers founded Valley Broadcasting Co. in 1971 and won FCC approval to operate an NBC affiliate, Channel 3, in 1979.
He parlayed that into Sunbelt Communications, which grew into 14 TV stations in five Mountain states, including three in Nevada. Others were in Montana, Idaho, Wyoming and Arizona. Sunbelt's title was changed to Intermountain West Communications Co. about five years ago.
KSNV president and chief operating officer Lisa Poe-Howfield described Rogers as tough, unfiltered, kind and charismatic.
"You always knew exactly where you stood with him, and I appreciated that," she said.
In January, the Review-Journal learned of a Channel 3 meeting in which Rogers revealed he was having another bout with cancer.
Rogers fought off bladder cancer about seven years ago, but he said station employees would still have a job no matter what happened.
A Channel 3 insider who attended the meeting said Rogers made it clear that when he "goes, everything goes to (his wife) Beverly, and when she goes, everything goes to the colleges."
Poe-Howfield said she plans to keep working to fulfill Rogers' wishes for the station.
"He has always wanted the station to be the station of record for the people," she said. "That was his vision, and I plan to continue that."
Channel 3 will be airing special segments highlighting Rogers' life each day this week, she said.
"As much as we thought we would be prepared, somewhere in the back of my mind I thought if anyone could beat cancer, it would be Jim," she said.
Several prominent Nevadans issued statements Sunday that highlight Rogers' philanthropy and charisma.
U.S. Senate Majority Leader Harry Reid, D-Nev., said he has known Rogers for a long time.
"Jim and I were contemporaries while practicing law, and what a terrific lawyer he was," Reid said. "And his talents were not limited to law. What he has done in the communications world is record-setting, and not just in Nevada but in the Western United States. What he has done in education is superb.
"His philanthropic endeavors are unsurpassed in the state of Nevada. He was my friend and his friendship to me I will always remember."
Republican Gov. Brian Sandoval, and Reps. Dina Titus and Steven Horsford, both D-Nev., also expressed their condolences in statements.
"With the passing of Jim Rogers, Nevada has lost one of its most outspoken and fearless advocates," Sandoval said. "Jim was nationally recognized as a successful philanthropist and business leader. In the state of Nevada, he was so much more. Jim dedicated his time and resources to advancing our education system and as chancellor of higher education, was fierce in his commitment to make sure our students had the resources they needed to succeed."
Horsford said Rogers had a huge impact on Nevada, and he will be missed.
Titus touched on Rogers' big personality.
"Jim Rogers had no fear," she said. "His business acumen, philanthropic generosity, and ferocious passion for learning made him a true game changer. He started the conversation, directed the dialogue, and produced results that propelled Nevada, sometimes kicking and screaming, toward a brighter future."
Former Nevada Gov. Bob Miller, a Democrat, praised Rogers for his commitment to education.
"Jim Rogers was the exemplary role model for giving back to the community," he said in a statement. "His particular passion and devotion to education, specifically his unmatched generosity and resolute attention for higher education, is a legacy that will be a challenge for us all to live up to."
"We in Nevada have lost one of our most vocal leaders for increasing education opportunities."
Funeral arrangements for Rogers have not been finalized as of Sunday.
Jane Ann Morrison and Laura Myers contributed to this report. Contact Wesley Juhl at wjuhl@reviewjournal.com and 702-383-0381. Follow @WesJuhl on Twitter.