Nevada MIA families still seeking loved ones' remains
April 13, 2014 - 12:03 am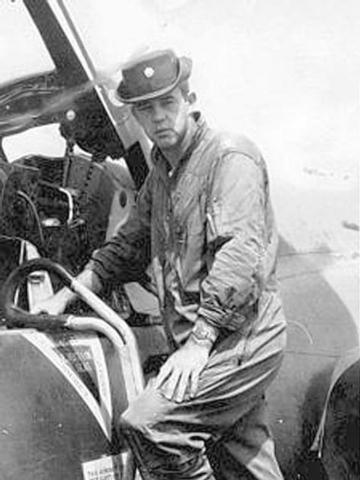 More than 130 family members of missing military personnel from four states met Saturday in Las Vegas to remember their loved ones and meet with Department of Defense staff to discuss finding and recovering remains from battlefields going back to World War II.
There was Westcot Stone, 93, a World War II B-24 pilot and brother of 2nd Lt. Earl R. Stone, a fighter pilot who went missing in 1942 near the Philippines after he crashed while fighting a Japanese warplane that also went down.
And there was Julie Houx of Henderson, whose uncle, Cpl. Francis D. Knobel, was a soldier who never came home from the Korean War. "I didn't realize there were so many people who didn't have answers. It's all quite overwhelming," she said.
And there was Tara O'Grady of Las Vegas, who was 6 years old when her father, John O'Grady, was shot down in his Thunderchief jet over North Vietnam on April 10, 1967.
"We never had a funeral. We never had a memorial service. I never got to say goodbye," she said.
"I was very close to my dad. I remember the day he left to serve in Vietnam and coming in to say 'goodbye' to me. I remember the last letter he wrote that came in after he was shot down. … It's been heartbreaking, heart-wrenching. My father gave his life and sacrificed his life for this country."
Tara O'Grady believes his grave site might have been found two years ago, but the recovery effort by the Joint POW/MIA Accounting Command was suspended. But after Saturday's briefing at the Alexis Park Hotel she has renewed hope that she and her mother, brothers and sisters will have closure some day.
"I feel much more hopeful that someday soon there will be a resolution to my father's case and that someday he will come home and his remains will be buried on American soil," she said.
She described the meeting with staff of the Defense POW/Missing Personnel Office as "positive, and they were very supportive. I appreciate their candor."
"I felt very discouraged prior to the meeting and now I feel much more encouraged," she said.
Col. O'Grady, a Naval Academy graduate who became an Air Force pilot, was a major at the time he ejected. He radioed on April 10, 1967, that his F-105D jet had been hit by enemy fire while on a bombing run.
"He radioed, 'I'm on fire. I'm getting out of the plane.' They saw a parachute, and that was the last we knew for 45 years. But two years ago we dis­covered he had survived the plane crash," she said.
Maj. O'Grady landed in a tree, far from where his comrades thought he would be because the wind had carried him away. He was injured and eventually captured.
"We don't know all the details," she said.
Vietnamese soldiers told U.S. government investigators they found him. They said he had a broken leg and seemed generally OK but that he soon died, perhaps from internal injuries. The men buried him with his dog tags near a starfruit tree so they would remember where he was.
Tara O'Grady remembers how her family's hopes were dashed as the Vietnam War was winding down.
"It was very difficult," she said. "In '73 the prisoners came. I hoped and prayed he would get off one of those planes and he'd be one of them, but he wasn't," she said.
Many family members at Saturday's conference had stories similar to Tara O'Grady's.
Kenneth Anderson represented his brother, Pfc. Marlyn Anderson, a soldier who has been missing since World War II.
"I can feel the pain and sorrow in here," he said.
Jimmie Walker reflected on his family member, Pfc. Orvil Smith, listed as missing in action since the Korean War.
"Whatever it takes, we want him back," Walker said.
The Defense POW/Missing Personnel Office conducts family updates across the country for family members of more than 83,000 American servicemen who are missing in action.
Most of those who are un­accounted for, 73,000, are from World War II. There is no state-by-state breakdown for them.
But out of 1,642 service members missing from the Vietnam War, seven from Nevada are unaccounted for. Remains of three Nevadans missing in action from the Vietnam War have been returned to their families.
Five Nevada service members are among the 7,889 U.S. troops missing from the Korean War. One Nevadan's remains have been returned to his family.
There are 126 other service members unaccounted for from the Cold War period, and two are from Nevada.
A spokeswoman for the Defense POW/Missing Personnel Office, Army Sgt. 1st Class Shelia Sledge, said the purpose of Saturday's meeting was to brief each family on their loved one's case and inform them about what the government is doing to recover remains.
"The families are overjoyed that they can get the information and that they are with other families that share the common bond," Sledge said.
Contact Keith Rogers at krogers@reviewjournal.com or 702-383-0308. Find him on Twitter: @KeithRogers2.