Nevada State Museum opening at Springs Preserve approved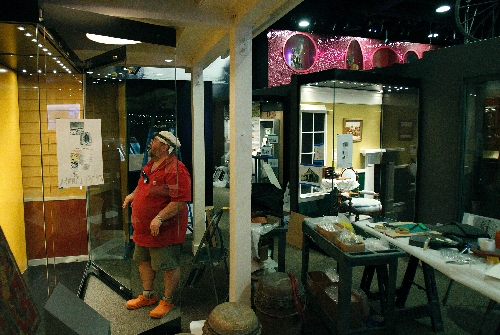 In a $51.5 million building that was finished two years ago but never opened, the towering skeleton of a mammoth waits to greet its first visitor.
That day finally might come at the new Nevada State Museum in Las Vegas, thanks to a change of heart by Gov. Brian Sandoval and a unanimous vote Thursday by a joint legislative budget committee.
Lawmakers agreed to a Sandoval administration plan that includes adding $180,000 in state funds and $150,000 in Tourism Commission revenue to open the museum at the Springs Preserve.
"It's not just good news for us. It's good news for the city and the state," said museum director David Millman, who expects the new facility to be a tourist draw and a cultural resource.
The Las Vegas Valley Water District is banking on it.
The utility owns the Springs Preserve at Valley View Boulevard and U.S. Highway 95, and district officials are counting on the new state museum to boost attendance there.
To help things along, water district officials agreed to provide the museum with $260,000 in marketing funds and staff support over the next two years.
The district also will hand over 10 percent of the revenue from $9.95 adult admissions to the preserve, guaranteeing the state $53,172 in revenue the first year.
The museum's preliminary opening date is Sept. 1, but Millman said sometime later in September or October seems more realistic to him.
The new space is roughly twice the size of the current museum, which is in a 35,000-square-foot building that opened in Lorenzi Park in 1982.
The displays inside will try to tell the story of the entire state, with some special emphasis on Las Vegas and Southern Nevada.
Most of the exhibits are in place. The last of them should be finished by the end of June, but Millman said a lot of other work still needs to be done.
"We have to hire people, and we have to move," he said. "It's not quite like moving a house. It's a massive undertaking."
The museum's collection includes everything from old newspapers and photographs to furniture and taxidermied animals.
There is a replica of a giant dinosaur fish and a pair of scissors that belonged to Bugsy Siegel.
The good news is the new museum is only about a mile from the old one.
"It's a three-minute drive," Millman said.
After years of setbacks and false starts, his first reaction to Thursday's vote was guarded optimism.
"I've been around the state long enough to know that nothing's final until the governor signs it," he said.
The decision represents a dramatic change from January, when Sandoval unveiled plans to keep the museum closed because of state budget woes.
In recent years, Millman said his department has been "hit harder than just about anyone," with cuts that eliminated a third of the staffing at the state's museums.
Those who are left, Millman included, have seen their work week, and their compensation, trimmed to 32 hours, though many put in more time for no additional pay.
Millman said most of the money to build the new museum came from a bond issue approved by voters in 2001.
The facility was originally supposed to open in 2005 but was delayed by construction and funding issues.
The building has been finished and ready to occupy since May 2009, but state budget woes prevented museum officials from completing the exhibits and hiring additional staff.
The $235 million Springs Preserve opened in June 2007.
Since then, the 180-acre collection of interactive exhibits, green buildings and desert plants has absorbed more than $30 million in subsidies from the valley's largest water utility.
On top of that, the water district will spend the next 25 to 30 years paying back roughly $160 million in bond money it kicked in to develop the preserve.
Attendance has increased each year since the attraction opened, but it is still just one-third of early projections that called for approximately 600,000 visitors annually, most of them tourists.
Davis said opening the museum will certainly help.
"For a long time, many people in this community have lamented the lack of a community gathering place like San Diego's Balboa Park," he said. "With the addition of the Nevada State Museum, the Springs Preserve has become that type of place."
During the transition to the new museum, no admission is being charged at the Lorenzi Park facility, which is expected to close once the move is complete.
All 13 museum staff members will be transferred to the new facility, and six additional employees will be hired.
The new museum tentatively will be open from 10 a.m. to 6 p.m. Friday through Monday.
The Springs Preserve is open daily during the same hours.
Contact Capital Bureau Chief Ed Vogel at evogel@reviewjournal.com or 775-687-3901. Contact reporter Henry Brean at hbrean@reviewjournal.com or 702-383-0350.