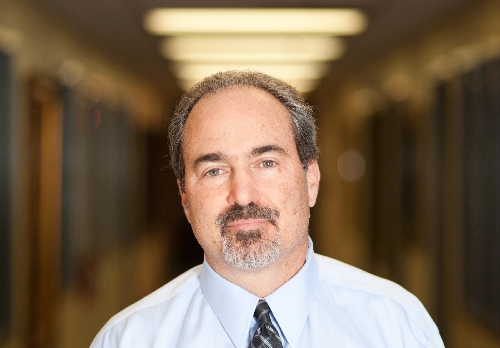 Think of Jon Ralston, and you probably think of politics.
But a career in campaign punditry wasn't foreordained for the New York native. In high school, Ralston dreamed of writing about sports. An avid movie buff, he considered reviewing films.
Of course, if Ralston were a sports reporter or movie reviewer, we might not be interviewing him, because he wouldn't be a nationally recognized commentator on Nevada politics with his own TV show, political newsletter, book and nearly 21,000 Twitter followers.
Ralston's climb to the top of the commentator pile began with a 1984 job ad in Editor & Publisher magazine, a trade publication. The Las Vegas Review-Journal wanted a cops reporter for the night shift. To Ralston, Sin City was merely a poker player's paradise, but he decided to give it a chance after he flew out for an interview and the Review-Journal's then-city editor, Charlie Zobell, showed him around off the Strip. Ralston figured he'd stay a couple of years and beat a path to The New York Times.
Nearly 30 years later, Ralston's still here, though his career has gone nationwide. Ralston gives insight into Silver State politics on MSNBC, Fox News and PBS, among others. In July, Politico named Ralston to its Top 50 Politicos to Watch, calling him "the first and last word in Nevada's political world."
Ralston is also a fledgling entrepreneur. He went independent in September, leaving the Las Vegas Sun to launch RalstonReports.com. The medium may have changed, but Ralston says his job still keeps him on his toes every day.
Question: How has the political dynamic here changed since the mid-1980s?
Answer: The more things change, the more they stay the same. The state is bigger, and the demographics have changed, but the overall matrix has not changed. The same faces are in power, and the same power dynamics exist. Candidates are still anointed by powerful interests, and we're still a relatively small state with relatively small power centers. But the thing I've noticed the most is that when I started covering politics, almost everyone was older than I am. Now, maybe a third are older.
Question: What's the craziest bit of Nevada political hijinks you've seen?
Answer: I wouldn't say there were hijinks. The '86 race was great in that so much was at stake. It was an open Senate seat, which you don't often get. (Former U.S. Sen.) Paul Laxalt had given up the seat and recruited (Rep.) Jim Santini to run as a Republican against Harry Reid. Ronald Reagan came two or three times to help Santini, and there was a tremendous amount of money spent. (Reid won the race.) Laxalt was thinking about running for president, too. I was thrown into it a month before the primary because the R-J's political reporter left. They were heavy times for a young guy covering politics for the first time.
Question: Any stories about some of our best-known political characters you couldn't use in the paper at the time?
Answer: I try not to leave anything unwritten, so it would be hard for me to think of anything. I do have a vivid memory of the first time I interviewed Laxalt, a legendary figure in Nevada politics. He was hosting a fundraiser at Tahoe for Santini. My hands were literally sweating, I was so nervous. Laxalt was the first guy I ever met in politics who just radiated charisma in a way that's hard to describe. He immediately made me feel at home. But I remember being so nervous.
Question: Do you still get nervous before big interviews?
Answer: In a different way. Then, it was awestruck fear. I still get a sense of excitement and nervous energy every time I do an interview on the program.
Question: How did you become a national commentator?
Answer: After Harry Reid decided (in 2007) to get an early presidential caucus here, the media started paying attention to Nevada. No one is crazy enough to do what I do, which is live and breathe this stuff 24-7. So it came from working myself into a position of prominence by hard work and relentlessness. I wanted to fill that space. People noticed I had written so much about the topic that they began to call me as a source. I developed a credibility where people think I know what I'm talking about.
Question: Do you know what you're talking about?
Answer: I faked it for a long time. You get to the position I am in, and you do develop a certain "Ralston was right" thing, and then people start looking for you to be wrong. But I'm afraid of being wrong. If you're going to be obnoxious and stick your neck out, you expect people will come after you. I always feel I'm competing against myself or other journalists. I still have the same nervous excitement, drive and desire to be first, and right, ahead of everyone else.
Question: What's the best thing about your job?
Answer: I do feed off of it. I get up super early to produce the morning newsletter, and it's fun. Even though there's a certain sameness to Nevada politics, anything could happen on any given day: What is the future going to look like? Where is the next issue going? I still love covering campaigns. I get to see people under incredible scrutiny and spotlights. Campaigns really do reveal character. They're a fascinating human crucible to observe.
I'm also hopeful every other year that they're actually going to do the right thing at the Legislature and tackle the tax structure. I get jazzed as each session begins, but usually, I have my hopes dashed. Somehow, I'm able to generate hope again a year and a half later.
Question: What's the worst thing?
Answer: I constantly feel I'm spreading myself too thin, not just professionally, but with my personal life. I'm a total movie freak, and I love to read. I don't get to watch as many movies, read as many books or spend nearly as much time with my daughter as I want to or used to. There's that constant sense that I'm not balancing things. I'd love to write another book, but I have not gotten the time to hash out ideas.
Question: Any career high points?
Answer: So far, it was covering the Harry Reid-Sharron Angle race (in 2010), because it was so incredible from start to finish. Literally every day, something was happening in that race, and it got so much national attention. It culminated in me going out on a limb the Sunday before the election and predicting Reid was going to win when every poll showed Angle winning. It cemented in the national media's mind that I knew what I was talking about. It was fun for the excitement and insanity, and for the once-in-a-lifetime candidate, I hope for the state's sake, in Sharron Angle.
Question: Any low points? And don't say, "Working at the Review-Journal."
Answer: I have a lot of fond things to say about my time at the R-J. Charlie Zobell gave me my start in the business, and I made some great friends. I couldn't even tell you a low point. Hopefully, talent and drive had something to do with it, but I have gotten so lucky and had such great opportunities here.
Question: About those sarcastic quote marks you put around "newspaper" when citing the Review-Journal: Do we really not print anything newsworthy?
Answer: If I'm being honest, to some extent, that's a relic of being horrified at how (former Publisher) Sherm Frederick and (former Editor) Tom Mitchell conducted themselves during the Reid-Angle Senate race. I think they were way out of control, and I think it trickled into coverage. People thought the quote marks were funny, so I kept them. I guess I need to get over it, but that was the genesis of it. I do not hate the R-J. I have nothing but good things to say about my time there. And I do give credit to the R-J and link to stories when its reporters do good work.
Question: Where do you see journalism headed in this town?
Answer: When I started here, I could see what a great news town and state this is. I could see, if someone would invest a lot of money in a paper, how much good it could do and the reputation you could develop as one of the great newspapers, not just in the Southwest, but in the country.
The Sun has not just given up on its print edition, which appears to have stuff that was on the website 24 to 48 hours beforehand, but the website is changing since the paper won the Pulitzer (in 2009). It seems it's going to be an entertainment website, almost. The R-J has been way behind the Sun in adjusting to the Internet age and getting a quality website up, but it is getting better. I am not hopeful about the future of journalism in this town. The economy will eventually turn around, but I'm not hopeful resources will be devoted to papers so they can be quality papers.
I am thrilled you guys let (reporters Brian Haynes, Lawrence Mower and Alan Maimon) spend as much time as they did going through documents for the series on Metro shootings. The greatest thing as a journalist is cause and effect – you write something that has an effect. Look at what's happened: The Department of Justice has come in with recommendations. But it's an aberration. That's depressing.
Question: What's ahead for you?
Answer: I don't know. I am excited about being out on my own. The business aspect has been frustrating, and because of the election, I haven't gotten a handle on it. I'm not sure what the site will turn into. I like the way it looks. I've been able to produce a decent amount of content. I do have an exhilaration about being independent and not tied to any news organization, but it was easier when I was. I have a high-demand schedule already. To add the business element has been hard.
Contact reporter Jennifer Robison at jrobison@reviewjournal.com or 702-380-4512. Follow @J_Robison1 on Twitter.
VITAL STATISTICS
Name: Jon Ralston.
Position: Political journalist; founder of Ralstonreports.com; founder and anchor of "Ralston Reports"; author, "The Anointed One: An Inside Look at Nevada Politics."
Quotable: "The more things change, the more they stay the same. The state is bigger, and the demographics have changed, but the overall matrix has not changed. The same faces are in power, and the same power dynamics exist."
Age: 54
Family: Wife, Jessica Sferrazza; daughter, Madeline.
Education: Bachelor of arts in English, Cornell University; master of arts in journalism from the University of Michigan.
Work history: Reporter and columnist for the Las Vegas Review-Journal, 1984-1999; columnist and newsletter publisher, Greenspun Media Group and the Las Vegas Sun, 1999-2012; founder of website Ralston Reports, 2012.
Hobbies: Reading and watching movies.
Favorite book: "Sophie's Choice" by William Styron.
Hometown: Buffalo, N.Y.
In Las Vegas since: 1984.
Jon Ralston can be reached at ralstonreports@ gmail.com, or on Twitter via @ralstonreports.