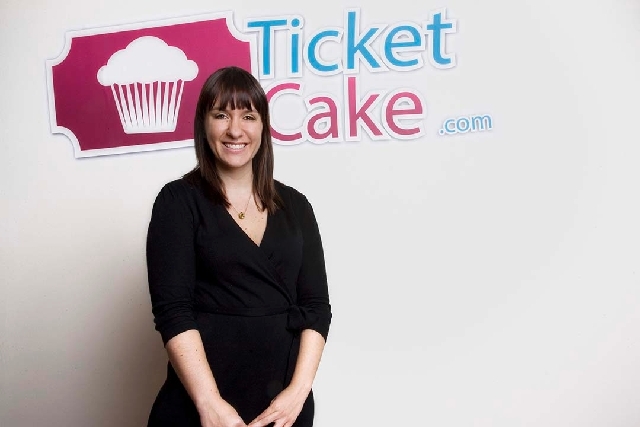 An entrepreneur at heart, Jacqueline Jensen didn't look for a job out of school. She created her own.
With a classmate and a friend, Jensen started a Web and graphic design company in 2008 that also marketed concert venues.
She and her colleagues, Joe Henriod and Dylan Jorgensen, wanted to follow an event's advertising efforts through to purchase. They wanted to quantify, for example, how many tickets were being sold through ads on the Web or social media.
"At that time, Twitter and Facebook were pretty new things for brands," Jensen said. "We wanted to measure the email marketing campaigns and the ticket companies they were using wouldn't let us tap into that transaction process."
The companies would only share pageviews. So the three set out to do it themselves.
"We decided to build a system to process payment and pair that with what we were already doing on the advertising front, and they loved it," Jensen said. "Their competitors wanted to use it, so we thought, 'maybe that's a standalone project,' and launched Ticket Cake in January 2011."
Ticket Cake, named to convey a sense of fun and ease of use, processes events ranging from the Fremont Street Experience's 25,000-attendee New Year's Eve party to intimate backyard concerts in Park City, Utah.
Its first event was Sundance Film Festival in 2011, and it has also handled concerts for deadmau5, Nelly, Third Eye Blind and Snoop Dog.
The service does not issue printed tickets or require event-goers to print tickets at home. Instead, attendees show ID to check in at events.
The company, which is partially funded by the Downtown Project, does not charge event organizers set-up fees or monthly fees and does not use contracts. They charge service fees, but aim to undercut major ticket sellers.
While at the University of Utah, Jensen worked at Wells Fargo and considered studying finance, but liked public relations, which she majored in, better.
Question: What are your day-to-day responsibilities?
Answer: I'm one of three founders and I'm chief operating officer. I handle all of our finances and all of our marketing, which includes our social media. I work with our event organizers in a role that we call event concierge. We help them with any needs they have. Things like, "Is my event priced correctly," or "How do my ticket sales look right now? Should I increase the price? Should I change the text? Am I conveying what I should be conveying? What are some advertising options?" That encapsulates our event concierge. Then I handle our community relations, so downtown I keep track of what's happening and put those events in our calendar and also reach out to the media.
Question: It sounds like you do a lot. What don't you do?
Answer: The three of have been working as a team since 2008 in an entrepreneurial fashion. Right out of college, we built our skill sets around each other. We're fortunate that way. If one of the guys learned to design, I didn't really learn that. Or someone learned to code, I didn't really learn that. Our skill sets are very complimentary.
Question: Why did you decide to headquarter in Las Vegas?
Answer: We had heard of what was happening in downtown Las Vegas in January 2012. I convinced the guys to take a trip to Vegas. At that time we were boot-strapped, we weren't taking vacations and were barely paying ourselves anything. They said, "OK, let's do it." Downtown Project said they would put us up in a crash pad, and I thought "Is there going to be running water? Is there going to be a working bathroom?" We came and saw it wasn't that. It was The Ogden and it was beautiful and a lot of fun. We met everyone and knew after a week of being here that we wanted to move.
Question: You work at The Ogden and at InNEVation Center. What about co-working appeals to you?
Answer: Building a company in Salt Lake City in a garage, we were able to get a product built, which was great, but we were missing the crucial aspect of feedback — people telling us what they thought and suggesting ideas and encouraging us and mentoring us. We processed half a million dollars that way. It was alright, but when we came to visit Las Vegas for the first time we realized there was something here that we were missing out on being cooped up in a garage all day.
The idea of co-working allows you to see what other people are working on, it allows you to scout out talent, it allows you to meet other people and collaborate. It allows you to be in a different environment, which is good for us because we all three live and work together in The Ogden, so it's nice to be in a different atmosphere.
Question: What sets Ticket Cake apart from other companies?
Answer: We're a partner with the event organizer in their event. So, a competitor would process your tickets for you and be a platform for that, and that's great, but we've moved beyond that. We process your payments from ticket buyers, but we also help with the smaller details of the event. For example, we had an event organizer that wanted to do a flash sale a few days before their big event. We conveyed to them that it wasn't a good idea because the people who bought early on would see that and say, "Next time I'm going to wait for the Groupon effect." That kind of advice is something they're not going to get elsewhere.
Question: What is your involvement with Young Female Entrepreneurs?
Answer: I met (founder) Jennifer Donogh in Seattle. We were both speaking at a conference. We talked a bit and she said she wanted to have me on the podcast. I was on the Young Female Entrepreneur podcast in April. She wanted city coordinators to expand the brand into different cities and said she had someone in NYC and wanted someone in the Las Vegas tech scene. I was immediately on board.
Question: Why have you chosen entrepreneurship?
Answer: For a long time I had an entrepreneur's mindset. I would constantly question, even as a child, why we were doing certain things, or why aren't things different, or what if we tried something new. For a long time, I thought everyone did that and it wasn't a big deal. As I started to think about where my career would go, I started to realize that was a skill and that was something that other people didn't do and that I could use that to my advantage.
Contact Review-Journal writer Kristy Totten@Reviewjournal.com
NEVADAN AT WORK
Name: Jacqueline Jensen
Age: 28
Occupation: Chief operating officer at Ticket Cake
Quotable: "The best place to question how things are happening now and how they could be different is by doing your own venture."
VITAL STATISTICS
Name: Jacqueline Jensen
Position: COO of Ticket Cake
Education: University of Utah. Major in public relations, minors in business and consumer and community studies.
Work history: White Label Graphics, project manager; The Road Home, donor coordinator
Hobbies: Hanging out with other startups
Favorite books: "Delivering Happiness" by Tony Hsieh and "Get Lucky" by Thor Muller and Lane Becker
Hometown: Salt Lake City
In Las Vegas since: May 2012