Nevadans celebrate high court's gay marriage rulings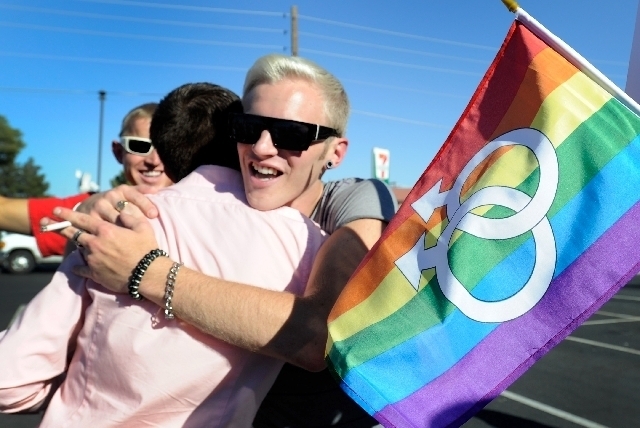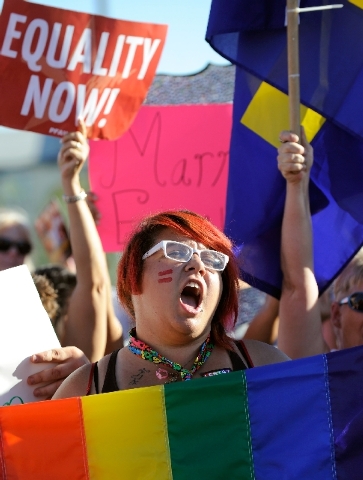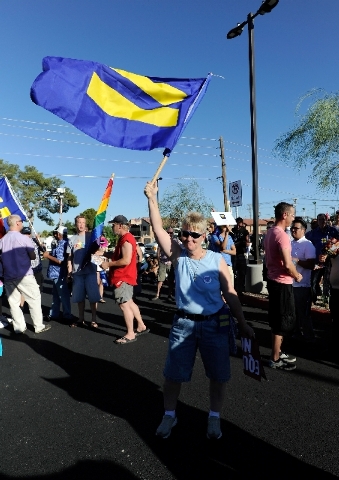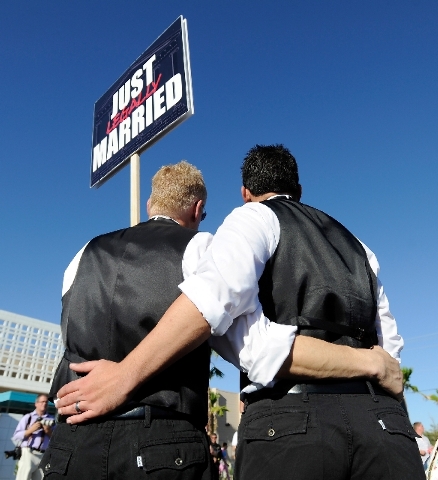 There was this old guy in white socks and sandals and a straw hat, and he smiled as he went out the door carrying a sign.
There was a chubby girl in a rainbow tank top and there were these two skinny kids, sisters, and they carried signs, too. "Equality now," one of them said. "2 moms makes a right," said the other one.
They were jubilant. Giddy, even. The couple hundred people who baked in a parking lot in the middle of town so they could cheer, and chant, and marvel, really, at how different things are now.
"I never thought in my lifetime I'd see it," said Kat Welniak, one of the "2 moms" from the sign. "I honestly didn't."
But everything changed Wednesday.
In a 5-4 decision, the U.S. Supreme Court struck down a provision of a federal law that denied benefits to married gay couples. The court also passed on making a decision in a California case. While stopping short of invalidating all prohibitions on same-sex marriage, the no decision effectively cleared the way for such marriages to resume in California, probably within a month.
To celebrate, a coalition of Nevada groups staged a rally outside the Gay and Lesbian Community Center of Southern Nevada. The crowd looked to be a couple hundred strong, though it was hard to tell sometimes because in the 100-plus-degree heat, many people left the rally to go inside for quick blasts of air conditioning.
Speakers, who included elected officials and gay rights advocates, said the battle is not over in Nevada.
The Legislature this year passed a bill that could eventually overturn the state's constitutional ban on same-sex marriages. But it will need to pass again in the next session, and then the issue would need to go before voters in 2016.
Bob Fulkerson, state director of the Progressive Leadership Alliance of Nevada, one of the rally's sponsors, said the alliance will continue to push to overturn Nevada's ban.
It might not have to, though. The high court could take up the issue again.
Richard Ziser, co-chairman of Nevada Concerned Citizens and one of the leaders of the Coalition for the Protection of Marriage in Nevada, which led the effort to win voter approval of the protection of marriage amendment more than a decade ago, said the ruling in the California case moves a Nevada federal case dealing with the same issue to the front of the queue.
The Lambda Legal Center is challenging Nevada's ban on gay marriage on behalf of eight gay and lesbian couples who sought Nevada marriage licenses.
Supporters of the current definition won at the U.S. District Court level, but that decision is on appeal to the 9th U.S. Circuit Court of Appeals. The ruling by Judge Robert C. Jones issued in 2012 said that Nevada's law does not violate the Equal Protection Clause of the 14th Amendment.
"Remember where we were in November of 2008?" Raymond Wilmer, the center's director, asked Wednesday's crowd.
He reminded them how awful it was, just after the passage of Proposition 8 in California, which outlawed same-sex marriages there.
The Center held a rally then, too. That one was born of anger and surprise.
"But it did something for us," Wilmer said. "It united this crowd. It united our community."
Something happened in those short five years. Poll after poll shows a majority of Americans support gay marriage now. That wasn't true in 2008.
"Is everyone feeling a little more equal today?" Tod Story, the executive director of the ACLU of Nevada, asked the crowd.
Woohoo! the crowd said.
Although critics of gay marriage in Nevada did not speak out against the high court rulings, several national groups did criticize the decisions.
Tim Wildmon, president of the American Family Association, said: "We are deeply saddened by today's decision to not only allow but encourage same-sex marriage in our country — a country that was founded on biblical principles."
The number of same-sex couples in Nevada has climbed dramatically since the state banned same-sex marriages a decade ago, according to U.S. Census Bureau figures.
In the 2000 census, 3,286 such couples lived in the state. A decade later, that number has more than doubled to 7,140.
A parade of state legislators took to the stage at the rally, promising to fight hard to change things in Nevada.
"2016 will be here before we know it," said Assemblyman Elliot Anderson, D-Las Vegas, who sponsored the bill that could eventually overturn the state's ban. "We've got to be ready to make sure we carry this through."
Welniak will be ready.
She and her partner, Gina Webb, said they've been together for 25 years. They met in college in Southern California and they fell in love.
It was hard, then, harder than it is now, to be an out, gay couple. But they plowed ahead, because what else could they do?
Webb wanted a baby, and Welniak wanted to get married, so that's what they did. They got married — unofficially, of course — and Gina gave birth to McKayla, who's now 14.
A few years passed. They wanted another child, so they found a baby girl named Justice, and Welniak adopted her. Justice is 9 now.
Both girls use Webb-Welniak as their last name. Both were enthusiastic at the rally, despite the heat. They seemed to be having the time of their lives.
"We've got kids here," said Welniak, nodding toward the girls, "who will love everybody."
Review-Journal reporter Brian Haynes contributed to this report.
Contact Capital Bureau reporter Sean Whaley at swhaley@reviewjournal.com or 775-687-3900.
Contact reporter Richard Lake at rlake@reviewjournal.com or 702-383-0307.
Related Stories
• Las Vegas advocate praises gay marriage court decision
• Supreme Court strikes down federal marriage provision