New high court building eliminates some downtown Las Vegas parking
August 19, 2015 - 1:04 pm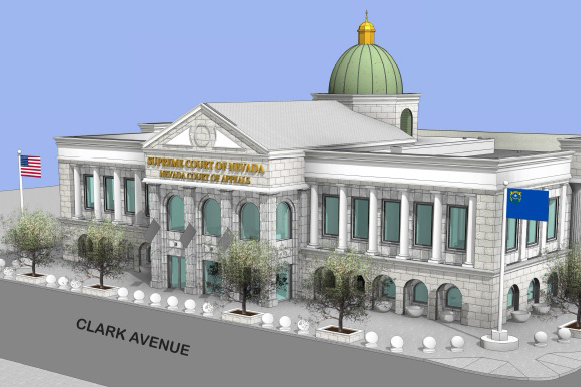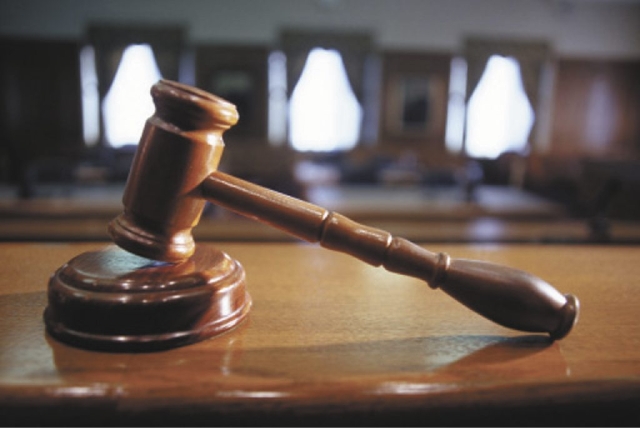 The Nevada Supreme Court is about to pave over one of downtown Las Vegas' few remaining parking paradises.
The City Council on Wednesday approved blueprints for a long-planned Supreme Court building at Clark Avenue and Fourth Street, one that would be built on top of about five dozen city-owned parking spaces near the court's soon-to-be former home at the Regional Justice Center.
The new 26,600-square-foot building will come complete with a natural stone facade, entryway columns, a golden cupola atop a copper patina dome and some onsite parking. Construction on the building is expected to start in October and wrap up by December 2016.
Officials weren't sure whether the new building's parking facilities would be open to the public.
Las Vegas Parking Manager Brandy Stanley said many of those who park at the existing lot are monthly parking pass holders whom the city hopes to herd roughly 1½ blocks up the street to a city-run garage at 455 S. Third St.
The move might represent a temporary net loss in public parking spaces but there's plenty of room at the nearby garage, Stanley said.
"That lot's always been on the block for redevelopment," she added. "I knew we weren't going to have it forever."
The good news, from the city officials' perspective, is that Las Vegas will get some property taxes out of the deal.
The court building will be owned by private, taxpaying developers with LV Land Company LLC, which is managed by Tivoli Village developer Frank Pankratz. The court will pay the company $640,000 in annual rent — a savings of around $400,000 on rent it would have paid at the Clark County-owned justice center over the next decade.
City Manager Betsy Fretwell said she expects the building to complete "the assemblage of a difficult block in the heart of downtown."
Councilman Bob Coffin read even more meaning into the classically-styled project.
"Some architects will say this is not modern, that it doesn't belong in downtown," Coffin said. "But this stands for stability. The stability of the law. … I'm so proud of it."
Nevada Supreme Court Chief Justice James Hardesty echoed that sentiment in his remarks before city leaders, thanking them for their consideration of the project and lauding county commissioners for letting the court out of its current lease without penalties.
The building allows the court to keep its promise that taxpayers would not have to foot the bill for additional capital costs to accommodate an appeals court approved by voters in November, Hardesty said. It will also give justices room to stretch their legs, adding roughly 8,300 square feet to the space the court now occupies on the justice center's 17th floor.
Supreme and appeals court judges already share courtroom space at the justice center and will continue to do so at the new building.
Concerns about downtown parking hadn't escaped Hardesty's attention, either.
He said Pankratz-helmed EHB Companies plans to develop an adjacent lot for public parking, though that work might be delayed up to two years while the group works on the new Supreme Court building.
"The intention is to provide public parking on that space," Hardesty said. "We mentioned in our negotiations the concern that there be areas where attorneys and other people who use the courthouse can park."
Hardesty anticipates the court's old justice center space will be taken over by the roughly 40 attorneys who argue construction defect and other complicated civil cases in the county's 8,000-square-foot complex litigation center at 333 S. 6th St.
A Clark County spokesman couldn't confirm that move.
He said the county would work in conjunction with the courts to find a new justice center tenant, but said officials hadn't settled on that tenant as of Tuesday afternoon.
The Supreme Court's new building will feature one courtroom, office space for court employees and more room for oral arguments on the high court's cases, nearly two-thirds of which originate in Clark County.
Contact James DeHaven at jdehaven@reviewjournal.com or 702-477-3839. Find him on Twitter: @JamesDeHaven