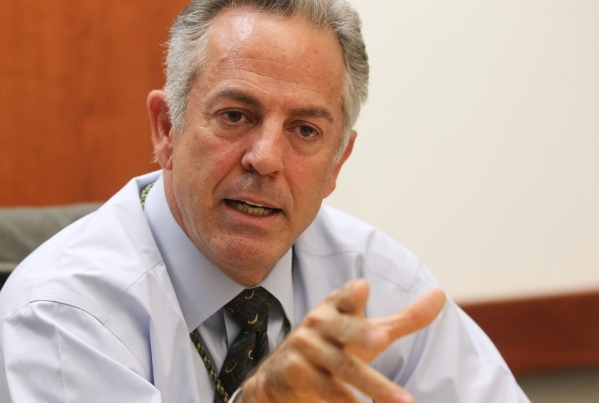 Las Vegas police are planning on opening an area command station in the west valley, Clark County Sheriff Joe Lombardo said in a meeting with the Review-Journal's editorial board Tuesday morning.
Other changes Lombardo discussed included the agency's plans to start responding to non-injury collisions again and hiring new officers starting next year. These changes are the result of the "More Cops" tax hike that Clark County commissioners approved early last month, but the top cop said the 0.05-percentage point sales tax increase set to begin in January is not enough for the county's long-term public safety needs.
Lombardo said tourism, along with the valley's population growth, requires additional sources of funding in the future. The west valley's growth, for example, as well as a rise in property crimes in the area calls for the additional area command.
Two police stations currently service the area — the Enterprise Area Command and Northwest Area Command stations each patrol an area of more than 100 square miles west of Interstate 15. Other substations' patrol areas are much smaller.
"It's very tough for those officers to police that much space," Lombardo said.
The substation, which Lombardo said is in the area of Cimarron Road and Sahara Avenue, currently houses the agency's traffic bureau.
Las Vegas police will return to responding to non-injury crashes in January, and about 130 officers will be hired next year, further results of the More Cops tax.
The More Cops tax increase is one-third of the full amount that the Legislature allowed the county to enact. The 0.05-percentage point boost will raise the sales tax rate from 8.1 percent to 8.15 percent.
In looking for more robust and long-term funding options for the future, Lombardo said his office is researching increased taxes for property and liquor.
Lombardo also discussed several recurring themes in policing and the news media.
He said Metro ironed out the kinks in its public dissemination policies for body-worn camera footage. The technology for blurring and editing video when necessary wasn't where it needed to be, but those problems have been resolved.
When asked about his thoughts on gun policies in the wake of the most recent mass shooting, the sheriff said he supported the Second Amendment. But he said it comes with a responsibility to be well trained. He also said that armed citizens getting involved in active shooter situations could be problematic for first responders, who may not be able to tell the difference between them and actual perpetrators.
Contact Wesley Juhl at wjuhl@reviewjournal.com and 702-383-0391. Find him on Twitter: @WesJuhl