New .vegas domain could transform online marketing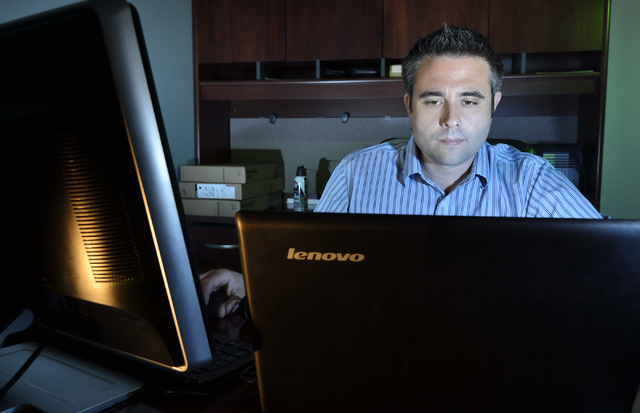 Expect a mad dash for some new real estate starting Monday.
But this "land rush" has nothing to do with Southern Nevada's hot housing market. It's a virtual homesteading opportunity on the Internet, where the top-level domain .vegas will debut.
For consumers, .vegas will mean easier website searches and more certainty about whom they're dealing with online, say executives of Dot Vegas, the local company that has the exclusive rights to lease .vegas domain names. For companies, it will offer highly targeted marketing. And for the city itself, the new domain will reap priceless free branding, as well as a cut of the revenue.
"This is at the forefront of a wave that will bring a major shift in the way we use addresses on the Internet," said Jim Trevino, who, with his son, Dusty Trevino, opened Dot Vegas seven years ago. "The Internet will become more localized, more specific and less generic."
Outside observers agree the new domain is a big deal.
"You're not just getting a new domain name, you're getting a critical part of the Internet's infrastructure," said Jothan Frakes, a Seattle-based domain consultant and co-founder of NamesCon, an annual local conference on domain names.
Added Jennifer Wolfe, president of Ohio-based Internet-branding strategy firm Wolfe Domains: "Las Vegas has definitely put itself out there as a premier city with visionary thinking about the digital world, and how it integrates with the business community and people who visit."
Mike McLaughlin of website registrar Go Daddy called the unveiling "one of the premier launches of 2014" and said executives are "very bullish" on .vegas.
To understand what .vegas means for you, start with some background.
From the invention of the Internet through today, there have been only 23 top-level domains, which are the tags that come after the final "dot." Think .com, .edu or .gov.
In 2008, the Internet Corporation for Assigned Names and Numbers, a nonprofit that runs the Web's domain-name system, decided to allow more top-level domains, which are just now reaching the market.
In coming years, 1,400 new top-level domains will hit the Web, with .vegas the 248th to come online. Other top-level domains in place or on the way include Amazon's .zappos and .book, and Google's .mom and .free. The point? More control, more security and more data points, Wolfe said.
The domains could revolutionize both corporate marketing and consumer browsing, giving businesses more channels to reach customers interested specifically in Las Vegas-related experiences: tours.vegas, nightclubs.vegas or pizza.vegas.
For consumers, there will be more certainty that they are doing business with a local company, Frakes said.
Frakes already has launched namescon.vegas, for his trade show, which he expects to draw about 1,000 people in January.
The rollout of .vegas will happen in three stages.
Stage 1, trademark sunrise, runs from Monday through July 31 and is reserved for companies with registered trademarks — Caesars Entertainment's Caesars Palace brand or MGM Resorts International's Bellagio nameplate for example.
Local big businesses don't seem ready to jump on the .vegas train, though. Caesars Entertainment didn't respond to an e-mail seeking comment, and an MGM Resorts International spokeswoman said she was unaware of the launch.
Stage 2, land rush, runs Aug. 15 through Sept. 15 and is for people or businesses wanting first dibs on domain names. It costs extra — an application fee of at least $110, on top of the usual $40 to $60 annual lease. But for enterprising small businesses, that's where opportunities are the biggest, Dusty Trevino said. The contractor who can reserve plumbing.vegas, for example, wins an edge on Web-based referrals.
Stage 3, general availability, opens Sept. 15. The only cost is the the annual lease fee, but options might be limited because early adopters will have snapped up the best names.
New top-level domains can present pitfalls for businesses. They will have to buy more website names to protect their brand and might face higher costs to monitor their Web presence and pursue legal action to protect their trademark, Wolfe said.
Still, industry experts said they expect .vegas to be popular among small businesses needing free Web marketing, as well as individual speculators looking to scoop up a domain that could be worth a fortune in a few years.
And this is where the Vegas brand — which is about as well-known as Coca-Cola and Google — could boost the .vegas launch. Frakes said .vegas has long been in the top 10 in polls of domain names consumers say they would most like to see.
Go Daddy's McLaughlin said it's hard to predict demand, but the 2-month-old .berlin is already the third-most popular of the new top-level domains, with more than 48,000 registrations.
Something else distinguishes .vegas: It's one of just four U.S. city domains to come, and the only one out West. The others are .nyc, .miami and .boston.
Las Vegas will reap financial rewards from that pioneer status. Dot Vegas will share 10 percent of all .vegas registration revenue with the city of Las Vegas, or nearly $4 on a $39.95 domain fee.
The city's Office of Economic and Urban Development will use the money to attend trade shows and recruit new businesses to the region.
Director Bill Arent estimates .vegas will yield $250,000 in fiscal 2015 for the agency, which has an annual budget of about $970,000. With .vegas money, the office can rely less on the city's general fund.
To help protect the city's image, Dot Vegas has worked with registrars to spike about 300 nettlesome names, so forget about porn.vegas, or pedophile.vegas. Nor will you be able to register domains with "the four words you're never supposed to utter," Dusty Trevino said.
Mayor.vegas and city.vegas also were taken off the table to prevent nefarious use.
Beyond all of the corporate image-building and public-revenue windfalls, .vegas will bring priceless publicity to a city that already has mastered the art of leveraged media, Jim Trevino said.
"This will drive the brand into every home, into every computer in the world that has Internet access 24 hours a day, every day of the week. Every time .vegas pops up, it reinforces the Vegas brand and allows us to permeate every nook and cranny in the world. It's dynamic, real and pervasive. No amount of money can buy this kind of outreach."
Contact reporter Jennifer Robison at jrobison@reviewjournal.com. Follow @J_Robison1 on Twitter.