NHP candlelight vigil honors 59 killed in Nevada traffic crashes
Updated March 10, 2018 - 11:25 am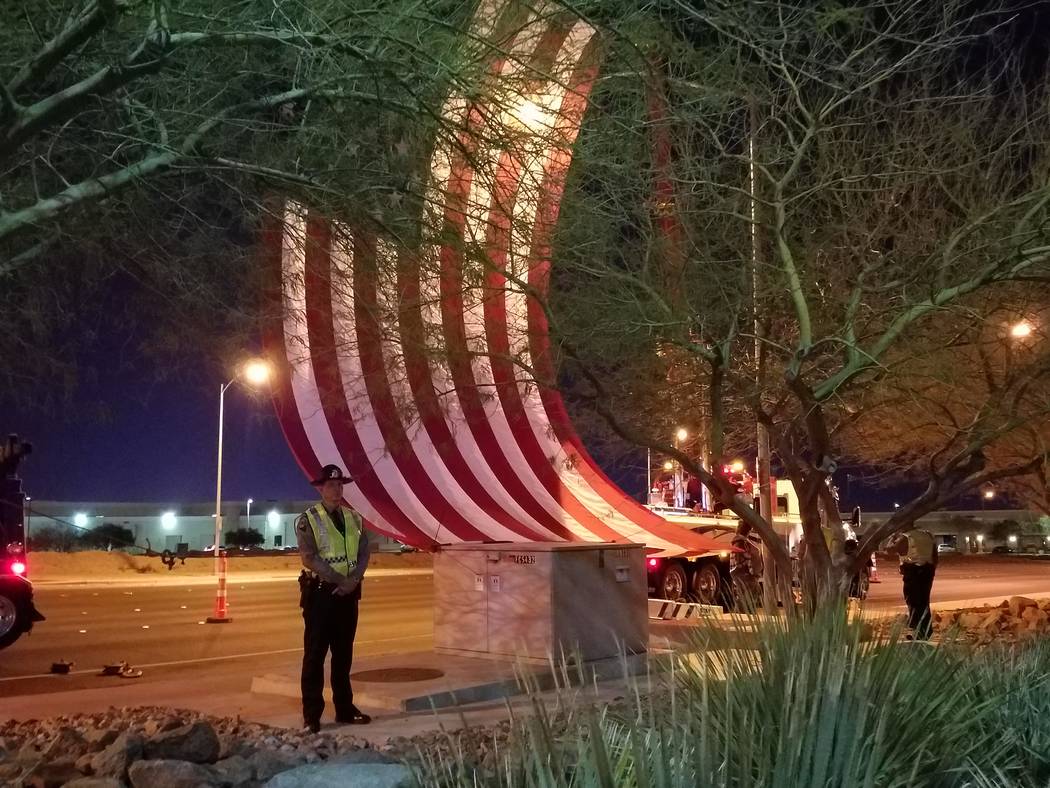 More than 300 people were killed on Nevada's highways last year. A vigil honored 59 of them Friday night.
Several dozen friends and family members of those killed on Nevada's highways in 2017 gathered at the Nevada Highway Patrol's Southern Command headquarters on West Sunset Road to honor and remember their loved ones. Speaking at the event were Marcia Fajardo, the mother of a 16-year-old killed by an impaired driver, and state Sens. Moises Denis and Aaron Ford.
Members of the Highway Patrol's fatal crash team lit 59 luminarias, each with the name of the person who died and the date of the crash for 59 people killed on Southern Nevada's highways last year.
Program speakers read aloud their names as they did.
Among them:
Mikayla Cifuni, Sept. 11.
Michael Dale Schwab, April 2.
Jaelan Fajardo, Feb. 9.
Marcia Fajardo, the 16-year-old's mother, spoke to a crowd of friends and family of those who've also lost loved ones.
An impaired driver rammed into Jaelan's car as it waited at a stoplight on northbound Durango Drive at Farm Road. The 10th grader had been on his way to school at Shadow Ridge High School.
His mother has spent the 13 months since her son's death calling for stricter DUI penalties. She again pleaded for legislation, which she hopes to call "Jaelan's Law."
"My world and my life stopped that day," Marcia Fajardo told the crowd. Several people sitting in the stands dabbed their eyes with tissues.
She can no longer hear his jokes or see him get upset about getting a B in class, rather than an A.
Colleges are still sending letters to her house, inviting Jaelan to apply.
"My house feels so empty," she said.
Mikayla Cifuni, 19, was also on her way to school, heading toward UNLV.
She was severely injured in a six-car pileup on U.S. Highway 95 near Decatur Boulevard on Sept. 11 and died a couple of weeks later.
Members of her family say she was just starting to bloom as a young woman.
She was going to college and had acquired her driver's license just three days before the crash, said her sister, Briana Cifuni. She, like other family members, wore a shirt imprinted with her sister's portrait.
Being at the vigil among others who have experienced similar grief helped her family find some comfort, Briana Cifuni said.
"You come together in a time of sorrow just to try to find peace," she said.
Michael Dale Schwab, 54, loved motorcycles, his children said. The red Kawasaki he was riding crashed April 2 after what his children called a likely medical episode. He died at the scene.
His 36-year-old son, also named Michael Schwab, said he believes his dad was on his way to a nearby hospital.
"He went out the way he would've wanted to go out," his son said.
His daughter, Jessica Medina, was grateful for the chance to honor and grieve her father at the ceremony.
"It means a lot," she said. "He's not forgotten."
Contact Mike Shoro at mshoro@reviewjournal.com or 702-387-5290. Follow @mike_shoro on Twitter.