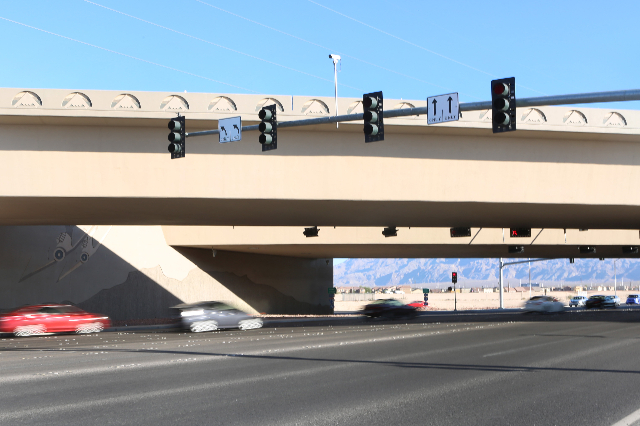 A driver injured in a crash that killed two people at the Lamb Boulevard and Interstate 15 intersection Sunday was booked on DUI charges, according to a Nevada Highway Patrol arrest records.
Arian Galindo, 26, was booked at the Clark County Detention Center Monday, jail records show. He faces two counts of DUI, one count of not obeying traffic signals and one count of not wearing a seat belt.
He was hospitalized after the crash for injuries NHP did not deem to be life-threatening.
The wreck, which occurred shortly before 9 p.m., killed North Las Vegas residents John Kirk Rodda, 52, and Sharrod Elmer Hightower Jr., 34, NHP said. Galindo was traveling at a "high rate of speed" on Lamb in a blue 2007 Toyota Tundra when he ran a red light and hit two vehicles at the freeway's intersection.
Rodda, who was driving a 2009 Honda Ridgeline and Hightower Jr., who was driving a 2009 Ford Fusion, were killed in the crash, NHP said. A woman driving a 2002 Chevrolet Tahoe hit the Ridgeline and the Fusion. She was taken to University Medical Center with serious injuries.
Galindo also was taken to UMC.
Troopers took a sample of Galindo's blood and tests showed he was impaired, NHP said. Witnesses told state troopers that Galindo had run a red light on Lamb and Ann Road shortly before the crash.
A fifth car was hit by debris from the crash, NHP said.
Contact Ricardo Torres at rtorres@reviewjournal.com and 702-383-0381. Find him on Twitter: @rickytwrites.