NHP gives Christmas gifts to hospitalized kids, homeless
December 17, 2014 - 7:05 pm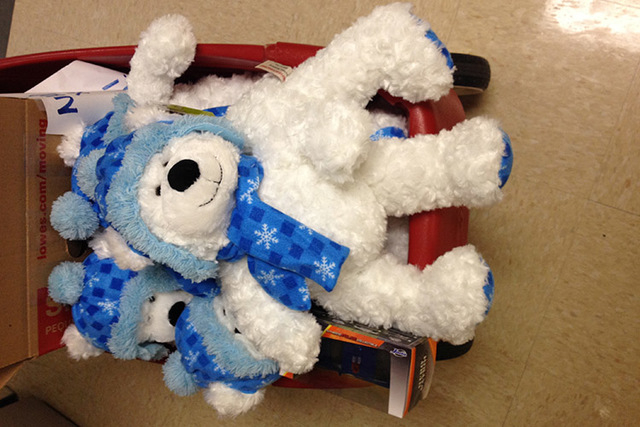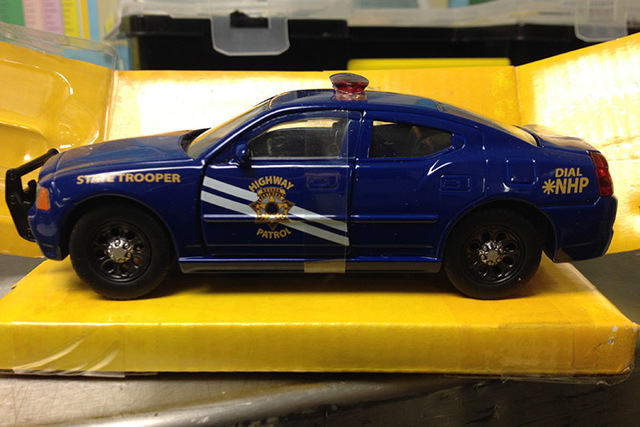 It has been at least 18 Christmases since Nevada state trooper Charles Lee started giving to children in hospitals.
The idea came on a hunch, a simple act of generosity, that has since turned into a Las Vegas Valley tradition for Nevada Highway Patrol staff.
Now a sergeant with NHP, Lee and 16 other troopers spent Wednesday visiting children at University Medical Center, Summerlin Hospital and Medical Center and St. Rose Dominican — Sienna campus, handing out customized toy NHP patrol cars purchased by the troopers themselves. The NHP officers also sponsored and accompanied a special visitor: a trooper dressed as Santa Claus.
To fund their gift-giving, which traditionally takes place the Wednesday before Christmas, officers have $10 deducted from their bi-weekly paychecks. With 25 paydays to date in 2014, each of the participating officers raised $250 for the cars, plus blankets for valley homeless people.
Jared – The Galleria of Jewelry also donated teddy bears for the kids.
It's not about the money or the time for Trooper Lee, who started the tradition in 1997.
"I have children," Lee said. "And I feel for the families whose kids may not be home for Christmas. I just wanted to reach out to them."
Lee's kindness, by all accounts, was much appreciated by both gift recipients and their attending parents.
Adrian Hernandez, 7, was the first child at Summerlin Hospital to receive a visit from Santa. Lying in bed, just two days after a surgery to remove his appendix, Hernandez said he was both surprised and thankful for his new toy car.
His mother, Darlen Flores, echoed the boy's gratitude.
"I'm actually not surprised," she said. "I've always thought of police as good people, and I'm grateful they cared enough to do that."
And that's what NHP is going for. As part of the agency's outreach to Las Vegas children, troopers hope to improve their public image to Nevadans that may take a negative view of law enforcement.
"It's interesting because the younger kids love us," NHP spokesman Loy Hixson said. "They see us at a restaurant and park and think our uniforms are cool. The negative perception comes when parents tell their kids 'see if you don't behave, they'll take you away.'"
Troopers gave toy cars to 80 children and passed out 180 blankets to the homeless.
Contact reporter Chris Kudialis at ckudialis@reviewjournal.com or 702-383-0381. Follow him on Twitter @chriskudialis