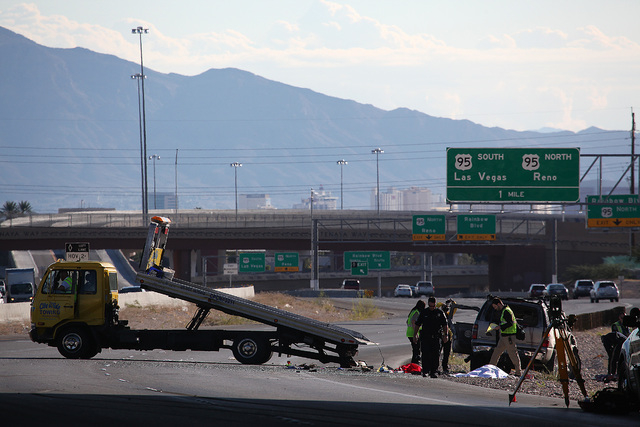 Nevada Highway Patrol has identified the driver who was arrested after Sunday morning's fatal crash on Summerlin Parkway.
Marcelo Zavala Jr., 19, was arrested in connection with the collision on the parkway near Buffalo Drive that killed 19-year-old Steven Salas-Limon, a passenger in Zavala's car.
Zavala was booked into Clark County Detention Center and faces charges that include DUI with death, involuntary manslaughter, DUI with substantial bodily harm, possession of drug paraphernalia, unsafe lane change and driving without a valid driver's license.
Troopers said Zavala was speeding in a tan Chevrolet Tahoe eastbound on Summerlin Parkway, just east of the Buffalo off-ramp. A white Chevrolet Tahoe was driving in front of Zavala in the left lane, when Zavala switched lanes and lost control of the vehicle. Zavala spun out and struck the right side of the white Tahoe. The white Tahoe then hit a guardrail and Zavala's car landed on the rocks along the freeway.
A 17-year-old boy and Salas-Limon were thrown from the vehicle. Salas-Limon was pronounced dead at the scene. The 17-year-old's condition was not immediately known.
Zavala was taken to University Medical Center before he was arrested.
This is NHP's 49th fatal crash investigation in 2014.
Contact reporter Cassandra Taloma at ctaloma@reviewjournal.com or 702-383-0381.