No charges for fire captain who shot man through front door
February 3, 2015 - 3:06 pm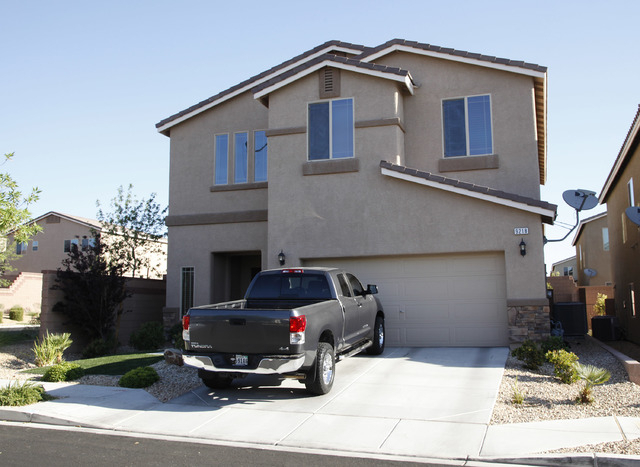 A Las Vegas Fire Department captain will not face criminal charges for shooting a man through his front door in June, Clark County prosecutors have decided.
"The collective decision by a number of experienced prosecutors was reached after reviewing all of the witness statements, the statements given to law enforcement by the homeowner, the forensic evidence in the case, and meeting with the detectives who investigated the case," Assistant District Attorney Robert Daskas said.
Victor Thompson claimed he fired in self-defense when he believed someone was trying to break into his house at around 2 a.m. on June 5. As it turned out, no one intended to harm Thompson, 50, or his family that morning.
Jeremy Thompson, 22, had come to the door by mistake after confusing Victor Thompson's home at 9218 Wittig Ave., near Fort Apache and Elkhorn roads, with a home he had just left. The two men are not related.
Victor Thompson fired through the closed door, striking Jeremy Thompson's friend, Devin Lamere, in the chest. Lamere, an airman first class, was 21 at the time.
According to a lawsuit filed by Lamere against the homeowner, the 9 mm bullet struck Lamere "as he stood at or near the sidewalk."
"The bullet entered the right side of his chest, collapsing his lung, breaking four ribs and lodging fragments (in) his left arm," according to the document.
Daskas said the homeowner's sense of "apparent danger" is sufficient justification for using deadly force.
"There need not be actual danger when somebody defends himself or herself," the prosecutor said.
Whenever evidence of self-defense exists, Daskas explained, the burden shifts to prosecutors to disprove the claim. In this case, prosecutors determined they likely could not.
"We put ourselves in the shoes of the homeowner, and we ask ourselves, 'Would a reasonable person in that situation have the right to defend himself and his family members from that apparent danger?' " Daskas said.
He said such decisions must be made on a "case-by-case, fact-specific basis."
"The law requires us to determine whether a reasonable person, faced with the same circumstances, would have made the same decision," Daskas said.
The prosecutor said Victor Thompson, his wife and his child all were sleeping when he heard someone at the door.
"It matters that his wife and young child were there," Daskas said.
According to Lamere's lawsuit, he was leaving a small social gathering at 9213 Wittig Ave. when he overheard "what sounded like a one-sided argument" at the doorstep of a neighboring residence.
Daskas said those at the social gathering had been drinking, and Jeremy Thompson, also an Air Force member, "was very intoxicated."
According to Lamere's lawsuit, he could hear his friend telling an individual behind the closed door, "I'm not trying to upset you; I just need my car keys."
Daskas said Lamere was approaching his friend to tell him he was at the wrong house when the shooting occurred. The prosecutor said it was noteworthy that Victor Thompson did not fire his gun until he saw a second person approaching.
Prosecutors who reviewed the case gave it "a lot of time and consideration" but ultimately reached a unanimous decision, Daskas said.
"This decision does not give carte blanche to homeowners to shoot through a closed door at potential intruders," he said.
Lamere's lawsuit claimed Victor Thompson "was grossly and wantonly negligent by discharging his firearm in Lamere's direction as he reasonably knew that such conduct would not only create an unreasonable risk of bodily harm to others, but would involve a high probability that substantial harm would result."
It also claimed Lamere incurred more than $150,000 in costs for medical treatment as a result of his injuries.
When contacted by phone Friday, Lamere said he would consider a request for an interview. He later declined, through a spokeswoman.
His attorney, Matthew Holland of Cogburn Law Offices, said the case has settled for the limits of Victor Thompson's home insurance policy.
"It was not much," Holland said.
Kristin Cogburn, a partner at the law firm, later issued the following statement: "The matter had been resolved and based upon that fact we are unable to comment at this time."
Contact Carri Geer Thevenot at cgeer@reviewjournal.com or 702-384-8710. Find her on Twitter: @CarriGeer.
Related Story:
Man shot after going to wrong house in northwest Las Vegas