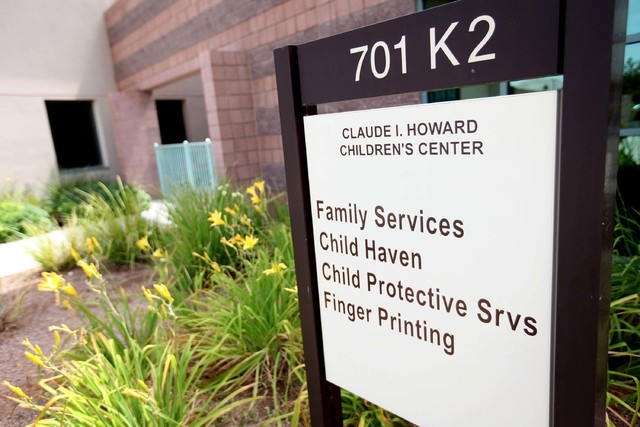 Crowding at Clark County's emergency shelter for abused and neglected children isn't driven solely by a growing number of youths in crisis.
Children who have been safely placed in foster care are also swelling the ranks, with foster parents dropping off their charges at Child Haven without advance notice to the Department of Family Services, as is required.
"No notice" was provided for 78 children left at Child Haven by foster caregivers between January and May, according to statistics compiled by a Clark County Department of Family Services group investigating the issue.
Forty-eight instances were "excusable," 20 drop-offs had "no discernible reason," and in 10 cases, foster parents were unable to secure respite care for the child involved, according to the group's June 24 meeting minutes.
The trend concerns Ali Caliendo, a foster mother who co-leads the Child Welfare Workgroup under the Quality Parenting Initiative.
"A no-notice disruption is absolutely not acceptable," she said in September. "It's certainly not an acceptable use of Child Haven."
The issue of crowding at Child Haven is one reason Nevada Supreme Court Justice Nancy Saitta recently appointed a Blue Ribbon committee to examine shortcomings in the Clark County child welfare system and courts. On July 15, Child Haven received approval from Nevada's child care licensing unit to increase its capacity to 70 from 56. That came after the emergency shelter's population hit 83 in mid-April.
"I just think that anytime that we have the ability to come together and make any system better, if we can, we should," Saitta said last week.
Under Nevada Administrative Code, a foster-care provider should give the responsible agency notice of at least 10 working days for any request to remove a foster child from a home. That applies to all foster-care providers unless there's a written agreement between the provider and the agency that says differently; or there's an immediate and unanticipated danger to the foster child or another person if the child is not removed before that notice can be given.
In 2013, 864 Clark County foster children experienced a disruption in foster care placement, including cases of "no notices" and "10-day notices." About 157 disruptions were "not reasons acceptable to give no notice," according to the group's March 25 meeting minutes. That represented 17 percent of all county children in foster care.
Erik Pappa, spokesman for Clark County, said the group "conducted a special analysis of the disruptions that is not routinely conducted" because it was looking to make specific recommendations around potential policy changes and or foster parent training to address placement disruptions.
A DISRUPTIVE TREND
Caliendo said she's not clear on what's driving the trend of leaving foster children at Child Haven without giving notice.
"I think one of the biggest messages is that using Child Haven for those disruptions is not what we want to see," she said.
Minutes from the group's June meeting said: "The common denominator is a foster caregiver who becomes overwhelmed from the beginning, perhaps with newer licensed foster caregivers having too many children."
The Las Vegas Review-Journal also called two Family Services employees — Denise Parker, the quality parenting initiative coordinator and Mark Fitzgerald — who are part of the group for comment.
Family Services spokeswoman Kristi Jourdan responded and asked for questions to be submitted in writing.
"A family emergency out of state or caregiver hospitalization were identified as excusable reasons," according to a written response attributed to Parker.
But the group believes, for example, that dropping off a healthy 10-year-old foster child at Child Haven to take a healthy 10-year-old biological child to Disneyland is not in the best interest of the foster child.
"The group is clarifying expectations for caregivers and DFS staff," Parker said. "Moving forward, the group will communicate expectations to workers and families as they are identified."
The group wants to see the number of disruptions and the Child Haven population reduced, Caliendo said. The group is pushing for foster parents to take advantage of all the resources available to them and to network with other foster parents.
"One of the biggest resources that foster parents have at their disposal is other foster parents," she said.
RESPITE CARE OPTIONS
The Child Welfare Workgroup will also look at Family Services' respite care policy to see what it calls for and how it's being used, Caliendo said.
Under current Family Services' policy, foster parents are entitled to temporary relief of up to 14 days a year for foster children in their care. Planned respite care may be for adult-only functions, weddings, funerals, cruises or vacations where children would not be appropriate. Requests must be submitted 30 days in advance, according to agency policy.
Emergency respite care is available if caregivers are hospitalized or have a family emergency, but even in those situations, foster parents should give notice, according to the policy. Peer-to-peer respite care can be arranged between two licensed foster families.
Family Services Director Lisa Ruiz-Lee told Clark County commissioners in August that there's been a lot of dialogue about respite care.
"I'm in favor of eliminating respite care and providing resources to caregivers to support them when they have emergencies or are traveling," she said.
When foster parents need respite care for their charges, the agency has to continue to pay the foster parents and those providing respite care as well.
Family Services spent $15,050 from January to early September on respite care costs, Jourdan said.
The Child Welfare Workgroup also has suggested re-educating caregivers and Family Services staff about how disruptions in care affect foster children.
The average number of placements for children in foster care this year is 1.4 placements per child, according to Jourdan. Last year, the average number of placements per child was 2.
Family Services' goal is to reduce the number of disruptions, Jourdan said.
"Sometimes the needs of children and a family's ability to meet those needs do not match," she said. "When a child first comes into care we don't always completely know what his or her needs will be."
FOSTER PARENTS
Part of the solution is increasing the number of foster parents to meet the need and it will be up to the community to come together to address that, Caliendo said.
Family Services has had 126 foster home closures from January to early September, Jourdan said. Of those, 28 licenses were discontinued because of revocations or caregivers who had decided not to take any placements for many years.
"Foster families choose to end their licenses for a variety of reasons which include, but are not limited to, those foster parents with health or other personal reasons, those that move out of state, those that have adopted children and have determined that they don't want to foster additional children" among other reasons, Jourdan said.
The department licensed 145 new foster families from January to early September, with a 98 percent retention rate, Jourdan said.
Family Services provides training for foster parents through a curriculum used nationwide as part of the licensure process, Jourdan said. Training is provided on a monthly basis and many foster parents take advantage of those opportunities.
Last fall, Family Services also began conducting unannounced visits at foster homes.
"We are unaware of any family that has closed specifically because of unannounced visits in the home," Jourdan said.
In May, Jourdan told the Review-Journal unannounced home visits had resulted in "very few home closures."
When asked to clarify the contradicting information, she said that in May one foster family had expressed concerns about unannounced home visits.
"I had to consider this family that was on the fence at the time," she said. "Since then, that family has reached out to other caregivers to learn more about why unannounced home visits are necessary to keep children safe — and kept their license active."
The unannounced visits could have contributed to a family's overall decision to close its license, she added.
Contact Yesenia Amaro at yamaro@reviewjournal.com or 702-383-0440. Find her on Twitter: @yeseniaamaro.