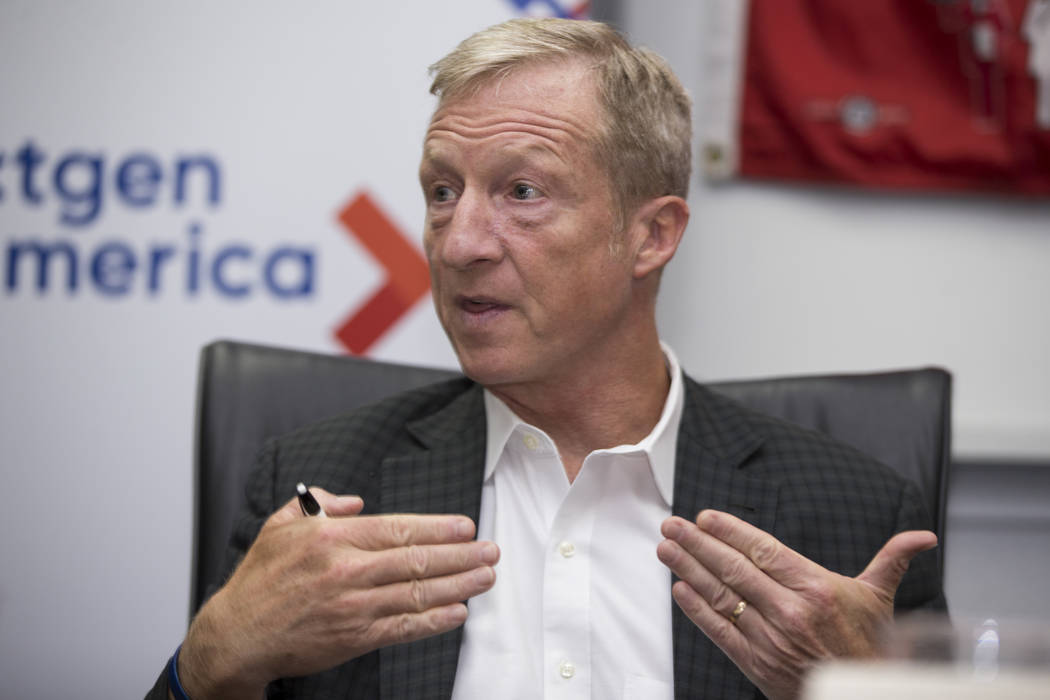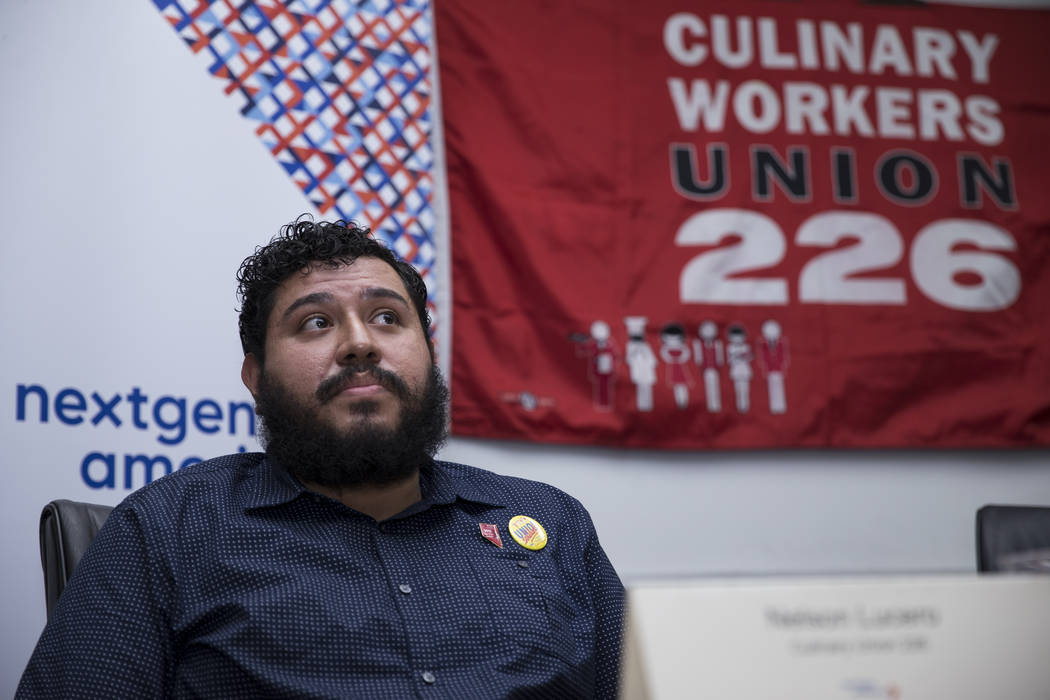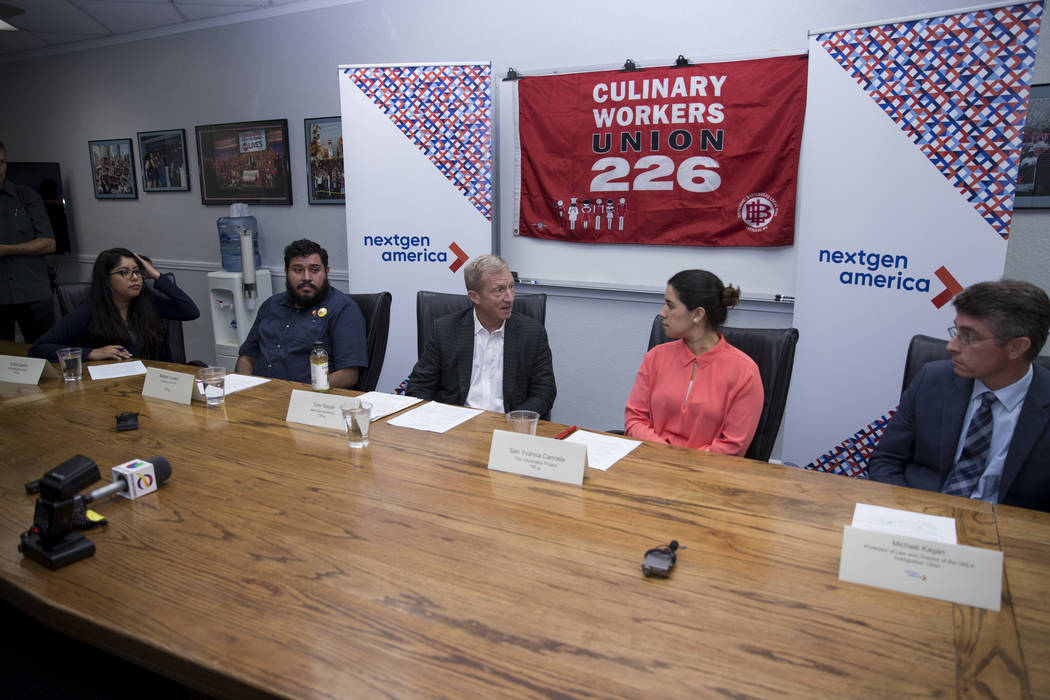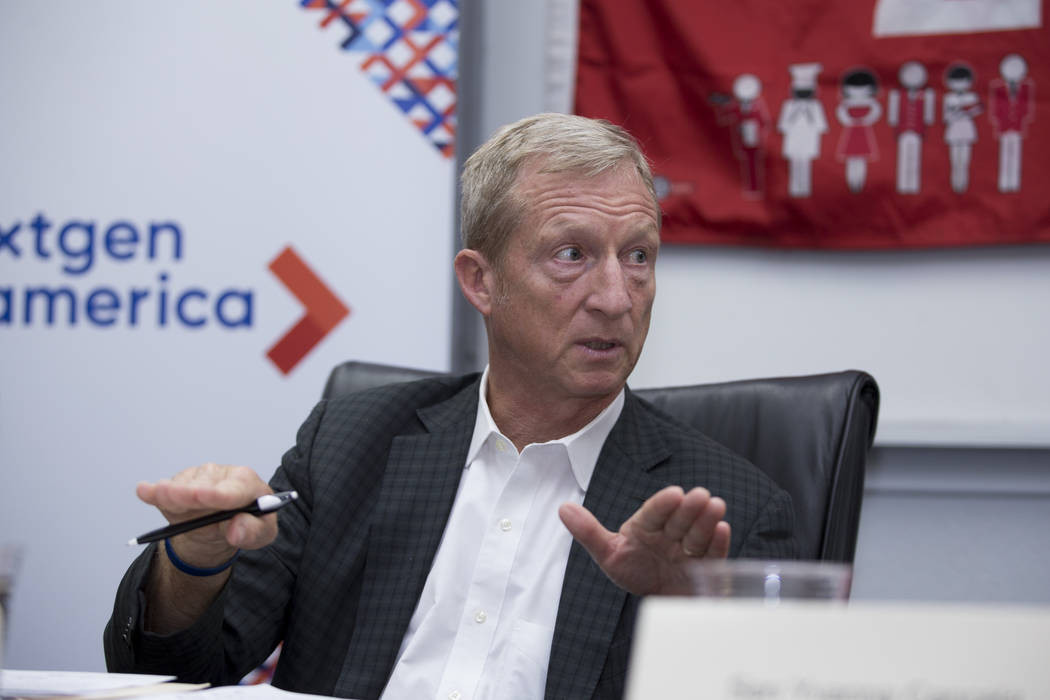 A national nonprofit dedicated to clean energy, health care and immigration advocacy will invest millions of dollars over the next several years to make legal resources available to immigrants.
Tom Steyer, president of NextGen America, announced the donation Wednesday at a Las Vegas news conference. The amount of the donation is not yet determined but is expected to be in the seven-figure range. The money will go toward recruiting accredited lawyers to represent immigrants dealing with U.S. immigration authorities and creating an online tool for community advocates to interact with one other.
As part of the initiative, set to launch in the next few months, NextGen plans to partner with organizations nationwide to share training materials. In Las Vegas, the group will work with Catholic Charities of Southern Nevada, the Progressive Leadership Alliance of Nevada and the American Immigration Lawyers Association Nevada chapter.
"When we think about where is this a really key question, it's here," Steyer said of the Las Vegas region. About 22 percent of Clark County residents were born outside of the United States, census data show.
Steyer announced the initiative at a panel with local immigration advocates at the Culinary union headquarters on Commerce Street.
The initiative's supporters include state Sen. Yvanna Cancela, D-Las Vegas, and UNLV Professor Michael Kagan. Cancela, who directs a program called the Citizenship Project, which helps immigrant families naturalize, said the office has had difficulty answering the flood of nuanced questions that has poured in since Donald Trump became president.
"We are overwhelmed," agreed Kagan, who directs the school's immigration clinic. The school's immigration counsel is one of the few that handles deportation defense in the valley, he said.
"I think the hardest job in our office is often our receptionist, who deals with people coming and pleading for assistance, because we usually have nowhere to refer them to," Kagan said. "There just isn't any place where people can usually go to get a lawyer to defend them when the government is trying to deport them."
Undocumented immigrants and residents with documentation like visas and green cards will be able to access services through organizations participating in the initiative.
"Only one in three people who need representation get it," Steyer said. "And therefore, the legal services for immigrants, who are working as hard as they possibly can, needs to have the tools and the resources to expand and do their job more broadly for more people."
Contact Jessie Bekker at jbekker@reviewjournal.com or 702-380-4563. Follow @jessiebekks on Twitter.