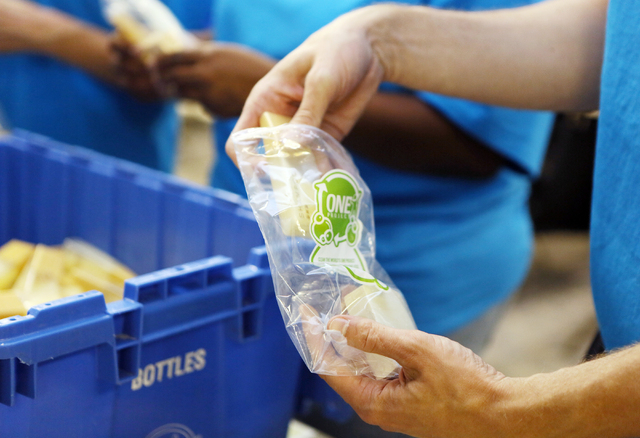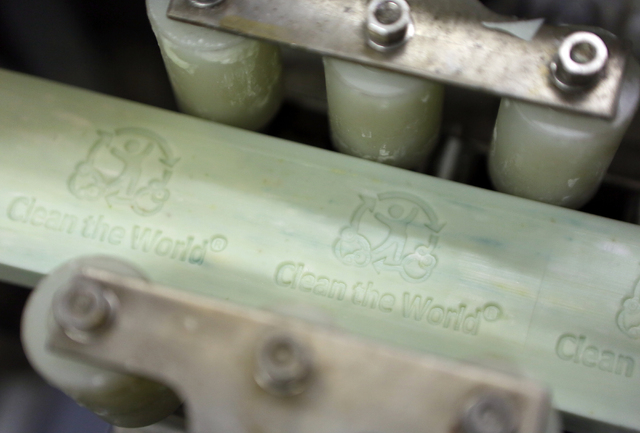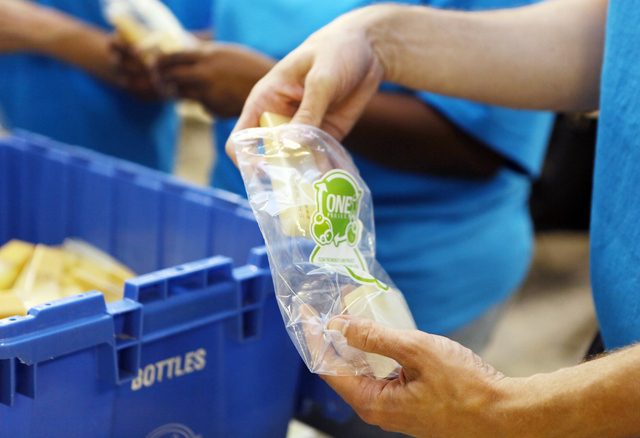 Las Vegas might be known for serving up vices and excess, but there's something positively clean and downright efficient coming out of a warehouse just west of the Strip.
Clean the World turns discarded soap and shampoo products from hotels into personal hygiene items for the poor and vulnerable. The international nonprofit is doing it right on Valley View Boulevard near Desert Inn Road, just a few miles from resorts that buy the bathroom products in bulk.
In Las Vegas alone, Clean the World collects from 37,000 hotel rooms daily, according to Executive Director and co-founder Shawn Seipler. Worldwide, it gets leftovers from 450,000 rooms.
These partnerships have redirected 500,000 pounds — or 250 tons — of waste from Southern Nevada landfills since the Valley View facility opened in 2010, Seipler said.
So how exactly do discarded bars of soap get transformed into fresh suds?
It all begins with an "omega sonic dishwasher" and bins full of dirty soap from hotel rooms, Seipler said. First, the used soap is submerged into the dishwasher, which looks like a deep-freezer. The dishwasher, which is filled with sanitizing solution, releases sound waves that pump against the soap and remove the outer layer.
Next, the slippery remains get treated with a power washer before making their way up a conveyor belt that drops them into a machine that grinds them into bits. These bits are then mixed with glycerin and other liquids and pressed into solids.
The soap is squeezed out of the press then chopped into bars that plop down onto an assembly line.
Each bar of soap is branded with the "Clean the World" logo and a stick person with outstretched arms, surrounded by bubbles. The bars can be blue, green, pink, yellow or streaked depending on what kinds of used soaps arrive.
Seipler first thought of recycling soap in 2008 while working on the road managing a sales team. He spent four to five nights a week in hotel rooms. He was getting restless at his job and wanted to do something entrepreneurial but also green and sustainable.
"One day I called the hotel desk to ask what happened to the soap when I was done using it," Seipler said. And that was his green, clean spark.
In April, the Las Vegas Sands Corp., whose properties include The Venetian, Palazzo and several in Macau, donated $1 million — the organization's largest contribution ever — to help Clean the World expand. The money was used to upgrade distribution centers in Las Vegas and Hong Kong into recycling centers, Seipler said. Previously, the only recycling center was in Orlando, Fla, where the nonprofit is based. The Caesars Foundation also has helped with funding.
The organization can produce 3 million bars of soap per year out of its recycling center in Orlando, but the newly equipped facilities in Las Vegas and Hong Kong will boost production to 6.5 million per year, according to Seipler.
The Las Vegas facility alone will be able to produce 20,000 bars of soap a day.
Hotels and casinos pay a program fee to partner with Clean the World. Hotel workers are given special bins to collect used items. In places like Las Vegas with recycling center, Clean the World picks up the items. In places where there is only a distribution center, the organization sends prepaid shipping labels and bins.
Abroad, Clean the World products help fight hygiene-related diseases such as diarrhea and pneumonia, which kill millions of children annually in impoverished countries. At home, the nonprofit sends hygiene kits with a recycled bar of soap, refurbished shampoo and conditioner, plus a new container of lotion, a toothbrush, toothpaste, a disposable razor and a washcloth. Each kit also contains an inspirational note written by the person who assembled it.
At a press conference Wednesday, Clean the World pledged to send three Las Vegas Valley nonprofits — Shade Tree, the Las Vegas Rescue Mission and Three Square — thousands of hygiene kits as part of its campaign to boost production of recycled soap globally.
Nevada's most recently available data for the Supplemental Nutrition Assistance Program, or SNAP, shows nearly 380,000 received assistance in March. The benefits, commonly known as "food stamps," prohibit the purchase of alcohol and tobacco, of course, but also soap, according to the Nevada Department of Health and Human Services.
Clean the World's kits are one way to help out with that.
"We want them to have the basic necessities," said DeAndre Esteen, director of development with Shade Tree, a shelter for women, children and their pets.
The organization also plans to produce 100,000 hygiene kits by fall for fire and other natural disaster relief.
Contact Alex Corey at acorey@reviewjournal.com or 702-383-0270. Find him on Twitter: @acoreynews.