Norm Clarke's career was 'an ongoing love letter' to Las Vegas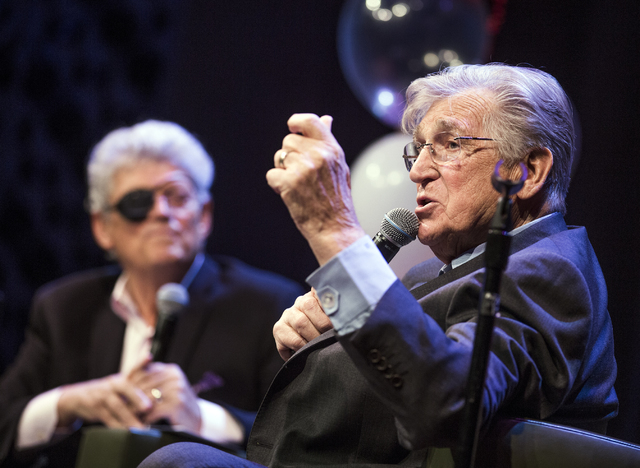 For 17 years, Las Vegas Review-Journal readers flipped to Norm Clarke's column — on Page 3A — to get the skinny on the city. But Thursday's column will be Clarke's last.
The man-about-town columnist announced his retirement and hung up his notebook Wednesday.
He is leaving the newspaper for health reasons, which he detailed in his final column. Earlier this summer, Clarke took a seven-week medical leave, then returned briefly before announcing his retirement.
He plans to spend more time at home with his wife, Cara, and their two dogs, Rumor and Scandal.
"It's not a sad story," Clarke said on the phone Wednesday.
Clarke began his journalism career as a sports writer and later worked out of Cincinnati for The Associated Press, where in 1977 he was one of the first reporters on the scene of the Beverly Hills Supper Club fire, which killed 165 people.
"Whenever I encounter a door that doesn't open outwardly, I think of the Beverly Hills Supper Club fire," Clarke wrote in a reflective Facebook post two years ago. "It should be a law everywhere, not just in most states."
In 1984, Clarke coordinated AP coverage of the 1984 Summer Olympics in Los Angeles, then moved to Denver, where he worked at the Rocky Mountain News as a sports columnist.
His next stop was Las Vegas, where he joined the Review-Journal. In the nearly two decades since, he has covered the entertainment industry extensively, and he has been able to work with his brother, Review-Journal photographer Jeff Scheid.
"I tried to hire him for a long time," former Review-Journal publisher Sherm Frederick, now 65, said Wednesday. "He decided to come, and I can't tell you how enriching that's been — not just for me personally, but for the readers of the Review-Journal."
Frederick said Clarke is a good journalist who doesn't back away from uncovering the facts. "But he was never mean about it."
One of Clarke's best qualities is his attentiveness, Frederick said.
"When he's talking to you, you're the only one," Frederick said. "If more reporters had that quality, I think they'd get a lot more out of their stories."
Frederick didn't know about Clarke's retirement before Wednesday, but happily reflected on the columnist's career.
"In a lot of ways, he wrote an ongoing love letter about Las Vegas entertainment," he said. "And it was fun to watch."
Glenn Cook, the Review-Journal's current managing editor, said, "Norm Clarke is more than a Review-Journal institution. He's a Las Vegas icon. He blazed a new trail for journalism in this city, and readers loved every minute of the ride. His columns will be missed, and we wish him the best in his retirement."
Looking forward, Clarke plans to pursue personal projects and work in public speaking.
"I've spent a lifetime telling stories, some about my favorite celebrities, others about the most inspirational people I've met," he wrote in his final column. "That won't stop."
Contact Rachel Crosby at rcrosby@reviewjournal.com or 702-387-5290. Find @rachelacrosby on Twitter.
RELATED
Review-Journal gossip columnist Norm Clarke calls it a day after 17-year run