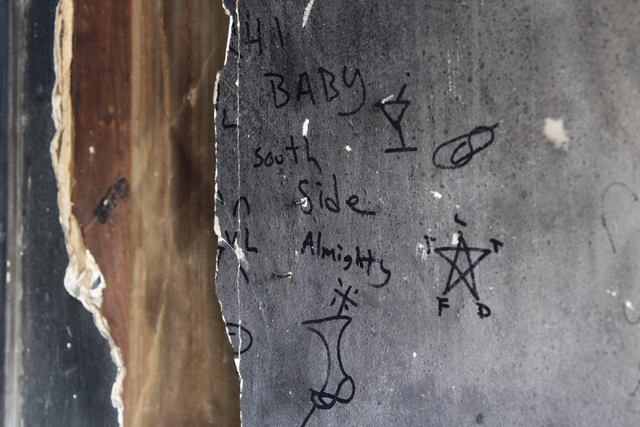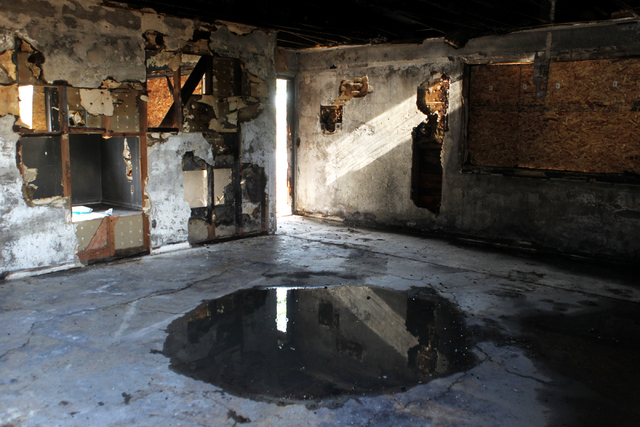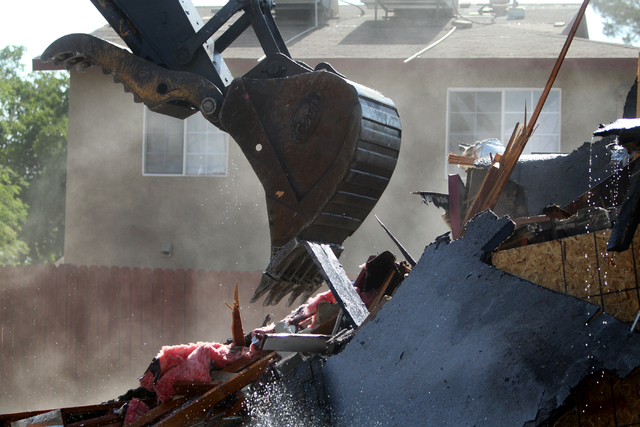 An eyesore that has caught fire three times and been the subject of 40 complaints in the past five years is no more.
The city of North Las Vegas bulldozed its fifth blighted house in the past year in about 30 minutes Wednesday.
The entire process, from declaring the East Tonopah Avenue house near North Fifth Street an unsafe building to tearing it down, took 18 months. The demolition cost $14,800 according to Gregory Blackburn, director of the city's community development and compliance department.
Few people have been affected by activity inside and around the now-demolished house like Jose Herrera. He and his family have shared a fence with the structure for seven years.
He explained in Spanish how those who gathered at the house stole from him multiple times. He said he has seen people who frequented the building leaving his yard with his kids' toys and other belongings in hand. Stolen items range from balls and bicycles to two cars. He said the second auto theft took place about three months ago.
"I don't blame the people who come in here because they don't have anywhere to live, but they've caused a lot of trouble," he said. "There's no bathrooms in there so it would smell really bad all the time. There were lots of flies, lots of garbage."
Funds for the project came from the Choice Neighborhood Initiative Planning Grant, which awarded $485,000 to both the city and the Southern Nevada Regional Housing Authority in January. Some also came from $250,000 set aside from Clark County's Neighborhood Stabilization Program for blighted house removal in February.
Blackburn said it feels rewarding to improve the quality of life for those in the neighborhood.
"Residents have called us before saying, 'Can't you do something with this?' and if we don't have the available funds to do it, it's somewhat disheartening, letting them down," he said. "I wouldn't want to live next to a house that looked like this."
The single-story, graffiti-marred structure, with all of its windows broken, was void of any doors or furniture. The half-charred structure was surrounded by broken glass and heaps of trash, contrasting the well-kept two-story homes immediately surrounding it. A children's park occupies a corner on the next block.
North Las Vegas Councilwoman Pamela Goynes-Brown celebrated the peace of mind residents will have after the house's demolition.
"It is very important that we try to get these houses demolished, first of all because it brings back a certain beauty aesthetic to our neighborhoods," she said. "And our surrounding neighbors are not afraid to come out of their homes in the evening or … enjoy their neighborhoods and their surroundings."
Blackburn said there were 20 buildings scheduled for demolition in the removal project's first and current group. The city has bulldozed five while several others have either been repaired or torn down by the properties' owners. A couple of other houses are facing the same fate as the Tonopah home because the property owners have not yet responded to city notices.
Now that the city has taken action, Herrera said he can breathe easier.
"I'm very thankful to the public for doing this," he said. "It's really going to benefit us. It's going to be much better, much cleaner and more comfortable."
Contact May Ortega at 702-387-2908. Follow @MayVOrtega on Twitter.