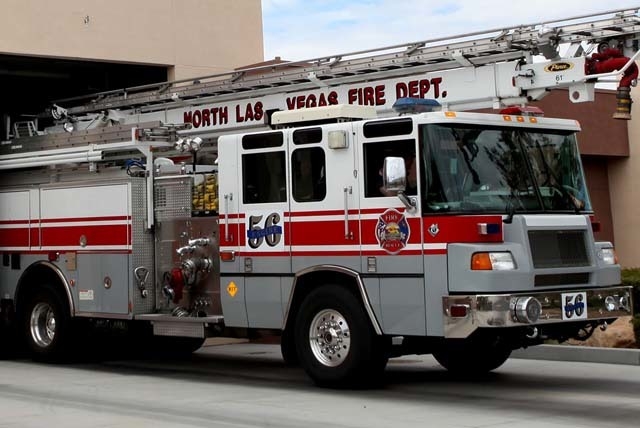 More emergency medical specialists could be on their way to the North Las Vegas Fire Department over the next few years, a move that could mean a lot less work for the city's private ambulance provider.
Firefighters Association President Jeff Hurley on Tuesday confirmed that Fire Department officials will look to add an unknown number of new front-line medical personnel to the department's ranks once the city's contract with ambulance contractor MedicWest expires in 2017.
City officials declined specific comment on the proposal, which hasn't moved beyond early inter-departmental discussions.
The paramedics and emergency medical technicians would serve as a "third tier" of department employees — less qualified than the city's hundreds of firefighter-paramedics, but also less well paid. They would be dispatched out of city fire stations and would handle emergency calls only.
They could also serve as a ready-made hiring pool, helping to staunch a torrent of more than a dozen firefighter departures Hurley has chalked up to staff salary rollbacks.
He said the move could earn the city up to $5 million in annual ambulance transport fees collected by MedicWest's parent company in Colorado.
"We have to look at ways to change the way we do business, because we're losing millions of dollars a year shipped out to Colorado," Hurley said. "Can you imagine what the city could do with an extra $5 million a year in the general fund? Those are dollars that could go straight to parks and libraries."
LAS VEGAS CALLED GOOD MODEL
City firefighters took care of around 30 percent of medical transports prior to the Great Recession. They handle less than 5 percent today.
If the money's available, Hurley doesn't see why the department can't dramatically reverse that trend, eventually taking on more than half of all emergency transports.
"There will still be a private ambulance company, but there are other cities — Henderson and Carson City, for example — which have a great model we can build from," he said.
"We'd have to have working groups and I'd have to get City Council approval, but if you do it right, we can build up one of the top departments in the country."
Cutting into private providers' share of the ambulance business is far from a new idea in the Las Vegas Valley.
The Las Vegas Fire Department's plan to take over of more a third of all calls previously handled by that city's ambulance contractor devolved into two months of mudslinging between public and private medical transport teams, culminating in an early May report that suggested Fire Department officials were "cherry-picking" calls in white, affluent neighborhoods.
Las Vegas ambulance contractor American Medical Response, the company which solicited the report, has survived a series of department-led criticism that its response times have been lackluster since 2010.
MedicWest, AMR's North Las Vegas subsidiary, has a similar history with its fire department rivals north of Carey Avenue, having weathered patient care accusations that threatened to end the company's relationship with the city as recently as 2012.
Representatives with the company failed to return several requests for comment.
UNION CHIEF: IT'S A NO-BRAINER
Hurley, no stranger to past run-ins with private ambulance crews, called accusations of Las Vegas Fire Department cherry-picking "ridiculous."
His department has partially decommissioned six fire engines since North Las Vegas' economic boom went bust. Lately, they've been loaning out some of their unused ambulances to neighboring departments in the event of a major emergency.
All of which seems to have made the idea of growing the department's share of medical transports a no-brainer, at least to city firefighters.
Hurley's pitch has made a rapid climb to the top of the department's administrative ladder, where Fire Chief Jeff Lytle reports he wouldn't be opposed to bringing on a few helping hands to aid department medical responses.
For now, he's working under the same budget the recession-ravaged city announced in April, one that doesn't leave room for new-hires of any stripe.
"There's nothing finalized and all I can tell you right now is that I'm always looking at better ways to provide service to the community," Lytle said. "My budget is what it is for next year.
"There's really nothing reportable. … MedicWest has provided us a good service and we have a franchise agreement with them through 2017."
City spokesman Mitch Fox took a similarly cautious view of the idea, noting that it's likely a long way away from a City Council agenda.
"The mayor and City Council are not aware of any plan," Fox said Tuesday, "but they have been encouraging all departments to look for efficiencies and to ensure tax dollars go further."
City Finance Director Darren Adair declined through a spokesman to comment on the proposal's financial feasibility.
Contact James DeHaven at jdehaven@reviewjournal.com or 702-477-3839. Find him on Twitter: @JamesDeHaven.