North Las Vegas' future? Look to the Beltway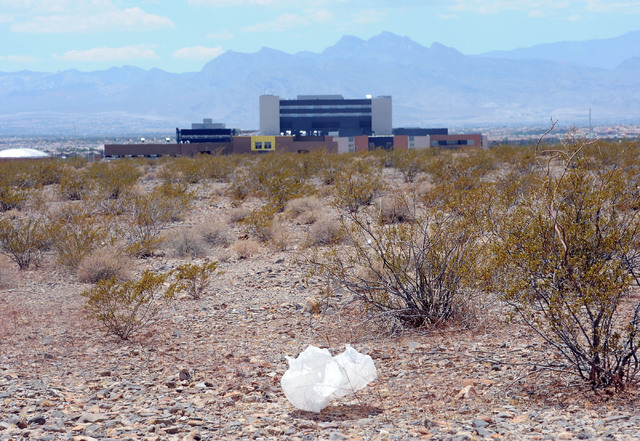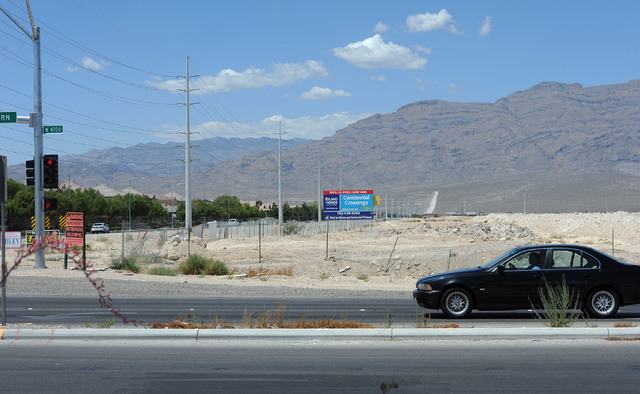 North Las Vegas is the valley's final frontier. Nearly half of Nevada's fourth most populous city, some 30,000 acres, remains undeveloped.
Recent attempts to chip away at that total — while working with a single economic development executive in the wake of the worst economic collapse since the Great Depression — have proven agonizingly slow-going.
Future efforts to accelerate the city's economic development are likely to hinge on an 8-mile stretch of the 215 Beltway, where cash-strapped officials have long pinned the city's hopes for an economic recovery and where contractors hope to break ground on a 2,600-acre master-planned community later this year.
Each of the city's six major Beltway intersections remains either partially or completely undeveloped.
Faced with an estimated $428 million in long term-debt obligations and steep declines in the city's pre-recession tax revenue, economic development experts agree that building out those intersections — and populating the Beltway corridor — could make or break North Las Vegas' future.
"On paper, yes, it'd be very difficult for (the city) to continue without an uptick in development," Applied Analysis analyst Jeremy Aguero said Thursday. "But there are broader questions here, questions that have more to do with the broader economy.
"It's sort of a chicken-and-egg situation: Do you need economic development before the city bounces back? Or does the economy need to bounce back before the city can develop?"
215 BELTWAY THE KEY
North Las Vegas leaders can't afford to wait around for an answer to that paradox.
City department heads and staffers have already been handed a fistful of prescriptions for what ails economic development along the city's end of the Beltway.
One of the first remedies calls for long-term improvements to the Beltway itself, a 53-mile long, multimillion-dollar Clark County project that remains half-finished more than a decade after it was started.
Randy DeVaul, deputy utilities director and former engineering chief, said the city can't afford to upgrade the 215 to freeway standards on its own and will have to wait for the county to turn the city's share of Beltway intersections into more development-friendly interchanges.
County spokesman Dan Kulin said construction crews plan to start freeway-grade improvements between Decatur Boulevard and North Fifth Street in the fall. He couldn't provide a timetable for completion of the rest of the Beltway.
That doesn't mean the city has stopped pushing for other roadwork along the Beltway's periphery. Contractors are already working on multimillion-dollar road-widening and straightening projects meant to stretch from downtown North Las Vegas all to the way to the Beltway.
DeVaul expects those upgrades, funded by a September county fuel tax hike, will help spur Beltway-bound traffic, encouraging business owners to put down roots at the top of major north-south arterials such as Losee Road and North Fifth.
Once the businesses arrive, he hopes they will stick around long enough to see the Beltway completed, maybe even tied into northbound U.S. Highway 95.
Meanwhile, city staff are already drawing up plans for an access point off the Beltway meant to extend the highway's reach into city industrial zoning a few miles east of Lamb Boulevard, just south of the Las Vegas Speedway.
"I'm surprised some of these areas, especially around Pecos (Road), haven't filled up already," DeVaul said Thursday. "It'll be a number of years before the Beltway is completed, but full interchanges will make a big difference, because it will enable more traffic immediately."
TREATING BUSINESS BETTER
North Las Vegas leaders this month opened up a new director's spot in the city's one-person economic development department and, in early June, helped orchestrate a preliminary shared services agreement that could still see the city join forces with Las Vegas' crew of two dozen economic growth staffers.
In May, Community Development and Compliance Director Greg Blackburn wrapped up a multimillion-dollar overhaul of the city's business licensing codes, shaving days off the city's license application process for new businesses.
In June, Blackburn also helped do away with a longstanding utilities department rule requiring restaurants to accommodate costly underground grease traps meant to collect cooking waste. The provision had made it $60,000 costlier to open a Subway in North Las Vegas than anywhere else in the valley.
Common-sense changes to city policy count as an important and often overlooked part of the city's approach to growth, Mayor John Lee said Tuesday.
Lee, a former state legislator and the founder of Vegas Plumbing Inc., said streamlining existing policy stands to make the biggest difference along Decatur Boulevard and North Aliante Parkway, the city's most developed Beltway-adjacent intersections.
He doesn't doubt similar business-friendly tweaks to city development standards will help augment the Beltway's central role in the city's turnaround.
"I think the message here is that (the Nevada Department of Transportation) and (the Regional Transportation Commission) understand the big picture and that we've all joined hands as partners," the first-term mayor said. "Everything that's going on in business licensing right now works toward that."
PARK HIGHLANDS DREAMS
Park Highlands, a 2,600-acre housing tract planned just north of the Beltway since 2006, counts as the major non-infrastructure centerpiece of North Las Vegas' plan to revitalize the city's highway corridor.
The 15,000-home development — billed as "one of the few remaining large-scale development opportunities in the Las Vegas area" — will be the largest master-planned community built in the Las Vegas Valley since the start of the Great Recession.
Four separate developers expect to sink $3.2 billion into the project over the next 10 to 15 years, working more or less concurrently on parallel master plans first presented to City Council members in April.
Contractors already have brought in utilities and storm drains throughout the westernmost master plan, where two development companies hope to erect 4,000 homes on 600 acres between Decatur Boulevard and Aliante Parkway by the end of the year.
A different pair of commercial and residential landowners are set to start putting up 11,000 homes on 2,000 less-developed acres in the easternmost master plan by 2015.
Plans for the development once called for a fire station, schools and more than 130 acres of parks and walking trails.
Officials haven't yet projected how much new revenue the project would bring to the city.
It is expected to take up most of city-owned developable land between Decatur Boulevard and Losee Road.
Interim City Manager Qiong Liu said the city's road and utility infrastructure has long been prepared to handle those new homes.
That's why she and Mayor Lee are already eyeing undeveloped land the city doesn't yet own, including 150 acres of Bureau of Land Management land near the Veterans Affairs Medical Center.
City officials have long hoped to build a UNLV satellite campus across the street from the VA hospital on Pecos, perhaps even a medical school.
But pulling that parcel out of the federal lands portfolio will likely require an act of Congress.
Staff members say the BLM hasn't offered to hand over the land for free and admit the city couldn't afford to buy it from a federal auction.
That means the city's plans to redevelop Pecos will have to move at the glacial pace set by the U.S. House, where a Tule Springs National Monument act provision earmarking the 150 acres for city use still awaits a vote by the House Natural Resources Committee.
"We're not a teardown community; we've got a lot of potential," Mayor Lee said Tuesday. "If we had all that land, we'd control our destiny.
"Right now we've got one foot on the accelerator but someone else has got their foot on the brake."
FIGHTING ITS DEMOGRAPHICS
North Las Vegas' development challenge won't disappear overnight.
Applied Analysis' Aguero said even 15,000 new rooftops won't necessarily restore a pulse to development along the Beltway. The tricky part, according to Aguero, will be attracting tax-revenue-creating commercial and industrial developments to support all those new Park Highlands homeowners.
To do that, the city could face an uphill battle against its own demographics.
Aguero said the city, which skews more blue-collar than much of the valley, might be expected to rebound slower than its municipal neighbors from a recession that disproportionately affected middle- and working-class households.
He said the city has a higher unemployment rate — and lower income and high school graduation rates — than many of its development competitors, a fact that could give pause to some prospective business owners.
"The north portion of North Las Vegas suffers mostly from bad timing," Aguero said. "The Aliante and most of those places went through at the top of the market, before the recession hit.
"Even now, as things start to pick up, we can see that they're going through an asymmetrical recovery."
Robert Lang is director of the UNLV Brookings Mountain West Institute, a Las Vegas-based economic development think tank. Lang, while similarly concerned about North Las Vegas' disadvantages, remained upbeat about the city's general direction — and about the hand on the tiller.
"I think the good news is that (Mayor Lee) is very high energy," Lang said. "The city reminds me of Mesa, Ariz., a few years ago with (Mayor) Scott Smith.
"They understand that they have to stop thinking like a suburb. (Lee) learned from Smith not to wait for the cavalry to arrive from state and local government. … I'm moderately optimistic, in part because I think they've got good leadership."
beltway dreams
It doesn't take much of a drive to see what North Las Vegas hopes to get out of its end of the Beltway.
The road fits snugly around much of the southern and western edges of the valley, weaving through built-out subdivisions in Henderson and wrapping tightly around Lone Mountain after dipping into the upper reaches of Summerlin.
Then, just east of Centennial Hills, it reaches North Las Vegas and seems to slacken, dropping off eastbound suburb-dwellers at the Aliante or the VA hospital before cutting off abruptly at the I-15.
At least for now, there is little but sagebrush on both sides of the Beltway for miles between Decatur and Lamb.
Aguero and Lang can both imagine a day when both ends of the road are practically indistinguishable.
That day might be a ways off, but if they build it, officials say, people will come.
"That area off the Beltway is, along with APEX (Industrial Park), the city's future," mayor's office chief of staff Ryann Juden said Tuesday. "It's North Las Vegas' million-dollar view, and we plan to treat it that way."
Contact James DeHaven at jdehaven@reviewjournal.com or 702-477-3839. Find him on Twitter: @JamesDeHaven.