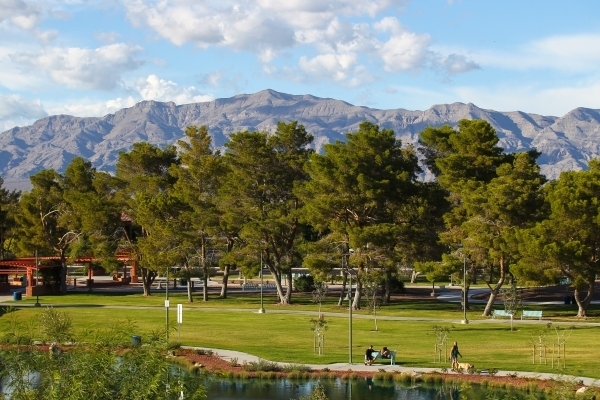 North Las Vegas city officials on Tuesday flipped the switch to illuminate a digital marquee that will flash messages and advertisements to motorists driving past Craig Ranch Regional Park.
The message board was already turned on earlier this month to coincide with the recent San Gennaro Feast. Mayor John Lee used the official ribbon cutting before about 40 people Tuesday morning to hail the sign as a way to promote local businesses while also generating revenue for a city that's still recovering from a fiscal downfall.
"Craig Ranch has been a great opportunity for us to expose what's going on in the city," Lee said.
The city approved a 10-year contract in January with Elite Media to install the double-sided message board, measuring roughly 13 feet tall and 28 feet long. In exchange, the city will receive 25 percent of the net revenue collected for advertisements appearing on the sign.
Preliminary projections show that the city could earn about $25,000 per month, Elite Media President Chad McCullough said. The company also has a contract with the city of Las Vegas, and is trying to negotiate a similar deal with Henderson city officials, McCullough said.
If the program succeeds, McCullough and Lee said that additional digital signs could be erected across North Las Vegas.
"It's a new niche for us and we're hoping we can get some revenue for the city that go right into the community," McCullough said.
Although North Las Vegas still strictly bans digital billboards, city officials found a way to permit the new sign.
If the property owner also owns the digital sign, it may be allowed after gaining final approval from both the North Las Vegas Planning Commission and City Council, former city attorney Sandra Douglass Morgan said.
In this case, the city owns both the sign and the park land, Morgan said.
An advertisement for the nearby Sara Lee Bakery Outlet flashed on the screen, catching the attention of Clark County Commissioner Lawrence Weekly.
"I'm going to have to check that out," Weekly said, drawing laughs from the crowd.
Contact Art Marroquin at amarroquin@reviewjournal.com or 702-383-0336. Follow @AMarroquin_LV on Twitter.