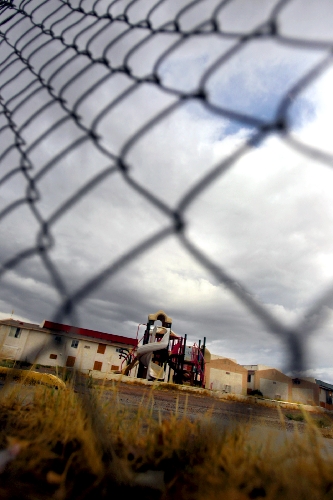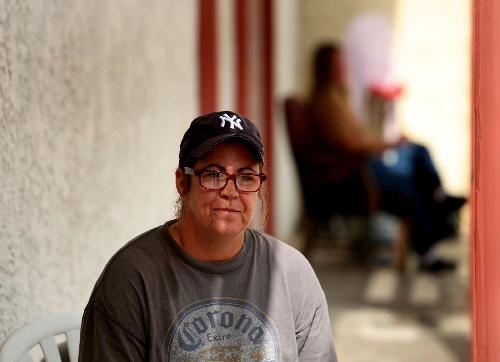 Over the decades, fields of grass at Buena Vista Springs became fields of glass.
Broken bottles now litter the grounds of the once parklike apartment complex, where mothers are hesitant to let their children play.
The gunshots and robberies don't help.
The complex, whose core campus sits crumbling on Carey Avenue, just west of Martin Luther King Boulevard, was long ago ready for its tombstone.
So it was with joy that neighbors and even residents of the complex greeted the news early this month that Buena Vista was finally sold to an entity that plans to bring it to the ground.
That's where it belongs, they said.
"It has plagued our community for years," said JD Thornton, 67, who for decades watched the complex deteriorate from his home less than a half mile away. "All the shooting, the violence, the drugs, the landlords who wouldn't stay on top of things."
North Las Vegas officials for years have wanted to flatten the 288-unit development, hoping its unrelenting crime and dysfunction would die with it.
They finally closed a nearly $2.3 million deal to purchase the 46-year-old property on Sept. 6.
"We see it as a real catalyst for the community," said Kathy Somers, neighbor­hood services manager for the city. "It's a thriving, strong community and this is the first step to significant change."
the plan
The purchase is part of a $6.85 million plan to demolish the property that was approved by the U.S. Department of Housing and Urban Development in the latest round of federal Neighborhood Stabilization Program funds.
The city now begins the process of helping Buena Vista's remaining residents relocate. About 40 families still live there. Relocation specialists soon will begin interviewing each of them. The budget includes $2.4 million for relocating the residents, who may be eligible for up to 60 months of relocation assistance, Somers said.
The goal is to place the families in a "safe, sanitary place" for about the same amount they are paying at Buena Vista, she said.
If all goes well, the relocation could be complete in about six months.
Cindy Dades, a 43-year-old single mom who lives in a two-bedroom apartment at the complex with her two young boys, is thrilled.
"This change will be good," she said. "It's so nasty" at Buena Vista.
Just the other day, Dades had to ask two men who were rolling a marijuana cigarette outside her front window to please move along.
"It's been kinda rough," she said. "It's been a little scary."
She has heard gunfire while her kids were in bed and "just prayed it wouldn't come my way."
Dades would have liked to move from the $519-a-month apartment on her own, but didn't think she could find a comparable place for the price. She doesn't own a car, which made it difficult to look at new apartments.
"Hopefully we'll be in a much nicer complex where I can let the kids play outside," she said.
Demolition of both of Buena Vista's campuses will go out for bid. The second campus comprises 72 units on Lake Mead Boulevard at Comstock Drive.
The entire job could be complete within a year.
City officials then plan to "land-bank" the property. No money is available at the moment to build anything else.
"We're going to wait until the market turns around some and then look at possibilities for redevelopment," Somers said. "We'd like to see mixed-income housing there."
City Councilwoman Pamela Goynes-Brown, whose ward includes Buena Vista, said "by demolishing and land-banking it, you don't have the eyesore."
She is glad the complex's end is finally in sight.
"It's been years and years in the works. Now there is some light at the end of the tunnel."
Federal officials in 2009 rejected a $7.6 million plan crafted by Clark County and North Las Vegas officials to demolish the complex because the funding was meant to help fight Southern Nevada's foreclosure crisis. Buena Vista had yet to be foreclosed on. That finally came late last year.
A TROUBLED PAST
It's hard to believe Buena Vista once was a neighborhood oasis. Children from all over the community gathered on the playground for baseball and football games.
The complex, which until 1994 was known as Carey Arms, quickly aged and faded. Owners came and went. Repairs went undone.
By the late 1970s, neighbors and residents were complaining about the complex's vandalized and burned-out units, and the city was searching for a long-term solution that took decades to materialize.
Buena Vista became notorious for being virtually controlled by gang members and surrounded by warring gangs. Drug sales and drive-by shootings were common in the apartments and surrounding neighborhood, which was known as "40-Block" after 40-ounce malt liquor bottles.
"A lot of it spilled out into our neighborhood," Thornton said. "Every time you looked around there's a shooting."
It became such a problem that in 2001 North Las Vegas police opened a "problem-solving unit" on the property. Things began to improve.
That unit closed in 2007, around the time about 1,000 residents were relocated because HUD officials yanked subsidies for low-income tenants there, saying the apartments were unsafe and unsanitary and had failed several inspections.
But the owners soon started renting out the units again. Calls to police from the complex resumed, and the eyesore remained.
Evan Hartsell, executive director of Club Christ Ministries, which has for years run an after-school program for kids inside Buena Vista, said he and others watched in disgust as previous owners pocketed rental income but failed to maintain the property.
"It became this wasteland," he said.
Relocation is the best bet for the mostly single mothers who remain, he said.
"Now that the city has purchased the property, there is finally an owner who cares. The residents are being taken care of, at least the ones that are left."
Contact reporter Lynnette Curtis at lcurtis@reviewjournal.com or 702-383-0285.