Northwest Las Vegas house fire causes $300K in damage
Updated July 11, 2019 - 9:32 pm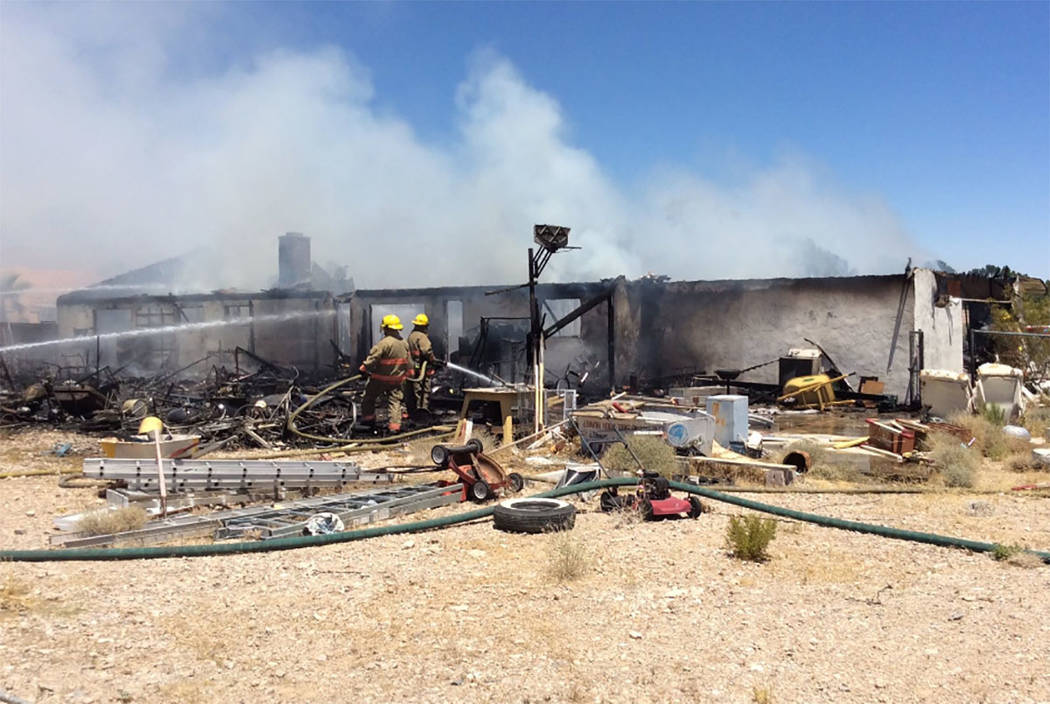 The fire on Thursday afternoon that destroyed the home where a couple had lived for more than 20 years was accidental, according to the Las Vegas Fire Department.
Crews got to the scene just after 12:20 p.m. on the 5300 block of North Fort Apache Road, south of West Ann Road, according to Las Vegas Fire Department spokesman Tim Szymanski. He said firefighters were having trouble getting enough water to the scene and were "having to pull a lot of lines."
Ft. APACHE VIDEO. #PIO1NEWS pic.twitter.com/xNAFSmyvyY

— Las Vegas FireRescue (@LasVegasFD) July 11, 2019
The fire, which was extinguished later Thursday afternoon, was started in a faulty stove in the couple's kitchen. The couple told Clark County fire investigators that the stove was to be replaced on Thursday, as part of ongoing renovations to the home, according to a press release.
From the kitchen, the fire spread to the home's attic, where it was fanned by a stiff wind and "took over the house," the release said. By the time fire crews arrived, the fire was "burning intensely," with flames spreading to the yard and trees of a neighbor's home.
Fire crews prevented the fire from spreading to nearby homes. Some hoses were extended more than 1,000 feet to get water from fire hydrants to the home, the release said.
The "elderly" couple and two dogs were displaced from the fire, which happened on the hottest day of the year so far in the valley. The couple and dogs are receiving assistance from the American Red Cross, the release said.
Nearly 100 personnel responded to the scene, including some Las Vegas Fire Academy trainees nearing graduation, the release said. No injuries were reported, and the fire was ruled accidental.
Las Vegas, Clark County and the North Las Vegas fire departments helped fight the fire. The house has been gutted. Damage from the fire is estimated at $300,000.
Contact Amanda Bradford at abradford@reviewjournal.com or 702-282-0279. Follow @amandabrad_uc on Twitter. Contact Katelyn Newberg at knewberg@reviewjournal.com or 702-383-0240. Follow @k_newberg on Twitter.