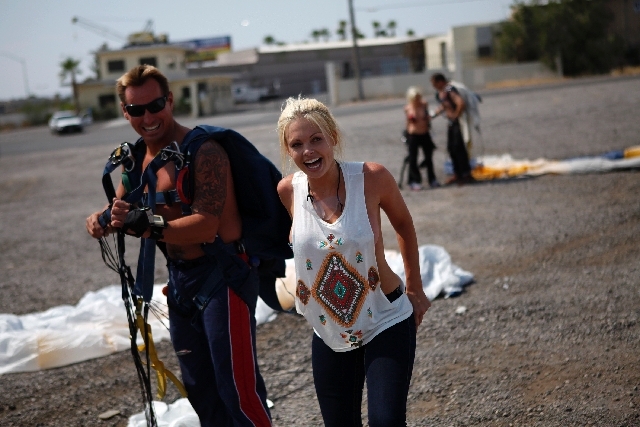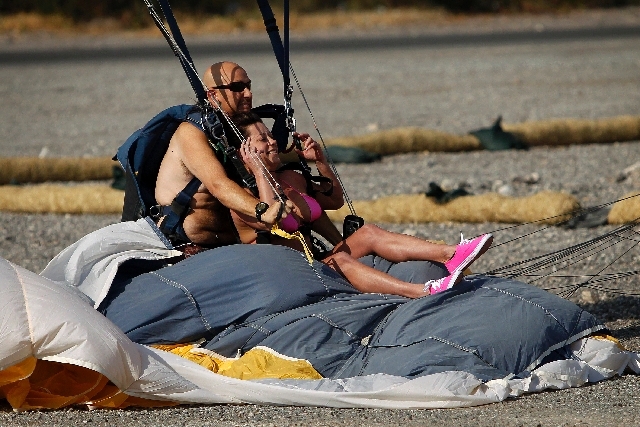 What happens in Vegas airspace just might stay in Vegas airspace.
Jumpers in the July Fourth "Flight of the Tatas," billed as a topless sky dive and breast cancer fundraiser, were demure about a certain detail of their descent.
What they weren't, at least not back on the ground, was bare. The women, anyway.
A few dozen divers landed with their tandem guides in a gravel lot next to Larry Flynt's Hustler Club, the event host. Organizers and participants said bikini tops or T-shirts might slip neckward because of wind. But by the time things got terrestrial again, gravity — or something — would pull tops back over torsos.
Porn star Jesse Jane, one of the event's celebrity jumpers, was surprised when she got the word of the clothing requirement. But she took the unexpected change with a sense of humor. At least she wouldn't be wearing a few things she usually does.
"I'm not going in full makeup," she said. "My lashes would fly off."
Jason Mohney, owner of the adult entertainment center, said everything was going as planned until he started feeling a little pressure "from the county." He talked to a lawyer and didn't want to risk jeopardizing his standing with the Clark County Commission, which grants the site its licenses for liquor sales and as an adult entertainment cabaret.
"If you have an issue or they're mad at you, they can pull your privileged liquor license," Mohney said.
Lt. Glen Lowe, spokesman for Las Vegas police, said officers who kept watch deemed the jumps "basically uneventful."
"There were men with no shirts on, but no women," Lowe said.
Had the female rather than male physique been exposed, Lowe said, somebody might have complained. That could have caused issues.
Spectators didn't seem to mind that the leaps didn't end quite as planned. They cheered as women swooped in smoothly on their feet. They laughed and groaned when one man came down hard on his keister.
One audience member was Marlys Lancaster, there to show support for her friend and athletic trainer. Both take part in local events that fund breast cancer research, such as the Dragon Boat Race at Lake Las Vegas. The strip club pledged to give some proceeds to Living Beyond Breast Cancer. The amount wasn't available.
Lancaster is aware that events that promote bare breasts are considered by some to be demeaning, but she doesn't look at it that way.
"Who cares if you're out flying topless or not?" the Henderson resident said. "It's not a big deal, especially here in Vegas."
Disrobing wasn't the priority for Ron Lee, owner of Skydiving Innovations, which ran Thursday's jumps. His goal was to keep track of changing wind conditions, communicating with air traffic control and ensuring safe landings.
That's a busy job considering the Hustler Club, on Dean Martin Drive just south of the Strip, is right across Interstate 15 from McCarran International Airport.
"Obviously being less than a mile off the end of the runway right there, we're really in controlled airspace," said Lee, who has been running his San Diego-based company for 27 years.
The Federal Aviation Administration granted permission for the event with such stipulations as keeping the operating area within a one-mile radius of the club, the plane below 8,000 feet, and parachuters 100 feet from gawkers.
And that, agency spokesman Ian Gregor said, has nothing to do with what jumpers were wearing.
"The FAA does not regulate the content of the activity unless it poses a safety risk to the participants, others operating in the airspace, or people on the ground," Gregor said in a statement.
Club promoter Joseph Gause said that fits right in with Larry Flynt's legacy of advocating for the First Amendment, which includes a 1988 Supreme Court decision that blocked public figures from suing to compensate for emotional distress.
"He's more than just a smut peddler," Gause said. "He's, in my opinion, an American icon."
A very Vegas take on Independence Day.
Contact reporter Adam Kealoha Causey at acausey@ reviewjournal.com or 702-383-0361.