Number of heat-related deaths in Clark County climbs to 12
The number of heat-related deaths in Clark County this year has reached 12, the coroner's office reported Tuesday.
That figure is seven higher than the toll reported last week. All of the deaths occurred in June, but it was not immediately clear whether all of the newly reported deaths occurred during the heat wave that gripped the Las Vegas Valley from June 15 through Monday.
Nevada Department of Health and Human Services data show there were 76 heat-related deaths in 2016, 72 of them in Clark County. The National Weather Service compiled a separate tally showing 59 deaths in Nevada, but said that number was 10 times higher than in any other state.
The coroner's office declined to provide details about this year's victims, but the Las Vegas Review-Journal has confirmed that at least two deaths occurred when air conditioning units failed.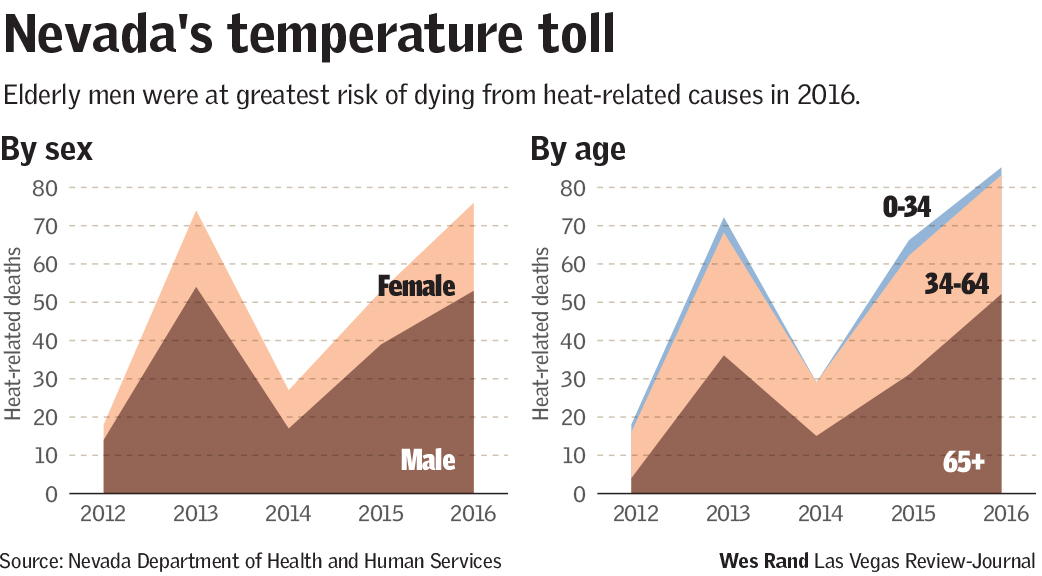 Richard Stephens Mueller, 68, of Las Vegas died about 11 a.m. June 19 from heat stress. A relative said he lived in El Dorado Estates Mobile Homes and his air conditioner was broken.
Sandra Deanes, 69, 0f Henderson died the same day in her apartment because of a broken air conditioner. The apartment was 140 degrees at the time of her death, her daughter said.
Contact Dana Rutkin at drutkin@reviewjournal.com or 702-383-0381. Follow @DanadRutkin on Twitter. Contact Isabelle Delgado at idelgado@reviewjournal.com or 702-383-0381. Follow @izzydd_ on Twitter.