Number of homeless dying increasing in valley
December 15, 2010 - 12:00 am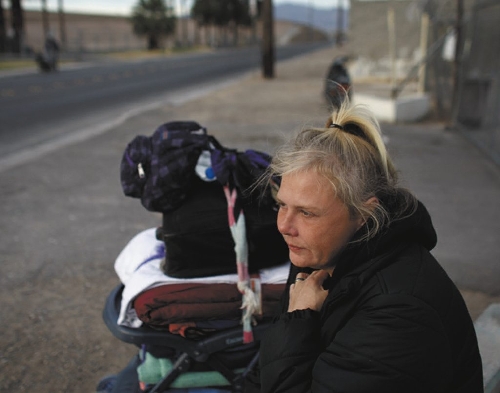 Ricky Dunbar died in a parking lot.
It turned out the 52-year-old — known as "Jamaican Rick" because he wore his hair in dreadlocks — was better at helping others he met on the street than he was at helping himself.
"He was always referring people to us for help," said Linda Lera-Randle El, director of the Straight from the Streets homeless outreach program. "But when it came to him, he figured he'd get help later."
Dunbar, who had been homeless for years in Las Vegas, died Sept. 17 from a gastrointestinal hemorrhage.
Maybe he is among the luckier of the 60 valley homeless people who died this year. At least someone remembers him.
"We walk or drive by people all day and we miss them until they are found dead on the street," Lera-Randle El said.
Each December, Lera-Randle El organizes a vigil to memorialize the homeless people who died that year. This year's vigil will be at 3:45 p.m. Thursday in a parking lot at 1640 E. Flamingo Road, near Maryland Parkway. It is open to the public.
Social services providers were troubled to see the number of deaths increase for the first time in years. They worry the uptick could signal the start of a grim trend spurred by tough economic times.
Last year, 42 homeless people died in the Las Vegas Valley, according to the Clark County coroner's office. The number had been dropping in recent years, since a coalition of local nonprofit groups formed to share information and service providers in an effort to get chronic homeless people off the streets for good.
The level of recent need in the community has become overwhelming to the coalition, Lera-Randle El said.
"We are beyond ourselves with fear," she said. "What are we going to do?"
Providers say they have struggled to do more with less as overall funding for so-called safety net programs in Nevada has plummeted at the same time need has skyrocketed because of the recession. Clark County Social Service, for example, in a cost-saving move last year cut the number of months many needy people could receive rental and utility assistance. Nancy McLane, the county's director of Social Service, said the cuts would likely lead to more people becoming or remaining homeless.
Kathleen Boutin, founder of the Nevada Partnership for Homeless Youth, said the nonprofit has seen an increase in the number of homeless youth, especially young men and boys, who have been told by financially strapped parents that they need to care for themselves.
Two of those on this year's list of homeless deaths were barely out of their teens.
"It's such a shame, because when they are younger you can save them," Boutin said.
Many of the homeless who died this year were discovered at the side of a road or in the desert. Two were found beside trash containers, another two in some bushes downtown.
The list includes 54 men and six women. They ranged in age from 20 to 79. One of the 60 died Monday and has yet to be identified by the county coroner.
Drugs or alcohol were contributing factors in 26 of the deaths. There were two homicides and two suicides. Twelve of the deaths were caused at least in part by exposure to the elements.
Stacey, a 45-year-old homeless woman who declined to give her last name, said Tuesday she wasn't surprised that many of the deaths were related to drugs or alcohol. So many people on the street are struggling with addiction, she said.
"It's sad when the dope takes hold," she said.
Stacey was sitting next to a shopping cart full of her belongings on A Street near Washington Avenue. She camps nearby with a group of about 20 people who don't do drugs and who watch out for one another, she said.
But many of those without a home have no one to take care of them and no one to talk to.
"A lot of people just give up because things get so messed up," she said. "A lot of them want to die."
Six of those on the list were veterans.
"It's a tragedy when people who served our country don't get the services they need," said Shalimar Cabrera, site director for U.S. Vets, a shelter for homeless veterans. "I wish they could have been connected to services or loved ones instead" of dying on the street.
The yearly vigil is important to offer hope to homeless people still living on the street, to let them know someone cares whether they live or die, Lera-Randle El said.
"They need to know there is someone out there who is still listening, even though we can't fix everything," she said. "We celebrate successes, and we have to pay attention to things that don't turn out the way we would have liked them to."
Contact reporter Lynnette Curtis at lcurtis@review journal.com or 702-383-0285.
Names of homeless who have died
• Michael Bailey
• Myron Bedore
• Javier Bencomo
• Betty Bentley
• Lori Black
• Steven Blythe
• Arnold Cameron Jr.
• Curtis Carlson
• Lonnie Chapin
• Ken Chappell
• William Darr
• James Davis
• Obedo Deleon-Coronado
• Ricky Dunbar
• Deanna Duran
• William Francisco
• Carlos Garcia
• Herbert Goodland
• Danny Grable
• Todd Hall
• Atholl Harrison
• Eugene Hart Jr.
• David Heldermon
• David Hermanson
• Robert Hoskins
• Benjamin Joffee
• Donald Johnson
• Carolyn Kirk
• Kerry Litton
• Hugh McElroy
• Christopher McGrath
• James McQuaid
• Joseph Melchor
• Brian Miller
• Ronald Mountain
• James Mouse
• Kevin Murphy
• Barnaby Nolan
• David Nye
• Donald Oslin
• Javier Palacios
• Ernesto Perez
• Sheandiahe Pickett
• Thomas Potter
• Gary Puckett
• Tony Purvis
• Steven Reamer
• Gyula Remes
• Frederick Rich
• Carlos Sanchez
• Kenneth Slaton
• Marco Tapia
• Scott Vera
• Benjamin Walter
• Regina Ward
• James Wiechowski
• Cory Wilson
• Francis Winn
• Franz Zeller